Child Cat in the Hat T-Shirt - Dr. Seuss
Child Cat in the Hat T-Shirt - Dr. Seuss
Child Cat in the Hat T-Shirt - Dr. Seuss
Select Size:
Product Details
Complete your little one's Cat in the Hat costume with a Dr. Seuss Cat in the Hat T-Shirt for kids! This black shirt features a printed design of the cat's fur with a red felt bow attached below the collar. Your little one can dress up as the beloved Dr. Seuss character this Halloween with an awesome Cat in the Hat T-Shirt!
Dr. Seuss Child Cat in the Hat T-Shirt product details:
100% polyester
Hand wash cold, line dry
Extra Small/Small fits up to size 6.
Small/Medium fits up to size 10.
Officially licensed Dr. Seuss product.
Not for children under 3 years.
Product Warnings & Disclaimers
Not for children under 3 years.
Frequently Bought Together

A Dr. Seuss Costume for Seuss Celebrations
Millions of children have discovered the joy of reading through the works of Dr. Seuss. Stories like The Cat in the Hat are cherished the world over for their charming rhymes, imaginative illustrations, and most importantly, their accessibility to beginning readers. For many kids, a Dr. Seuss story is the first book they ever read on their own. It's no wonder then that Dr. Seuss's birthday has become a day to celebrate all things Seuss and to ignite a passion for reading in the latest generation of kids. On March 2, or the nearest school day, you'll find events across the country in honor of Dr. Seuss's beloved children's stories. At libraries, schools, and community centers, children and their parents and teachers dress up as their favorite Seuss characters, read Dr. Seuss stories, and create Seuss-inspired arts and crafts. These Dr. Seuss parties aren't just a lot of fun, they can instill a life-long love of reading, writing, and creativity in the children who participate.
On the second of March,
All over the nation,
Children take part
In Seuss celebrations.
Some bring their books.
Some bring their mats.
And some like to dress
As Cat in the Hat!
Your child will be ready to make a mess (and clean it up in the nick of time) wearing this Cat in the Hat shirt. The right costume will get them in the spirit of Seuss and ready to read!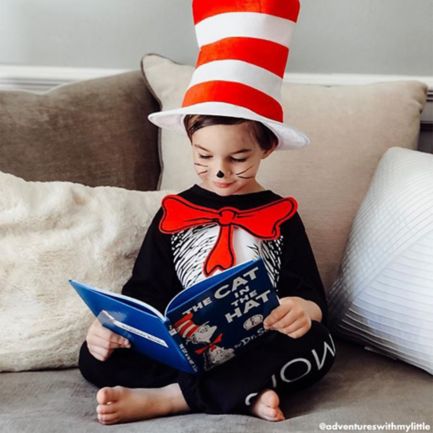 A Cat in the Hat Costume
Your child can wear this Cat in the Hat t-shirt as part of a complete Dr. Seuss costume. It already comes with a big red felt bow applique, so they'll just need comfy black pants, a red-and-white striped top hat, and a little feline makeup to complete the costume.
Additional Details
100% polyester shirt
Felt bow tie applique
Officially licensed Dr. Seuss product
The Latest Seuss Book
Although Ted "Dr. Seuss" Geisel passed away in 1991, he still has stories to tell. Two books have been adapted from his manuscripts since his death. The latest is Horse Museum, which shows the many ways to appreciate art.
DIY Dr. Seuss Crafts
A Dr. Seuss celebration calls for Seussian crafts, like DIY red-and-white striped hats. Along with costumes, crafts help bring the stories of Dr. Seuss to life.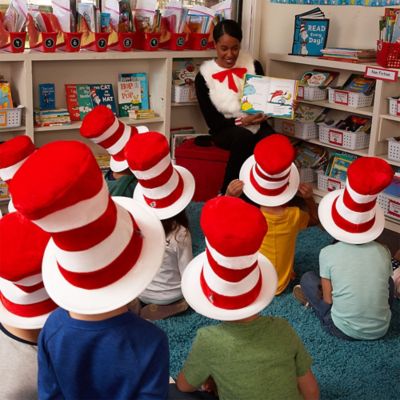 Dr. Seuss Fun Fact
In honor of Theodor Seuss Geisel and all that he did for children's literacy, his birthday, March 2, was declared National Read Across America Day, also known as Dr. Seuss Day.
Show us your look with #PartyCity on Instagram!
ADD YOUR PHOTO