Lovey-dovey Valentine's Day balloon ideas to make your sweetheart swoon! Love is in the air! Blow your Valentine away with a big balloon declaration of love! Balloons are an affordable and easy way to make your Valentine's Day an extravagant affair. Make your sweetheart feel extra special with heart balloons and bouquets featuring teddy bears and sweet sayings. Get more playful and romantic balloon ideas below to make it a Valentine's Day to remember!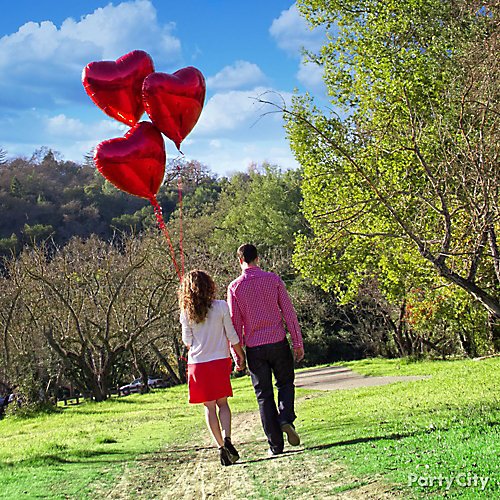 Idea 1: Big romance with jumbo balloons
For a sweet expression of your affection, hearts are always a winner! Treat your love to a supersized Valentine's Day balloon bouquet – just a few of these jumbo heart balloons make a big statement. Avoid the Valentine's Day restaurant rush by planning a romantic stroll or picnic in the park. Tie balloons to your picnic basket, or just let your sweetie wear hearts on their sleeve with some red ribbon tied to the high-flying bouquet.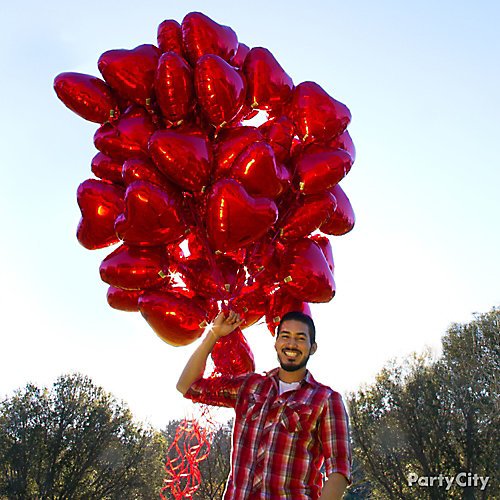 Idea 2: We ♥ heart balloons!
How do you love your sweetie? Count the ways with bunches (and bunches, and bunches!) of red heart balloons! Your love will be the talk of the town when you present a jaw-dropping balloon bouquet tied together with red curling ribbon. Remember: bring proof of purchase of any foil balloon to your local Party City store and get complimentary helium inflation!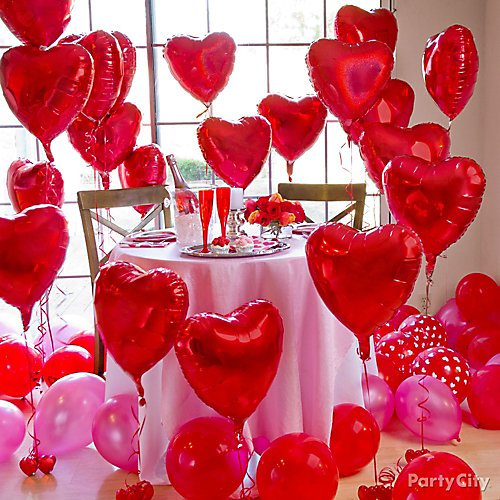 Idea 3: Create a whimsical balloon forest
The outside world will melt away when your Romeo walks into this forest of balloons. Mix and match heart-shaped, foil, and printed balloons to make a fun yet intimate atmosphere. Fill some balloons with helium so they float in the air while others glide across the floor. For a lush look, tie the helium-filled balloons to weights and arrange them around the room at different heights.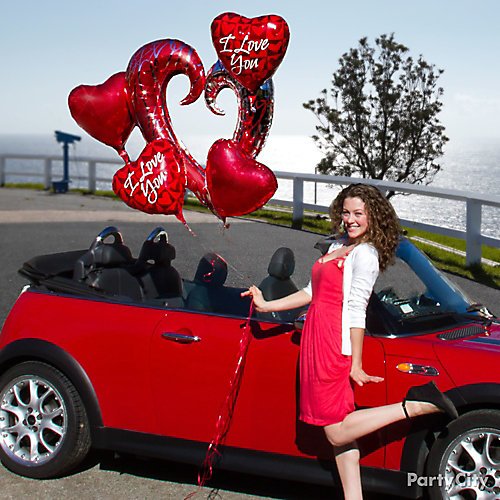 Idea 4: Have a romantic adventure
Take a cue from Cupid and make hearts the theme of the day! A big, shiny Valentine's balloon bouquet with a unique look makes a heart-melting delivery to your sweetie's office or a sweet start to your day-trip adventure for two. Make a jumbo heart balloon the center of attention surrounded by smaller ones printed with hearts and lovey-dovey sayings.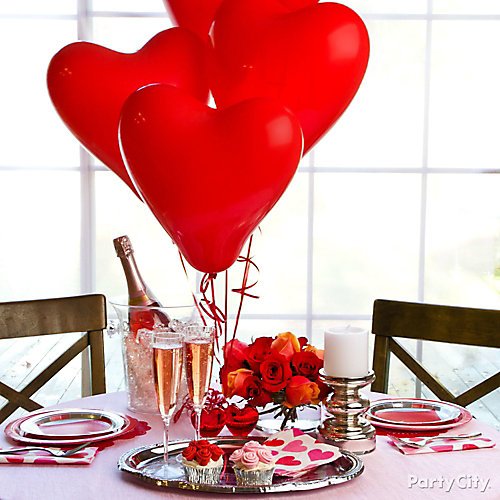 Idea 5: A romantic Valentine's centerpiece
Bring the extravagance of a fancy restaurant to your intimate at-home meal with a romantic balloon centerpiece. Set up a luxurious arrangement of roses, champagne and cupcakes with heart balloons on a silver platter. These latex heart balloons are small enough to make a sweet centerpiece that won't get in the way of looking into each other's eyes.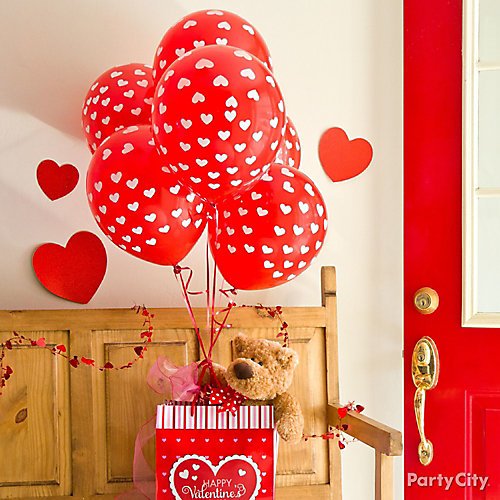 Idea 6: A beary sweet gift!
Basic red balloons transform into a surprise that's bursting with love when they're printed with pretty white hearts and tied to an adorable little gift like a cute plush bear. Make a special spot in the house dedicated to Valentine's Day decorations with your sweet present as the main attraction. Make it even more fun by leaving scavenger-hunt hints written on heart cutouts for your Valentine to follow to her special prize!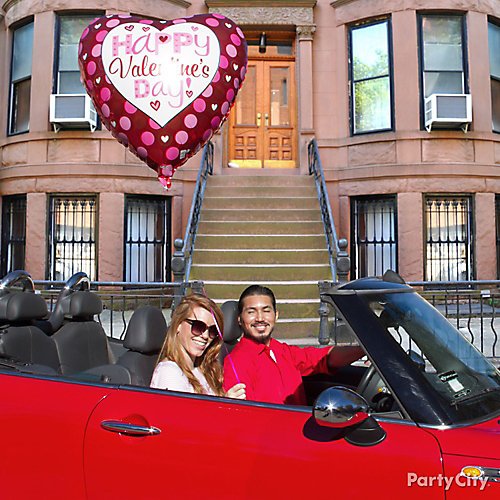 Idea 7: Make her heart soar with a big-hearted balloon surprise!
Oversized heart balloons make the best kind of PDA (public display of affection) ever! Surprise your sweetie at work with this large balloon shaped like the unmistakable symbol of love and printed with a "Happy Valentine's Day" headline. The trendy polka-dot print will appeal to the modern gal who's stolen your heart.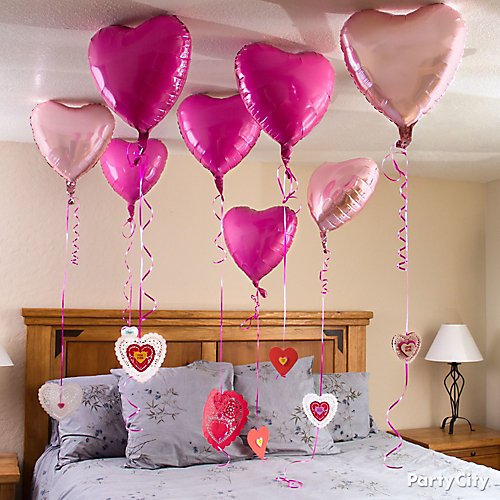 Idea 8: Set your love notes afloat
Let these floating hearts carry your love notes to your sweetie pie! Inflate pink heart balloons and attach curly ribbon with paper heart doilies and conversation heart stickers on the bottom. Set the messenger balloons in different parts of the house, or arrange them all together for a bigger impact. Either way, your Valentine will be lovestruck by your heartfelt gesture!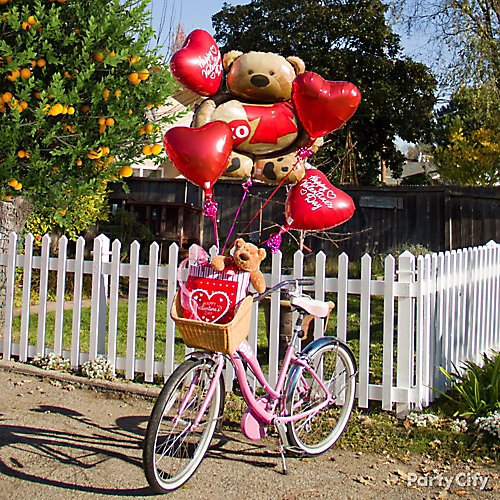 Idea 9: Give a balloon bear hug!
Your sweetie will swoon over this teddy bear plushie and balloon bouquet with matching smiles and red neckties! Leave your present, stuffed teddy and balloon bouquet in an unexpected place: Tell your Valentine you want to take a romantic stroll or bike ride, then lead them to this heartwarming gift. They'll want to cuddle with these cute bears – and you!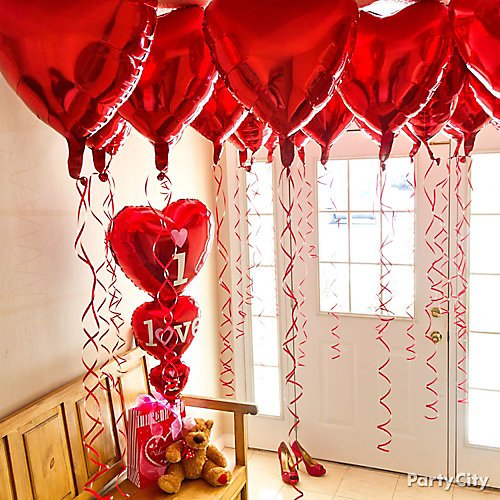 Idea 10: Set hearts aflutter with a balloon ceiling
Her heart will skip a beat when she sees this canopy of balloons! Attach dangling ribbon to inflated foil heart balloons and let them float to the ceiling. Greet her with a special gift as she walks in the door – she'll love getting to kick off her heels and open her present under a sky of hearts! These long-lasting balloons will stay inflated through the week as heart-shaped reminders of your sweet Valentine's Day surprise.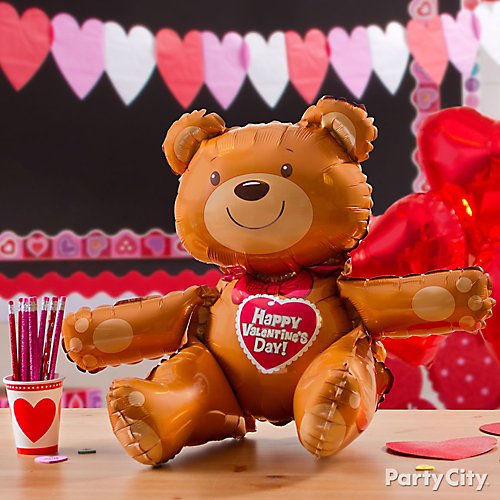 Idea 11: Send some love to your little cub!
Valentine's Day isn't all about grown-ups! Make your child feel extra special on Valentine's Day with a too-cute balloon teddy! This li'l guy is easy to assemble and requires no helium – just blow him up with a few puffs of air and the included straw. Surprise your li'l one at school or arrange the balloon at home for a fun surprise!