Love is in the air!
Balloons are an easy and affordable way to make your Valentine's Day an extravagant affair. Whether you're looking for a unique gift for your sweetheart or a special surprise for your kids, keep reading to find the inspo you need to make your loved one feel extra special. Give Valentine's balloons as a thoughtful gift, or use them to enhance a surprise you already have planned. Blow them away with balloon ideas to make your Valentine swoon!
Idea 1: Start the conversation
If your Valentine enjoys posting important life moments to Instagram, these super cute Valentine's Day balloons will be the perfect photo prop. Inspired by the nostalgic Valentine's candy, conversation heart balloons will help you express all the ways you love your Valentine.

Idea 2: We ♥ heart balloons!
How do you love your Valentine? Count the ways with bunches (and bunches, and bunches!) of heart balloons. Your love will be the talk of the town when you present an impressive balloon bouquet of heart-shaped balloons in classic Valentine's red, or their favorite color.

Idea 3: Express yourself with emoji balloons
They'll look just like a heart-eyes emoji when you give them this super cute balloon! Get a friend to take a picture of you two hiding behind this balloon for a unique and totally adorable pic. When you post it to Instagram, share it with #PartyCity so we can "aww" over how cute you two are!

Idea 4: Patterned Heart Balloons
Give a classic symbol of love a trendy twist with these patterned heart balloons! Each shiny foil balloon features a different take on the traditional heart balloon. Give one or give a bouquet for an easy and thoughtful Valentine's gift!

Idea 5: Add romance to a picnic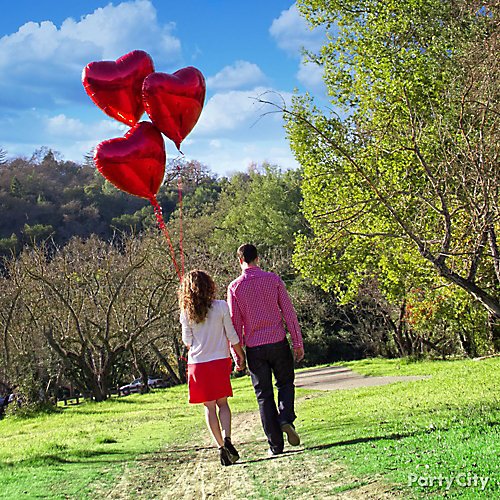 Avoid the Valentine's Day restaurant rush by planning a romantic stroll or picnic in the park. Tie Valentine's Day balloons to your picnic basket, or use balloons tied to balloon weights to surround your special picnic spot.

Idea 6: Create a whimsical balloon forest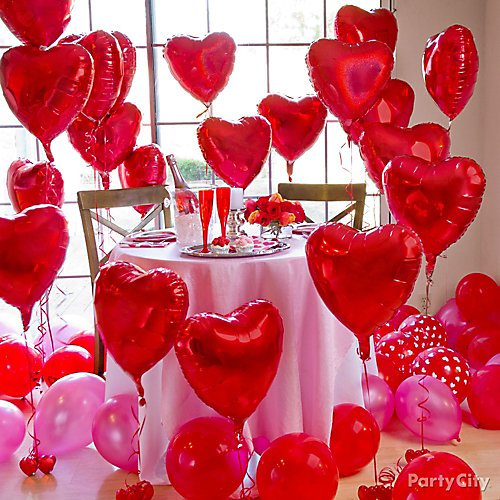 The outside world will melt away when your loved one walks into this forest of balloons. Attach shiny foil hearts, printed latex hearts, and solid color balloons to balloon weights and place them around the kitchen for a surprise Valentine's Day breakfast. Add variety by filling some with air so they glide across the floor. For a lush look, tie the helium-filled balloons to weights and arrange them around the room at different heights.

Idea 7: Have a romantic adventure
Over-sized heart balloons ensure that the world knows just how much you love your Valentine. Surprise your sweetie at work with large heart balloons, or use balloons as the sweet start to a day-trip adventure for two. They'll like the balloons, but they'll *love* the thoughtful gesture.

Idea 8: A romantic Valentine's centerpiece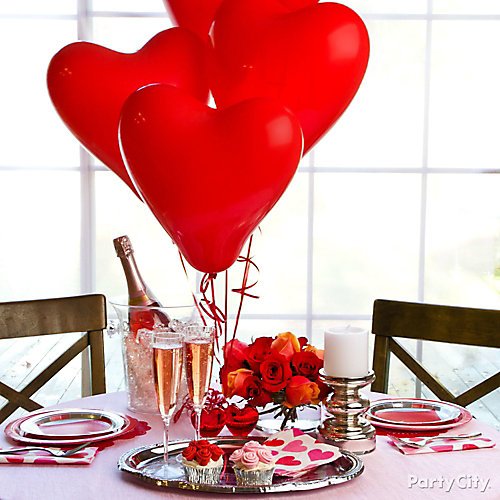 Bring the extravagance of a fancy restaurant to your intimate at-home meal with a romantic balloon centerpiece. Set up a luxurious arrangement of roses, champagne and cupcakes with heart balloons on a silver platter. These latex heart balloons are small enough to make a cute centerpiece that won't get in the way of conversation.

Idea 9: A beary sweet gift!
Basic red balloons transform into a surprise that's bursting with love when they're tied to an adorable little gift like a cute plush bear. Make a special spot dedicated to Valentine's Day decorations with your present as the main attraction. Make it even more fun by leaving scavenger-hunt hints written on heart cutouts for your Valentine to follow to their special prize!

Idea 10: Send some love to your little cub!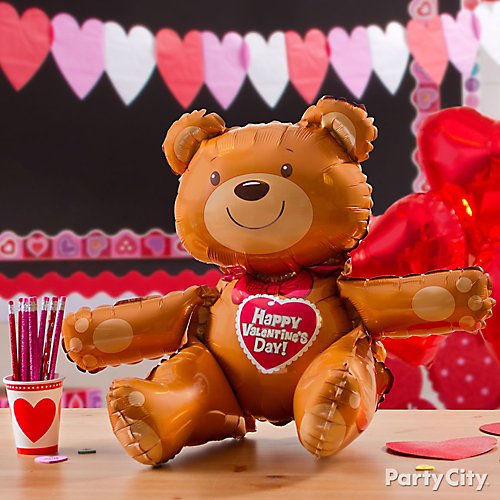 Valentine's Day isn't all about grown-ups! Make your child feel extra special on Valentine's Day with a too-cute balloon teddy! This little guy is easy to assemble and requires no helium – just blow him up with a few puffs of air and the included straw. Surprise your littlest Valentine at school or arrange the balloon at home for a fun surprise!
Inflate heart balloons in their favorite colors with helium and tie with curly ribbon.

For an extra dose of romance, write love notes on paper hearts and attach them to the ribbons. Leave the balloons in different parts of the house, or arrange them all together for a bigger impact. Either way, your Valentine will be lovestruck by this thoughtful gift!