Ideas for trick-or-treating, candy-free Halloween handouts and more! Ideas for trick-or-treating, glow sticks and more! Fly through our ideas for trick-or-treating ideas like candy-free favors and glow sticks! Make sure your house is the coolest on the block with these ideas to amp up your trick-or-treating game.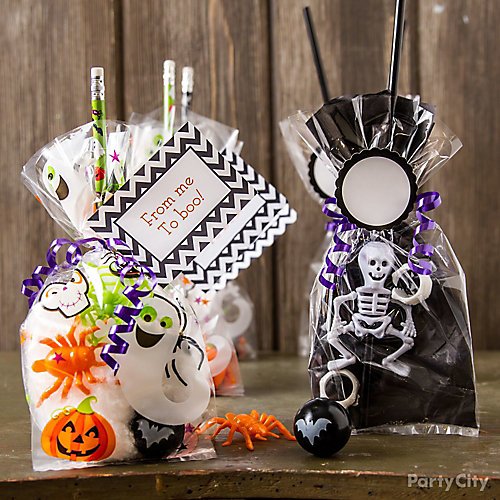 Idea 1: Sweet-free favors are spooky cool!
Be candy-free! Fill clear bags with favors like colorful spiders, rubber balls, skeletons and pencils. Handwrite a clever message on round stickers, or you can have tags printed out at your Party City store with a fun message like "From me to boo!" (we used the Custom Black Chevron pattern).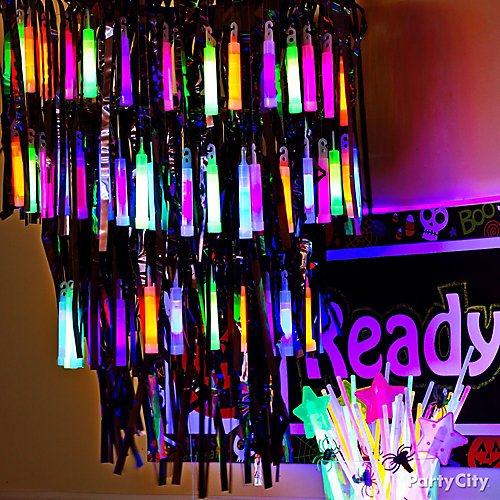 Idea 2: Watch them light up over this glow-stick chandelier
Give your li'l monsters and their mummies a glowing reception with a chandelier of glow sticks! A simple foil chandelier becomes a light-up masterpiece when you tie on glow-stick necklaces in bright neon colors. Use the foil strands of the chandelier to tie on the glow sticks, then hang it up in the entryway. When it gets dark, crack the sticks (kids can help!) and watch it glow!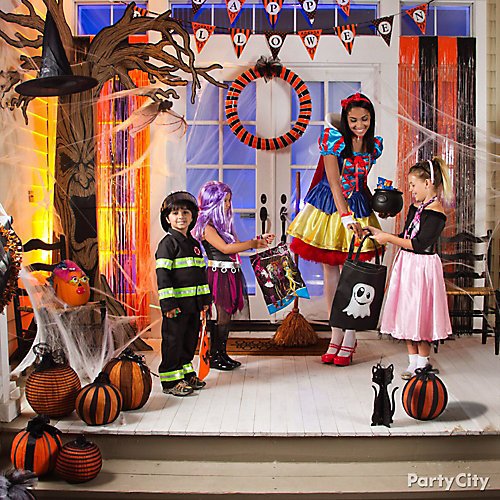 Idea 3: The li'l candy collectors will ♥ your cheery costume!
Join in on the dress-up fun with a not-so-scary costume of your own – the kids will believe you're truly "the fairest of them all" when you're handing out yummy candy and favors. Your inviting porch scene will attract a host of adorable characters like firemen, Monster High fashionistas and sock-hop sweeties!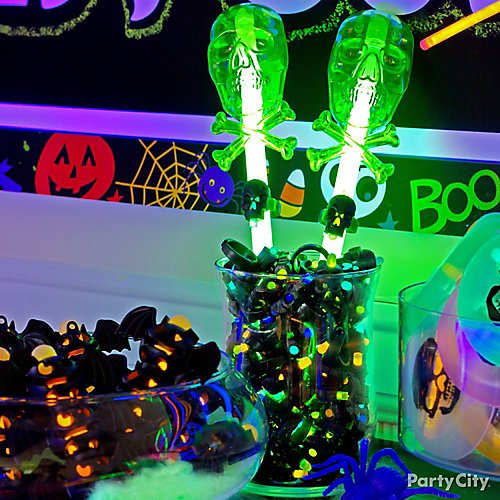 Idea 4: Glow-in-the-dark favors = a scary-good alternative to candy!
Fill up their treat bags and buckets with FUN instead of candy! Use a vase to make an eye-popping display of cool skull wands, bat pendants and spider rings. Use clear containers so the spook-tastic glow of the favors will be visible. For extra fun, arrange some neon spiders so they're "crawling" around the bowls – eek!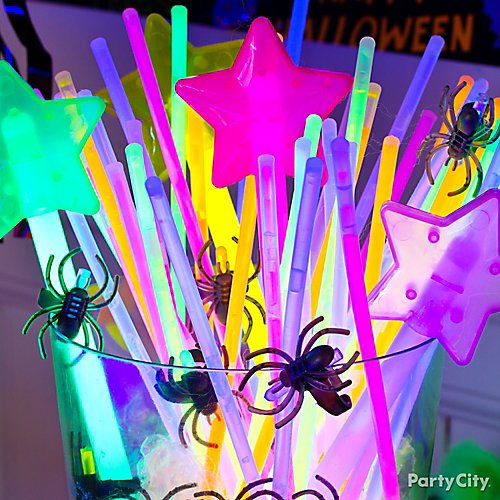 Idea 5: Ghouls just want to have fun!
Glam ghouls will ♥ glowing bling they can wear to accessorize their costumes! Place glow bracelets and star wands in a heap of spider webs for fairies, princesses and superheroes to grab before they go a-haunting. Make it a bit more Halloween-y with spider rings wrapped around wands – too cute to spook!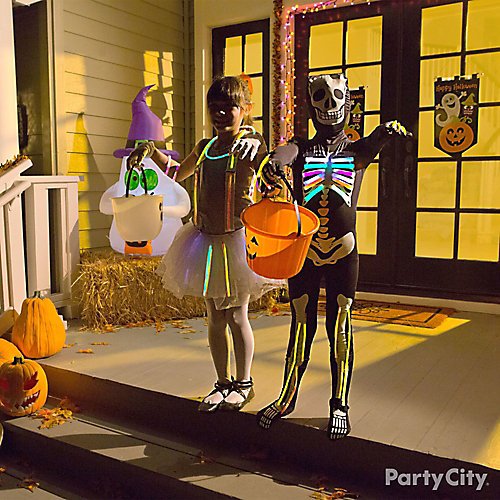 Idea 6: Add glow sticks to costumes!
Bright idea: for a super-fun look that also makes kids more visible in the dark, have them wear glow necklaces and bracelets, or sew them onto tutu skirts and skeleton costumes. The little candy collectors will love having a special glow-in-the-dark outfit that's one-of-a-kind!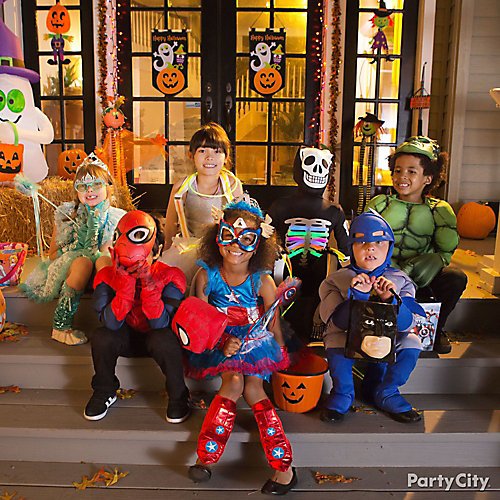 Idea 7: Gather everyone for spooky-cute pics!
Decorate the front of the house so the kids can pose with their candy buckets. Your cheery Instagrams will capture Elsa, Pinkie Pie, Skeleton, Hulk, Spider-Man, American Dream and Batman before they scurry away for more candy collecting!