Feed the football frenzy! Fanrageous ideas for Big Game eats and treats. Are you ready for some football? If you're hosting Big Game festivities, score with a satisfying menu of gridiron grub. Serve a feast of savory finger foods and touchdown-worthy desserts with football party supplies like platters, drink cozies, containers and decorations. Check out our ideas to get the play-by-play on crowd-pleasing ideas for Bloody Marys, tacos, ice cream and more!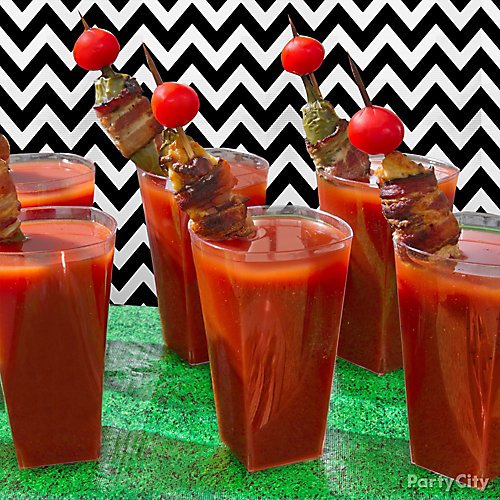 Idea 1: A touchdown-worthy cocktail
No matter what team you and your fans are rooting for, everyone can agree on Bloody Marys! Make this drink even more satisfying with a bacon-wrapped jalapeno swizzle stick. To make: slice large jalapenos in half, then fill with a mixture of cream cheese, cheddar cheese and chili powder. Add a mini sausage and wrap with a slice of bacon, smoke or grill until the bacon is cooked, then pop it on a skewer. Top it off with a cherry tomato and listen for the cheers!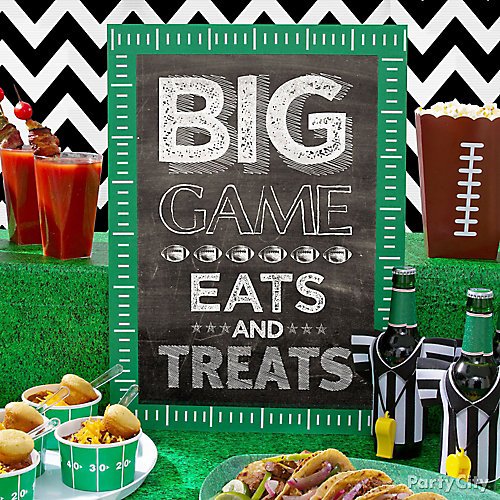 Idea 2: DIY a leaderboard for the snack table
Let everyone know where to get their grub on with a DIY sign! Assemble a winning "chalkboard" sign with a piece of black poster board* and a chain link garland. Just use the green gridiron stripes from a football chain link garland to border the sign and write in a fun football-themed saying. It'll look straight off the football field on a turf-printed table cover! *Poster board available at Party City stores.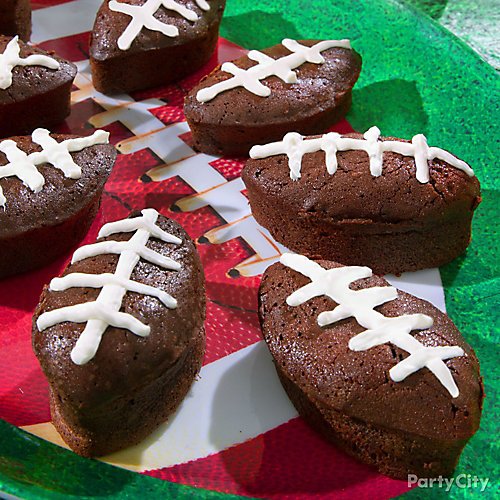 Idea 3: Victory is sweet - and so are brownies!
The armchair athletes will love tossing around these chocolate footballs! Just bake your favorite brownies and cut out football shapes with a cookie cutter or knife. Here's a pro move to try: Add football laces with a white icing pouch – then throw away the pouch when you're done!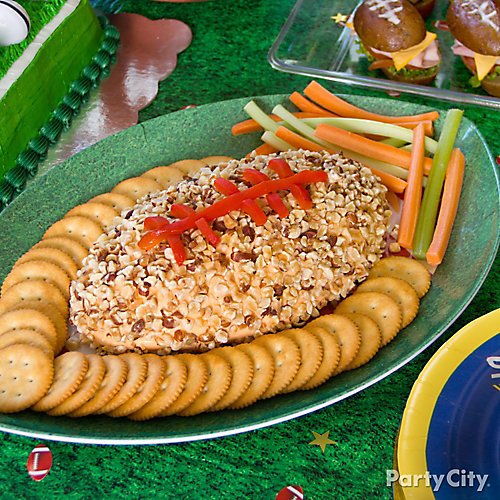 Idea 4: Make an easy cheese plate part of your pregame strategy
You won't miss any action (or cool commercials) when you set out this make-ahead football cheese ball. Simply combine equal parts cream cheese and velveeta in a mixing bowl and blend with an electric mixer until smooth. Refrigerate for several hours then mold into a football shape, coat with nuts and top with sliced pimento arranged in a stitching pattern. Serve with veggies and crackers – and remind guests not to hog the ball!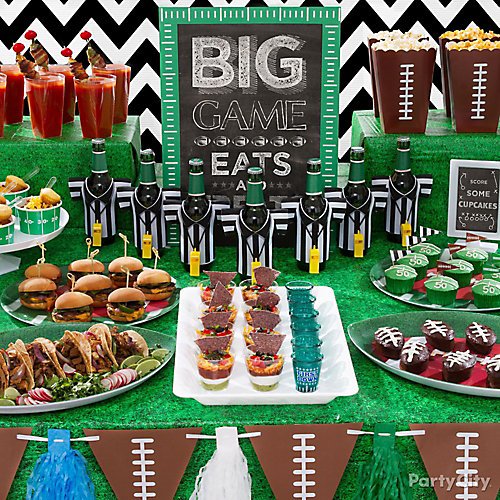 Idea 5: Wow them with a non-stop buffet
It's easy to keep a hungry crowd happy with a Big Game buffet. Football-themed serving trays and bowls look fab and make transporting food from the kitchen a snap. Do it right with official party plates, napkins and cups!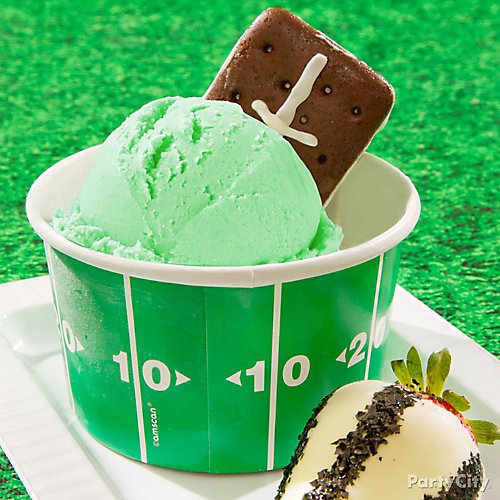 Idea 6: Score with football ice cream cups!
When your fans are getting heated up, this sweet treat will cool them down! Serve ice cream in gridiron-printed ice cream cups. Punt in an ice cream sandwich with football laces – just cut the sandwich in half and pipe on some laces with a pre-made frosting bag. They might even call a timeout to enjoy this icy treat!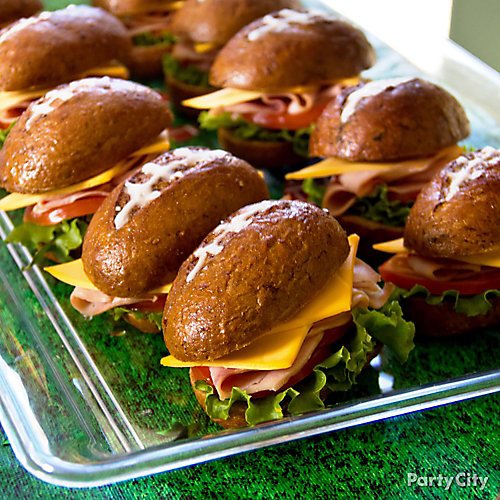 Idea 7: Kick off the food fest with football-themed sandwiches
Even if it's the two-minute warning before your bash starts, you'll still have time to make these super-easy football sammies. We used pumpernickel rolls, turkey, cheddar, lettuce and tomatoes for ours, but you can use any fixings you'd like. The key to making them "football" sandwiches is the carefully applied cream cheese stitching on the top. Your winning party streak remains unbroken!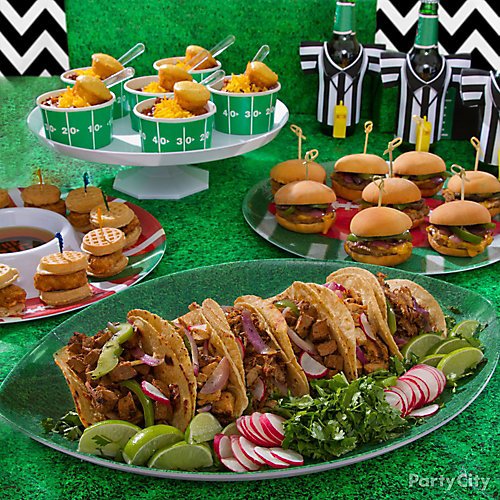 Idea 8: Serve up game-day tacos on a football platter
It's the first down and your fans have worked up an appetite. A football party platter is large enough to hold the tacos and sides like lime, sliced radishes and cilantro, so guests can grab their grub and get back to the game!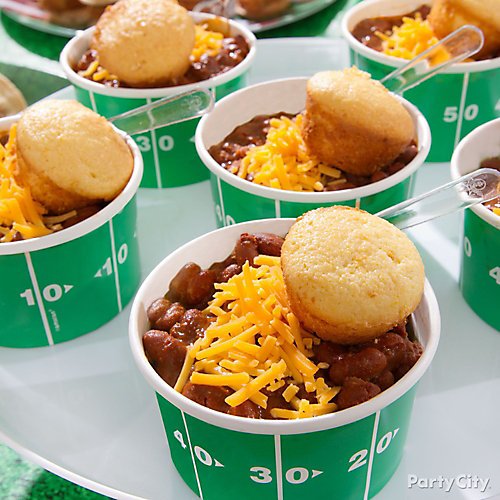 Idea 9: Chili and corn bread is a fan favorite!
When it comes to delicious football party food, chili is a no-brainer! Whip up a batch of your favorite chili and serve in bowls printed with football field-zone numbers. Top with cheese and bite-size cornbread baked with a mini muffin pan. Talk about game-winning party planning!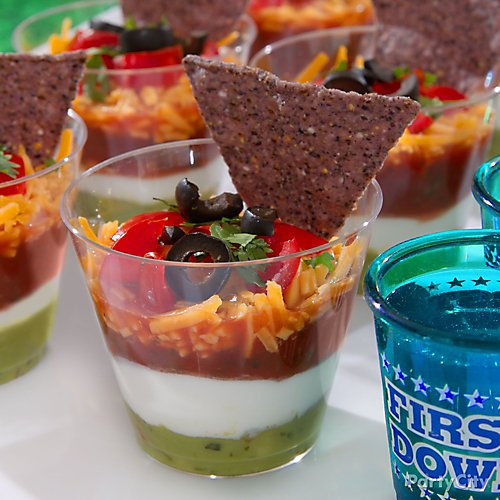 Idea 10: Score a snackdown with mini chip-and-dip
Make it easy with perfect portions that can be enjoyed in front of the TV! Just layer guac, sour cream and salsa in plastic shot glasses with a sprinkling of cheese, tomatoes, olives and green onions. Top off this winning idea with a tortilla chip – and the crowd goes wild!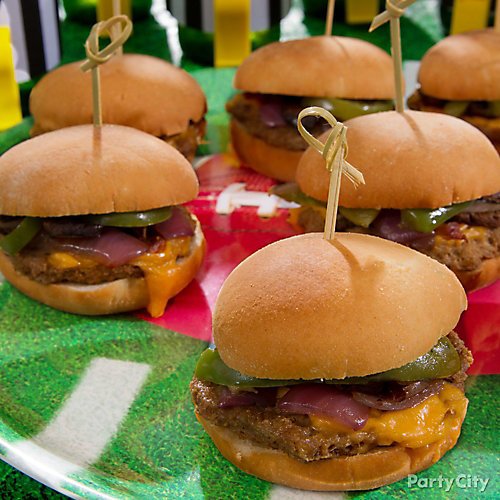 Idea 11: Kickoff halftime with snack-worthy sliders
These mini burgers are perfect for halftime snacking. Just stack beef, cheese, red onions and grilled peppers between two mini buns with a bamboo pick to hold it all together. Give them football flair on a platter printed with turf and football for guests to grab during the commercial break – it's the perfect end zone edible!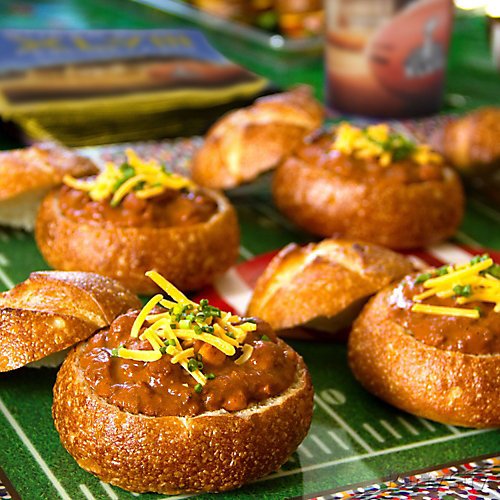 Idea 12: Block halftime hunger with a super bowl of chili
Watching one slobber-knocker after another sure can work up a fan's appetite! To prep these irresistible chili bowls, all you need is your favorite chili recipe and eight to twelve large sourdough rounds hollowed out with a serrated knife. Spoon the chili into the bread bowls and top with shredded cheese and chives. Simply delicious! Just be sure to get out of the way when your hungry crowd rushes the buffet table!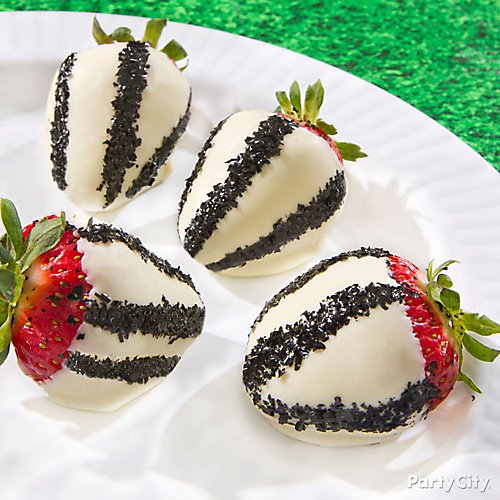 Idea 13: Referee-striped strawberries!
No one will blow the whistle on this yummy treat! Make candy-dipped strawberries with referee stripes – all you need are white Candy Melts and black sugar sprinkles. Just melt the candy, dip the strawberries and carefully make sprinkle stripes. Serve your treats chilled on a platter and watch everyone "spike" them into their mouths!