Dory Jumbo Cupcake with Candles Idea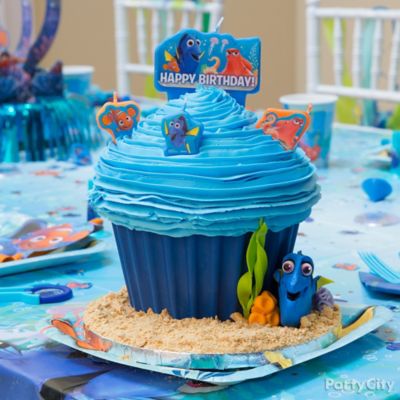 Make a special cupcake for the birthday girl!
If you're looking to wow, bake a whale of a cupcake! Use an easy giant cupcake pan to make the cake and pick out special Dory candles! You can even sprinkle "sand" and create a seamless, edible baking cup by melting yummy candy melts for a professional look.

Using a pastry brush or silicone spatula, coat the sides of your bottom pan with candy melts. Chill for twenty minutes, then pour the second half in and coat a second layer. Chill for at least thirty minutes. To sculpt Dory, melt 10 oz. Candy Melts following package instructions, then mix in 3 oz. corn syrup. Stir together until smooth, then wrap in plastic wrap and keep on the counter overnight. In the morning, unwrap and use it like clay!