You're done with homework and passed your last test, but there's one extra credit project you won't want to turn down—decorating your grad cap. Whether it's heartfelt or humorous, a grad cap design is like making your mark on the pomp and circumstance. If graduation has got you feeling ready for the next big thing or lighthearted about heavy student debt, you'll find your perfect fit in our gallery of grad cap design ideas.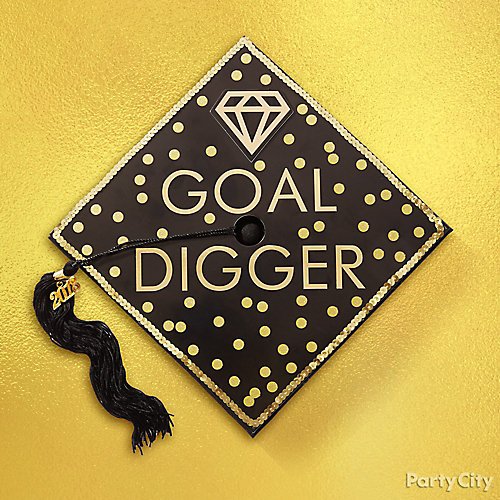 Idea 1: For the grad ready to slay
No doubt about it—you've slayed some serious #goals and you're getting the diploma to prove it. A "Goal Digger" grad cap design is a clever way to show how you got to graduation day—and that you have what it takes to go beyond.
Idea 2: For the grad ready for the next big thing
Sure, graduation is a milestone, but you're more excited about using your brand-spanking new diploma as a launch pad for what's beyond the horizon. Let others know you're ready for the next big thing with a grad cap idea that says "it's time to get hired!" Pair it with a gold dollar sign necklace so it's clear what you're set on—money, money, money!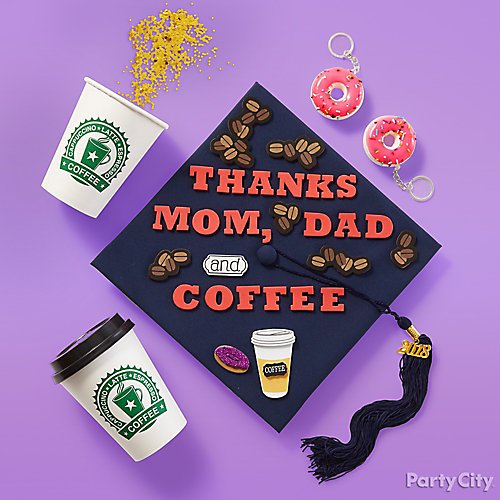 Idea 3: For the grad who had cram session hustle
You got smarts, but you know to give credit where credit is due: mom, dad and coffee. Especially coffee. It powered you through the numerous cram study sessions and finals week every semester, so it's only makes sense that you give it a shout out on graduation with this easy grad cap design. Use letter foam cutouts to spell out "thanks mom, dad and coffee," then add other funny cutouts—coffee beans, coffee drink and donut—to drive the point home.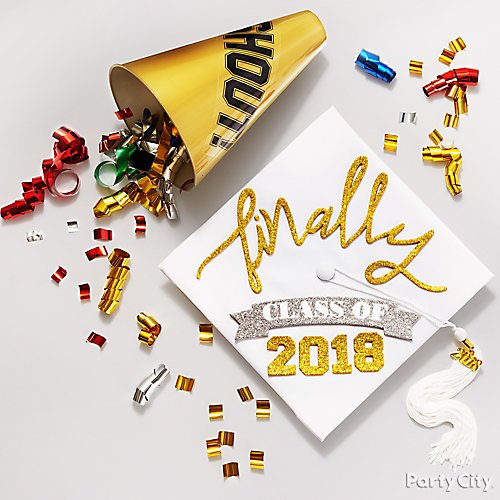 Idea 4: For the grad just glad to be here
"Finally!" pretty much sums up the what the last four years means to you—and the saying also makes for an easy grad cap design: "finally" in gold lettering is simple yet speaks volumes. Add a "Class of 2018" cutout to show that you're proud to be part of the graduating class! Your grad celebration doesn't stop there—give a megaphone, pom-poms and confetti poppers to the group who are cheering for you on your big day!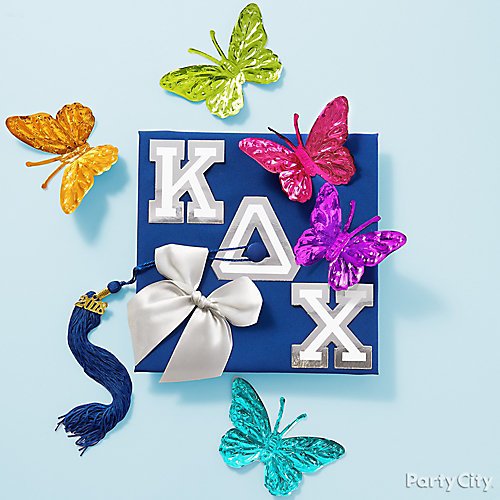 Idea 5: For the Greek-life grad
It's clear that on graduation day, you'll receive more than a diploma—you'll have the friendships of your sorority sisters who have been with you through the thick and thin of college life. They gave you wings to fly, which makes for the perfect shout out to your soul sisters on your grad cap: spell out your sorority with silver-lined letter cutouts and add a couple of butterflies from a party decorating kit. Top it off with a silver ribbon.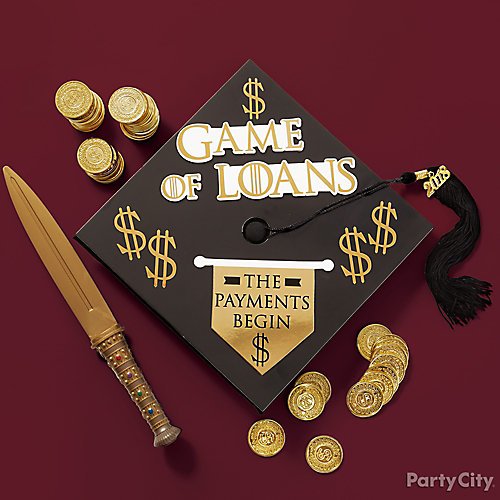 Idea 6: For the grad who aced binge watching
It's OK to admit that you spent more time binge watching than studying. Take what you learned from your favorite TV series as inspiration for a grad cap idea: a foam cutout that says "Game of Loans" offers a lighthearted approach to heavy student loans. After all, when it comes to debts, Lannisters—err, students—always pay.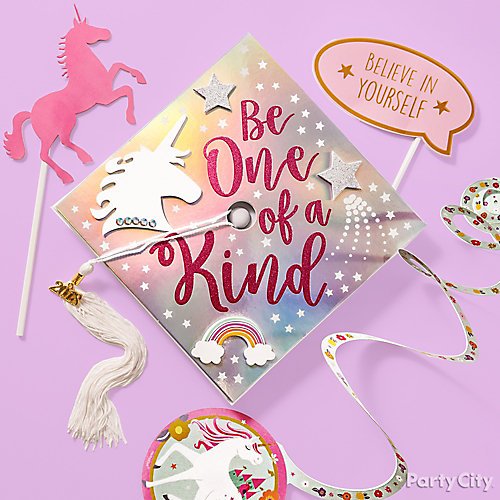 Idea 7: For the grad who runs with unicorns
You're a believer in dreams… and unicorns! For the one-of-a-kind grad, a unicorn grad cap is the perfect fit. Reflective paper embossed with "one of a kind" sets this grad cap design apart from the herd. Add a couple of stars and rainbows—you know, the stuff of dreams—and just like that, you're ready to shine!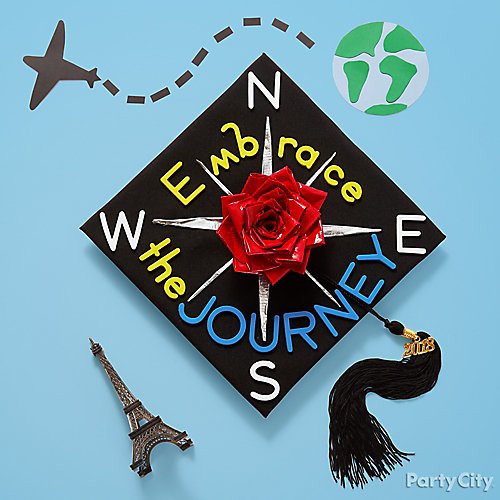 Idea 8: For the grad who doubled majored in duct tape engineering
As the saying goes, duct tape fixes everything—even when you're stumped on a unique grad cap design. This creative take on duct tape and foam letters earns you a master in duct tape engineering—the perfect complement to your degree! Create a compass rose with duct tape by folding square pieces of duct tape into a triangle; keep layering the pieces until it forms a rose. Use silver duct tape to create the points of a compass. Add foam letter cutouts for the compass directions and spelling out the phrase, "Embrace the journey."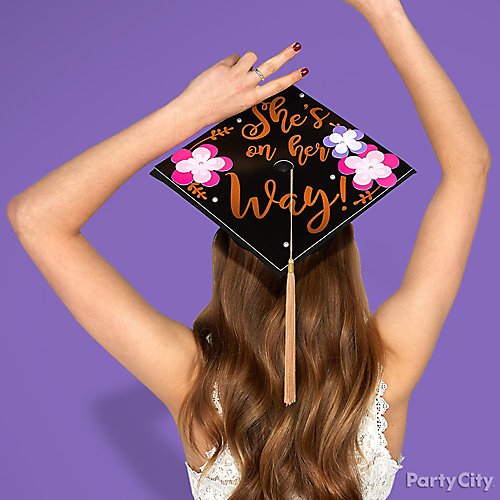 Idea 9: For the grad ready to blossom
No matter where you go, you bloom where you're planted. That's why this grad cap idea is a perfect fit. You've grown in ways you've never expected, and the "She's on her way!" grad cap embraces that spirit. Make sure to strike the perfect pose that says you're ready to slay.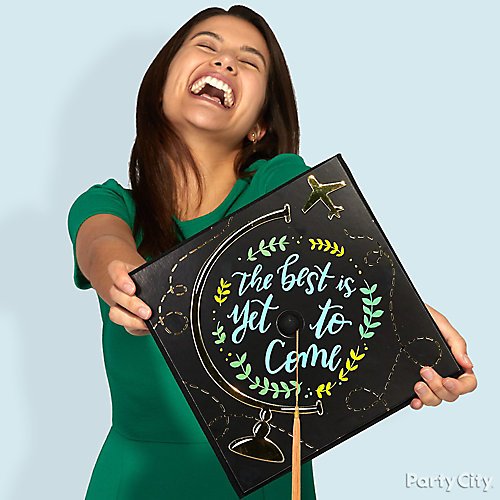 Idea 10: For the grad with major wanderlust
Graduation day proves you've always dreamed big, and that same spirit makes you prone to wanderlust. This grad cap idea "the best is yet to come" embraces your inner adventurer, making this grad cap your perfect fit yet.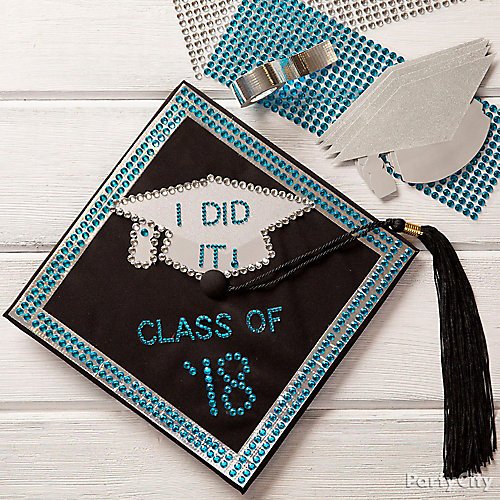 Idea 11: Make an Instagram-worthy grad cap!
Use your mortarboard as a canvas to show off your one-of-a-kind personality! Here's a no-brainer idea: Make your black cap POP with shimmery tape, rhinestones and a graduation-themed cutout. Mom and Dad will be so proud!
Idea 12: Make your mark!
The tassel was worth the hassle, so make sure to show it off! Create duck tape stripes on the top of the cap in your fave colors (or school colors!), then add a couple colorful mortarboard cutouts. Give the cap an A+ finish with a funny headline and cool pattern made of glitzy rhinestones.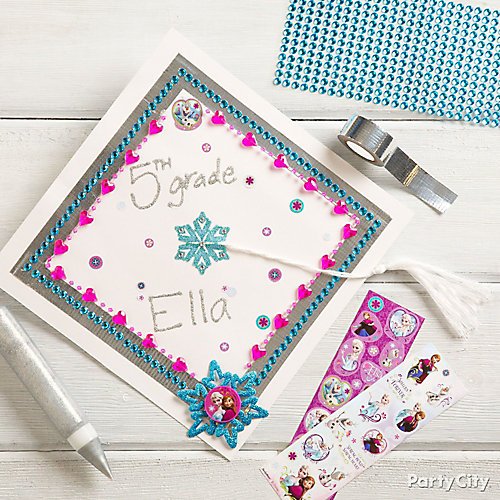 Idea 13: Melt her heart with a DIY Frozen graduation cap!
Let your grade-school graduate get in on the cap-decorating fun with a white mortarboard, Frozen stickers and rhinestones. Make a frosty border with silver tape and have your Frozen fashionista write in her own name and grade with a cool-as-ice glitter pen. Graduating is snow much fun!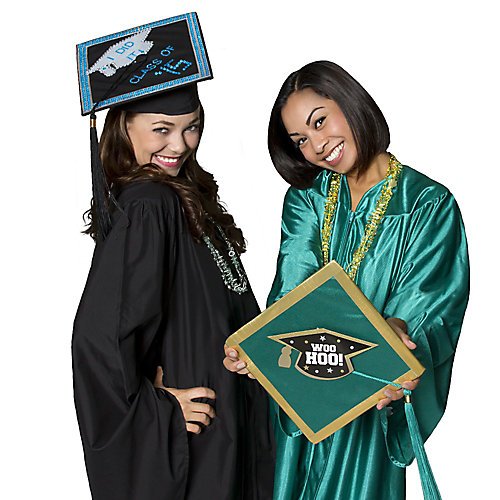 Idea 14: Hats off to you, graduates!
Stand out from the sea of polyester robes with grad caps glammed out in shiny gold duck tape, graduation cutouts and glittery rhinestones. Check out our easy graduation cap decorations grads from every grade level can rock down the aisle!