Get into the spirit of the holiday with candy, skeleton and candle-lit decor! We have a variety of bright and skeletal ideas for your mantel. Whether you have a large altar or a small ofrenda planned, or just love the beautiful designs of Day of the Dead, we have a variety of bright and skeletal ideas for your mantel. Our ideas encorporate fanciful ways to use paper fans, skulls, candies and more. Get decorating before the departed arrive!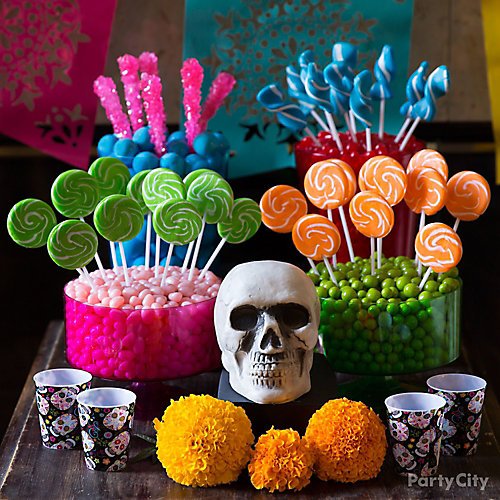 Idea 1: You don't need taste buds to love this candy!
Pick lollipops, Sixlets chocolates, rock candy and gumballs in the color scheme of the paper garland and arrange them in different sized and colored candy containers for this brighter-than-life look. Add on a skull, a few fragrant marigolds and shot glasses to attract the spirits with a sweet tooth!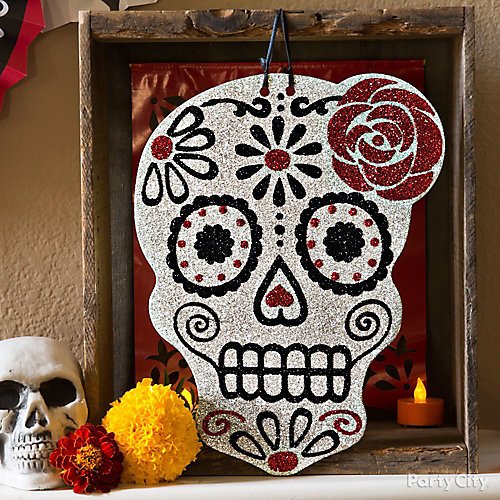 Idea 2: Use a stylized skull for the mantel-altar!
Raise their spirits with a glamorous skull! Roses, candles and glitter make a fine faux dead image, so use this skull in front of red cut paper and put flameless tea lights on either side. Spruce it up with marigolds and a mini skull to make it extra bone-ita!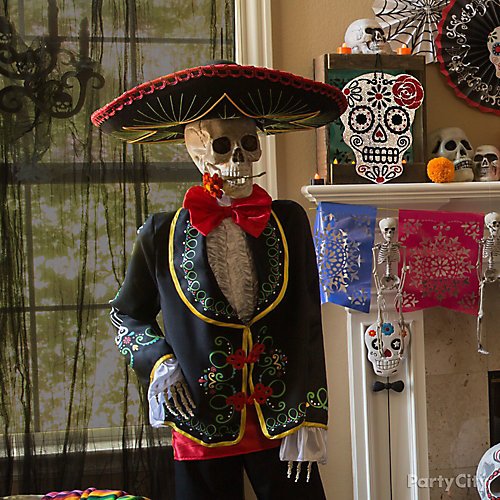 Idea 3: A sombrero and bow-tie give this skeleton a romantic look!
Don't forget about the gents! Add a skeleton with Latin spirit by dressing him up in a Day of the Dead señor costume, and put a flower in his teeth. Hang a gauzy chandelier nearby for a little extra spirit. It looks as though he's about to cha-cha over to his lady!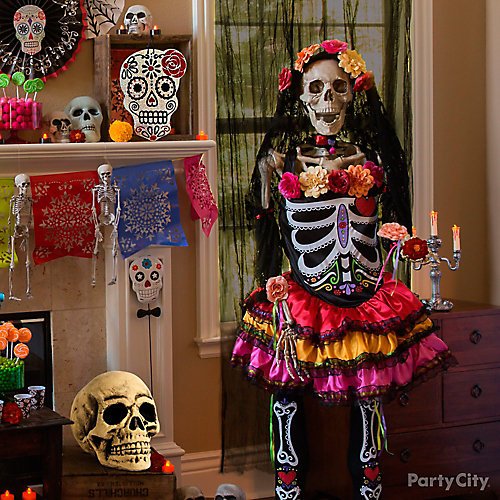 Idea 4: Create an eye-catching, life-sized decoration!
This gorgeous señorita is decked out for Dia de los Muertos! She's easy to create using a posable skeleton and a skeleton and flower costume, and behind her hang a black tulle curtain over any nearby windows to carry the colors through the decor. She puts the afterlife into the party!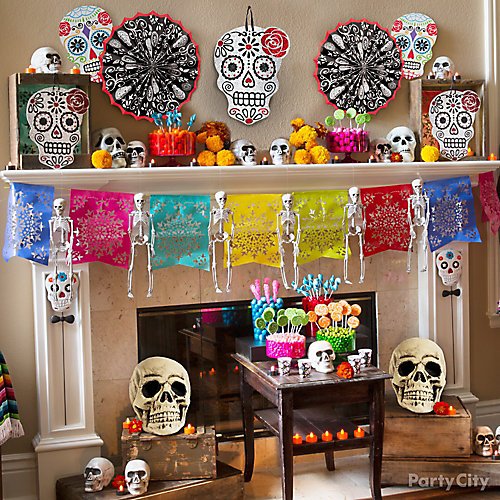 Idea 5: Make a mantel the living and dead will adore!
This drop-dead gorgeous mantel is artful and so easy to assemble! All you need are simple cutouts, paper fan decorations, a del sol paper flag banner and a few skeletons and skulls. A layered look for a 3D effect makes this part of the house stand out!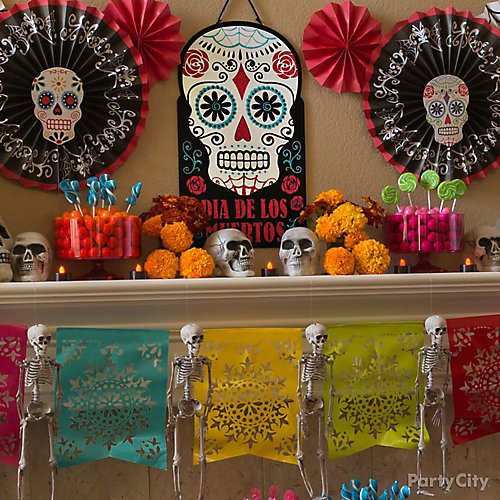 Idea 6: There's nothing bare-bones about this mantel!
The departed have arrived! Go all out with chic decorations like paper fans, paper garland (with added skeletons!) and a large Dia de los Muertos sign in the middle. Flameless tea lights, skulls and candy add details that will raise their party spirits!