Demented Halloween decorations for a haunted asylum. You'd be insane not to join us! Go crazy with demented decorating ideas for a haunted asylum theme Halloween party. Bloody body parts, unhinged inmates and twisted chains create a house of horrors— and no one escapes.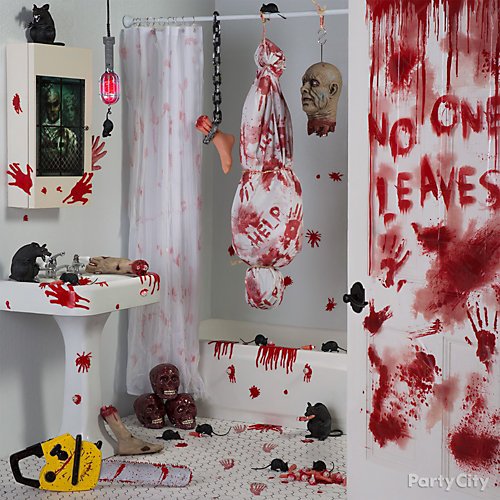 Idea 1: Splish splash, time for a blood bath!
Transform your powder room into a bloody shower scene! It's easy to make a gory-good setting for screams with bloody gel clings and body pieces in all the wrong places. Let ultra-creepy limbs and a body bag prop peep out from behind a blood-spattered shower curtain. The more gruesome, the better!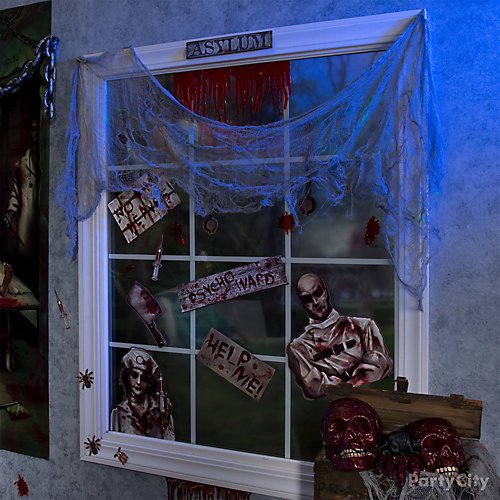 Idea 2: Decorate a disturbing window!
Remind them that there's no way out with condemning décor. Hang up scary signs that say, "Help me" and "No one leaves" with a couple sinister members of staff. Trade out your curtains for a strip of gauze haphazardly strung across the window with bloody window clings to make incoming patients want to turn back!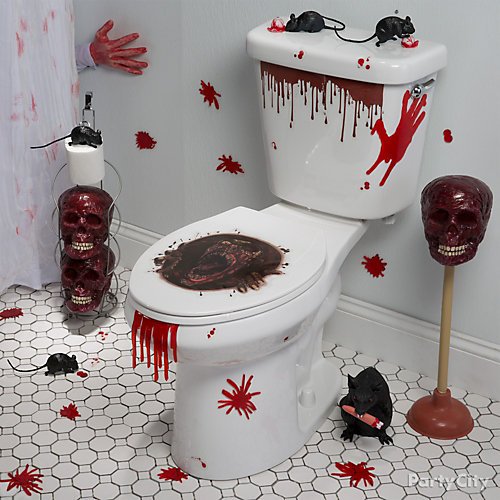 Idea 3: Even the bathroom is a scream!
Your bathroom will give them nightmares! Stick a creepy arm from behind the curtain to give guests a "hand" when they least expect it. Transform the ordinary into extraordinarily scary with a stack of putrid heads by the toilet paper and plunger, with some vile vermin having a midnight snack nearby. Get creative with blood spatter clings all over the floor, the wall, and especially the toilet, with a screaming patient clawing his way out!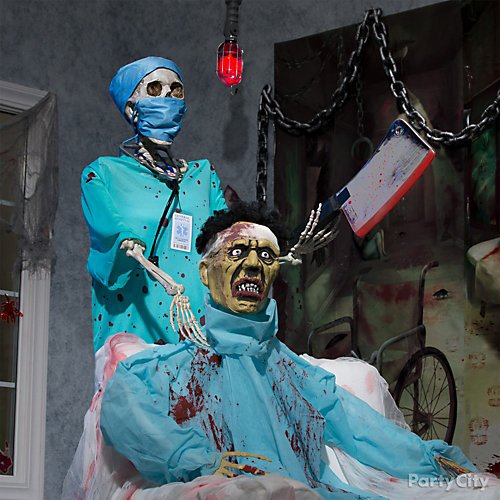 Idea 4: All chopped up and nowhere to go!
Stalk the halls of an abandoned asylum wing with a skeletal surgeon and his patient! Create an ominous setting with deluxe props, like this maniacal patient who's had one lobotomy too many. Arrange this bone doctor behind him with butcher knife prop in hand like he's about to give a surprise surgery! Visitors may start second-guessing their decision to visit your house of horrors when they see this deranged pair.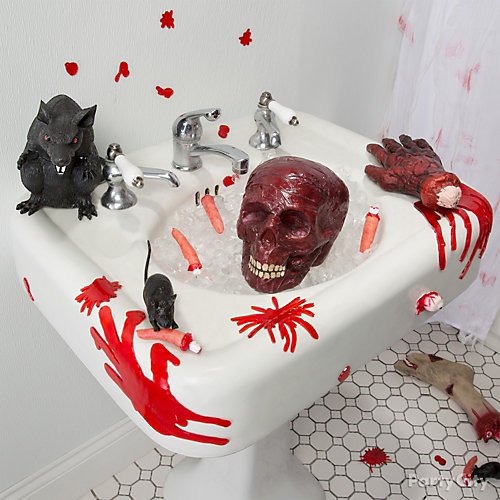 Idea 5: Make a splash with a sinkful of shocking props!
Freak out your Halloween party guests with bloody props sitting in the sink. Looks like this unfortunate patient lent a hand to the decorations....and a foot and skull, too! Amp up the horror with bloody clings, more body parts and a couple leering rats – gross!