With the temperatures heating up and my friend's due date right around the corner, my mind kept coming back to all things pink and tropical while planning her baby shower. That's when it hit me: What's better than a pink flamingo baby shower? Turns out, not much. From no-fuss food and game ideas to affordable pink decor, you won't need to spend a lot of time or money to throw an epic pretty-in-hot-pink party. … Ready to "flamingle"?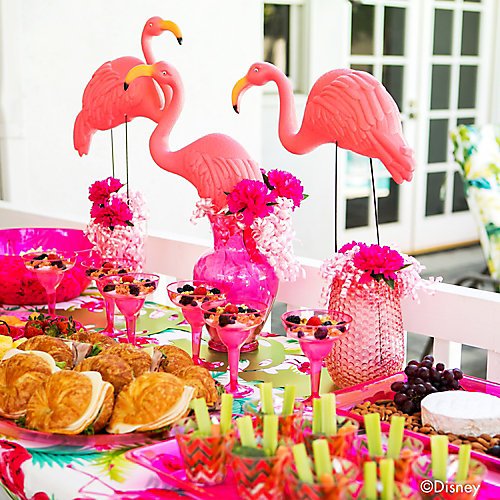 Skip the flowers and create flamingo bouquets instead
Centerpieces are super important at baby showers because they pull the theme together and encourage conversation amongst guests. Fresh flowers are beautiful, but when you've got a million and one things to do to prep for a party, running out to buy and arrange flowers might not be something you have a whole lot of time for. (Personally, I like to get as much party prep done as I can a couple days before, just so I'm not exhausted during the party, but that doesn't always work out.) Solution? Pink vases stuffed with tissue paper and curling ribbon with a cute pink flamingo coming out the top! These got lots of points at my friend's shower for being cute, and even more points for being easy to prep beforehand.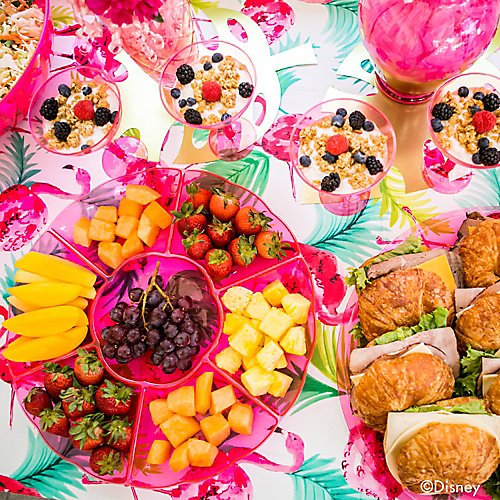 Serve your food in festive partyware
I went pretty simple with the food: veggie and turkey croissant sandwiches, salad, a fruit tray, nuts, a pasteurized cheese tray, and spinach dip with veggies in cups. And since our mama-to-be had been craving yogurt parfaits lately, I had to include those as well. When serving simple foods, placing them in individual festive serving cups somehow makes it look so much fancier. I also opted to go with these plates and turquoise napkins for a tropical, retro touch, along with pink everything, from the platter trays to margarita glasses. (Pro tip: the brighter the better!)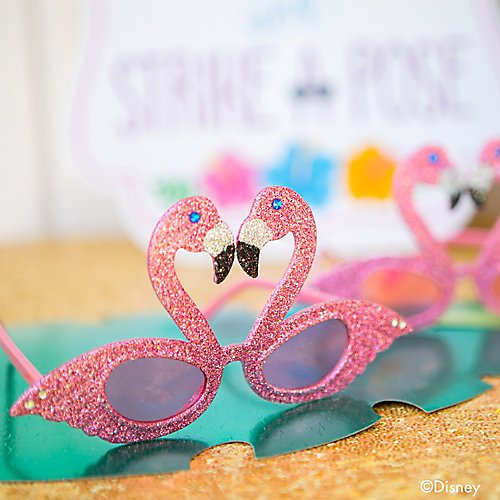 Create a tropical DIY photo booth
Photo booths are a must at every single party I throw, but I always go the DIY route so I don't spend a fortune. For this party, I installed a white curtain rod to the side of my house — and I'm telling you, if you have a bit of a photo booth obsession like I do, I would highly recommend it. It saves so much time not having to rig up some contraption each time for your backdrop. Plus, it opens up endless window and shower curtain backdrop possibilities! I used lovely green leaf fans that I safety-pinned onto the backdrop and put out lots of fun props, like awesome flamingo balloons that were the cutest characters to pose with. Using huge balloon animals turned out to be a great idea for a super unique photo booth set-up.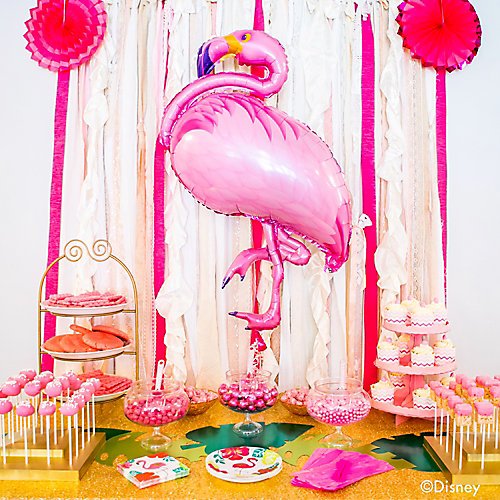 Deck out the dessert table with pink sweets
Can we all agree that the candy table is — hands down — the best table at any party, especially at a baby shower because we're welcoming a sweet, new life into the world? Naturally, I made sure that every single edible item on the table for this party was pink, and it made for a pretty sweet set-up. There were pink cookies, cupcakes, cake pops, Rice Krispies pops dipped in pink candy melts, a pink candy bar with pink chocolate Sixlets, bright pink caramel balls, and even pink peanut chocolate drops with takeaway bags on hand for the guests.