Green Bead Necklaces 100ct
Green Bead Necklaces 100ct
Product Details
Here are enough Green Bead Necklaces to please a big crowd on St. Patrick's Day! Oblong green beads are a fun twist on a holiday classic. Complete your St. Patrick's Day look with multiple strands around your neck or a few wrapped around your wrist. Great for classroom parties, too.
Green Bead Necklaces product details:
100 per package
Each measures 30in long
Plastic
Product Warnings & Disclaimers
Intended for adult use only.
Frequently Bought Together
Discover the Spirit of St. Pat's
Each year on March 17, the world goes green for St. Patrick's Day. People wear green, choice beverages are turned green, and even famous landmarks, from New York to Tokyo, light up green in honor of this quintessentially Irish holiday. But you don't need to be Irish, or religious, to join in the St. Patrick's Day festivities. Paddy's Day, as it's affectionately called, is as much a celebration of life and the Irish spirit of optimism as it is a day to honor St. Patrick, the patron saint of the Emerald Isle. So on March 17, don your emerald finest, gather your friends and family, and raise a glass of green stuff to being alive and being together!
A Paddy's Day Toast
May you find your rainbow.
May you reach the end.
And see a patch o' shamrocks there,
And a pot o' gold therein!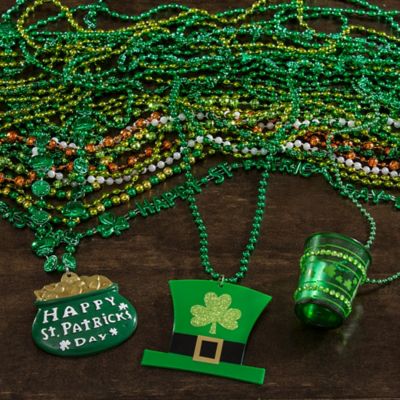 Save the Greenless
Even though everyone knows you're supposed to wear green to participate in St. Patrick's Day festivities, there's always a few that forget! Bring extra beads to the Paddy's Day party to help out any friends wearing less-than-leprechaun apparel. Bead necklaces aren't just a fun and flashy way to go green, you can use them as decorations (beads overflowing a pot o' gold anyone?), party favors, activities, and more.
Additional Details
100 necklaces per package
2 shades of green
Use beads as favors, decorations, or accessories
Pass out beads to amp the party up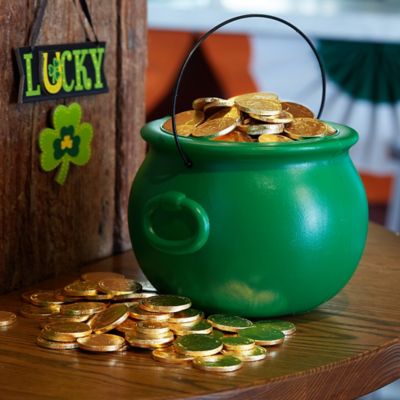 Decorative Gold
Irish folklore has it that leprechauns hide gold at the end of rainbows to ensure no human plunders their hard-won cheated treasure. A pot o' gold display is not only an attractive decoration, it brings a piece of Paddy's Day lore to life.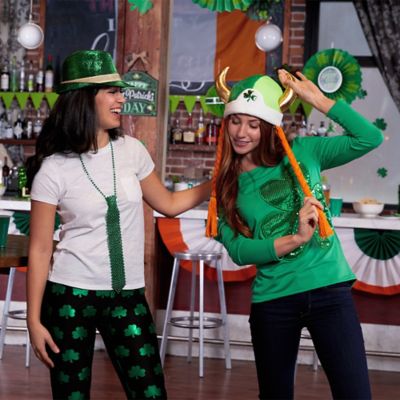 Green Galore
Stay pinch proof at the pub — wear green, and lots of it! Paddy's Day costumes tend to be on the sillier side, but stylish is ok too, as long as your mood stays silly. Pro tip: coordinate costume styles before pub jumping with a group.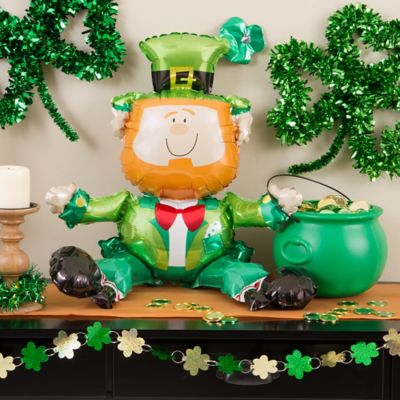 Paddy's Day Display
Whether you host a St. Pat's party or not, a decorative display looks great and may even bring your home a little luck of the Irish! It doesn't take much to create a fabulous display: a leprechaun, some shamrocks, and a pot o' gold is already going above and beyond.
Show us your look with #PartyCity on Instagram!
ADD YOUR PHOTO