Balloon Time Large Helium Tank with 30 Balloons, Ribbon & Hi-Float
Balloon Time Large Helium Tank with 30 Balloons, Ribbon & Hi-Float

Balloon Time Large Helium Tank with 30 Balloons, Ribbon & Hi-Float
$70.99
+$10.00 Handling Fee at checkout
This item requires an additional handling fee applied at checkout due to size or weight.
Product Details
Fill up and watch the party take flight! This Balloon Time Large Helium Tank with Balloons, Ribbon & Hi-Float has everything you need to inflate balloons for birthday parties, graduations, weddings, and other celebrations wherever they may be. Simply treat the included pearlescent latex balloons with Hi Float and then inflate them with the easy-to-use nozzle one-to-two hours prior to the event for the best results. Tie off the balloons with the included ribbon for easy decorating! Balloons will remain afloat for up to 24 hours depending on altitude, humidity, and temperature.
Balloon Time Large Helium Tank with Balloons, Ribbon & Hi-Float product details:
1 Large Helium Tank

Approximately 14.9 cubic feet of helium with built-in 10% waste
80% helium, 20% air blend
Inflates approximately:

Latex

50 9in latex balloons, or 28 11in latex balloons, or 21 12in latex balloons

Foil

24 18in foil balloons or 7 super shape foil balloons

1 Ultra Hi-Float Balloon Treatment, 5oz

Treats approximately 50 9-inch latex balloons or 25 11-inch latex balloons

30 Assorted Pearl Latex Balloons, 12in
White curling ribbon
Product Warnings & Disclaimers
Always dispose of balloons properly. Do not release balloons into the air.
Shipping & Returns
Standard Ground Shipping only. We cannot ship to AK or HI.
Frequently Bought Together
Make the most of your Balloon Time®
To maximize your balloon fun, it's best to have helium on hand. A Balloon Time® helium tank allows you to inflate your balloons wherever you need them. The tank is easy to use and transport, and you can recycle it when you're done. There are all kinds of games, crafts, and, as you'll see below, even science experiments that use helium balloons. No matter what your balloon occasion is, you'll want to get the most out of your helium tank. Here are some best practices, and one cool DIY idea, for you to use your tank to the fullest.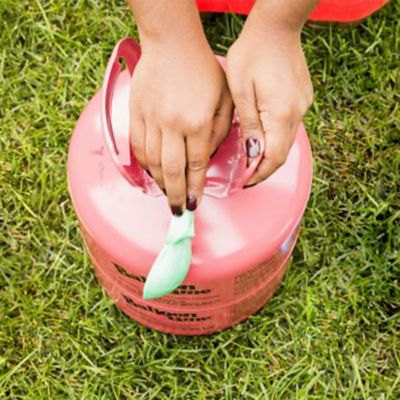 Tightly fit balloon to nozzle
Prevent helium leakage by ensuring there's a tight seal between the neck of the balloon and the tank's nozzle before you press the nozzle to inflate the balloon.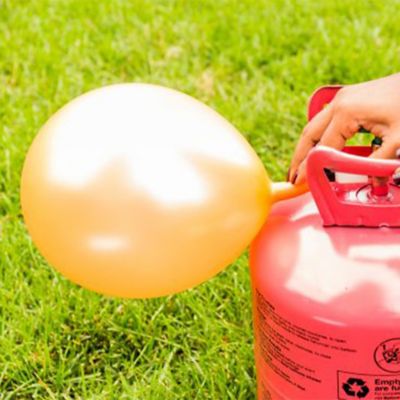 Don't overfill your balloons
Use a ruler to measure the diameter of the balloon as you inflate it so you don't go past the size it should be. You can tell a balloon is over-inflated when it has the shape of a pear or light bulb instead of a rounder egg-shape.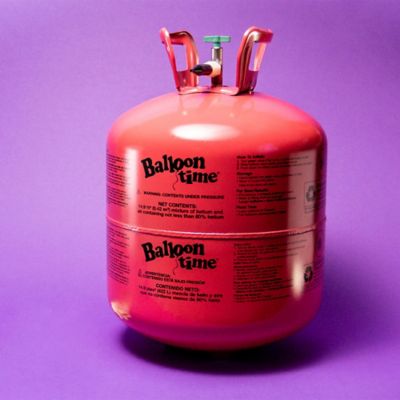 Properly store your tank
When you're finished inflating your balloons, close the green valve tightly by turning it clockwise and store the tank in a cool, dry place.
DIY Science with a Helium Tank
Just because the kids are staying home doesn't mean the learning needs to stop! Here's a DIY STEM-based (Science, Technology, Engineering, and Math) experiment that you and the kids can do at home using your helium tank. The experiment is easy to set up and requires only a few simple materials. Best of all, it's a great way to teach your kids about static electricity.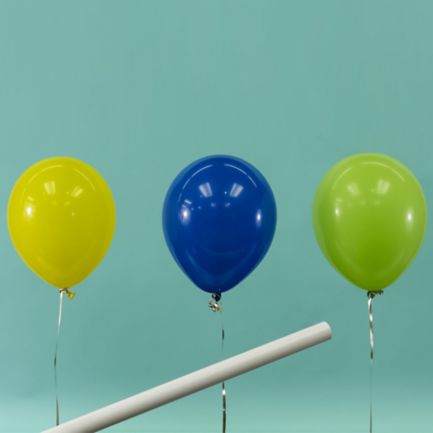 The Electric Balloon Wand
Experiment steps:

1. Inflate 3-4 latex balloons, tie them to weights, and space them evenly apart.
2. Slowly pass the PVC near the balloons to see if they react.
3. Vigorously rub the fabric cloth on the end of the PVC.
4. Slowly pass that end of the PVC near the balloons to see if they react.
How it works:
Friction causes the cloth to transfer electrons to the PVC, which gives the wand a negatively charged statoelectric field. This field interacts with the balloons, causing them to move.
What You'll Need:
Balloon Time® helium tank
Six 9-12in latex balloons (have extra in case some pop)
Three balloon weights
PVC pipe
Fabric cloth (wool works best)
Curling ribbon or string
Show us your look with #PartyCity on Instagram!
ADD YOUR PHOTO