Adult Booby Trap Harley Quinn Costume Plus Size - Birds of Prey
Adult Booby Trap Harley Quinn Costume Plus Size - Birds of Prey
Adult Booby Trap Harley Quinn Costume Plus Size - Birds of Prey
Select Size:
Product Details
Hey there Puddin'! Find your stride as the colorful queen of Mayhem — Harley Quinn. This plus size costume is based on Harley's beating-up-goons outfit in Birds of Prey. It features a harlequin pattern gold overalls jumpsuit with decorative knee pads and a zip closure. A fuzzy pink polyester crop top competes the costume.
Birds of Prey Booby Trap Harley Quinn Costume Plus Size product details:
Polyester overalls jumpsuit

Decorative knee pads
Front zip closure
Gold harlequin pattern
Suspender straps

Polyester crop top
Does not include shoes, wig, makeup, necklaces, or hammer
Fits women's size 18-20, up to:

46in chest
38in waist
48in hips
5'10" height
Officially licensed Warner Brothers DC Comics costume.
Costume #546
Product Warnings & Disclaimers
Intended for adult use only.
Materials
Materials:
Care Instructions:
Remove accessories before washing
Hand wash cold with like colors
Line dry
Do not bleach or iron
Frequently Bought Together
A Harley Kind of Halloween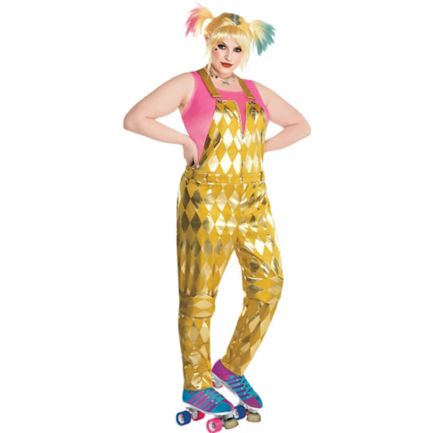 Nail your Harley Quinn cosplay with this jumpsuit set inspired by the official Birds of Prey costume design. The harlequin-print overalls feature a functional front zipper, built-in knee pads, and a metallic gold finish. Throw on the fuzzy pink cropped tank top and you're ready to run amok in Gotham City this Halloween or ace your comic convention look.

Additional Details
Metallic gold harlequin print overalls
Front zipper closure
Partially elastic waistband
Padded knee panels
Cropped pink tank top
Hand wash cold; line dry
Does not include roller skates, wig, makeup, or necklaces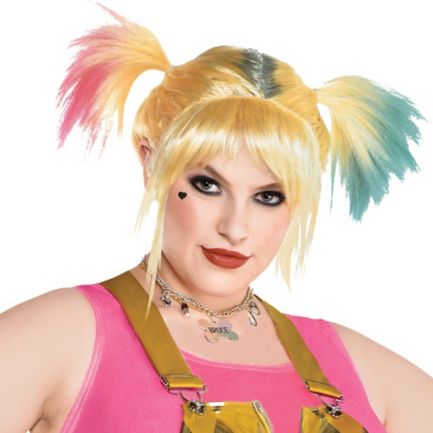 Layered Look
The pink top features wide straps, a cropped cut, and a soft velvety texture. Throw it on under the overalls just like Harley Quinn does in Birds of Prey.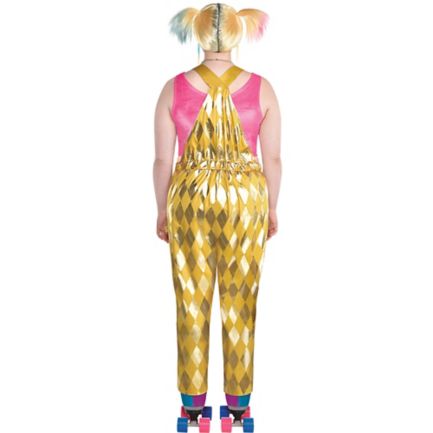 Shining Details
The overalls feature an on-brand harlequin pattern with a front zipper closure for convenience and a metallic gold finish.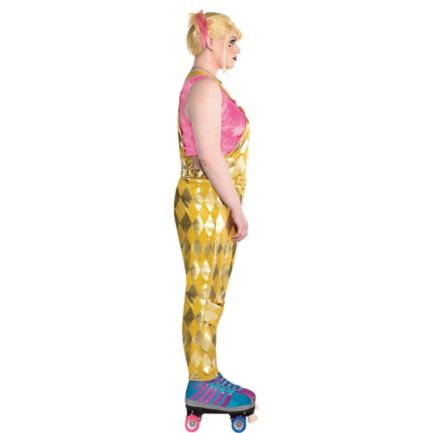 Safety First
A padded panel is present at each knee to mimic the protective pads needed to keep you safe as you skate around town.
Show us your look with #PartyCity on Instagram!
ADD YOUR PHOTO