Zany Zombie Cupcakes How-To
| | | | |
| --- | --- | --- | --- |
| | | | |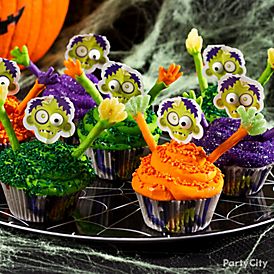 Boys and ghouls will be thrilled to bite into zombie cupcakes that look like they'll bite right back! Featured in our
Howlin'-good Halloween Treats & Candy Ideas gallery
, these zany zombie cupcakes combine colorful icing, sweet sprinkles and yummy fondant-covered pretzels for a freaky-fun treat. This how-to is provided courtesy of the awesome decorating experts at Wilton!
What You'll Need:
White rolled fondant (3 oz.)
8 icing colors set (orange, violet, lemon yellow, leaf green used)
Rose icing color
Pretzel sticks
Scissors
Fondant roller
Knife
Sparkle gel (in any color)
Fruit slices candy
Favorite cupcake recipe or mix
Standard muffin pan
White decorator icing
Disposable decorating bags
Decorating tip #12
Green, orange and purple sprinkles
Zombie decorating kit
*Makes enough arms and hands for 12 cupcakes.
Instructions:
Start with a zombie cupcake decorating kit. For this fun idea, we used a zombie cupcake decorating kit that includes baking cups, picks and even zombie candy eyeballs! We added fondant arms and two styles of hands: gum drop and fondant. Recipe makes 12 cupcakes.


Make zombie arms and hands one day in advance. Tint three 1 oz. batches of fondant orange, purple and green. Combine violet with rose for purple shown, and lemon yellow with leaf green for green shown.


Shape fondant hands for 6 of your zombies. Remove 4 small bits of each color (for 12 hands total) and form into 1/2 in. balls. Insert pretzel stick into fondant ball. For scary-cute zombie fingers, flatten the fondant ball and cut slits with some scissors. Kids will get a kick out of these kooky bright colors!


Cover the pretzel arms with fondant. Using the fondant roller, roll out each of the 3 remaining batches of orange, green and purple fondant to 1/8 in. thickness. Use a knife to cut 24 strips; each should be 2 in. long x 3/4 in. wide. To secure to the pretzels, place some piping gel along the edge of a fondant strip before wrapping around the pretzel. Repeat to make 24 arms.


Create yummy candy hands for the other 6 zombies! Cut 4 fruit slice candies into 3 wedges each and insert pretzel sticks to make 12 arms. Use scissors to cut slits to form fingers. Coat with sugar to separate fingers and prevent stickiness.


Bake cupcakes. Prepare batter following recipe directions. Bake and cool cupcakes.


Ice cupcakes. Tint 3 portions of decorator icing purple, orange and green. Combine violet with rose for purple shown, and lemon yellow with leaf green for green shown. Fit disposable decorating bags with tip #12 and pipe swirls on top of cupcakes. Decorate with orange and green jimmies and purple sugar sprinkles.


Make them undeadly! Use icing to attach candy eyeballs to zombie picks and insert picks into cupcakes. Position the arms up or outstretched like they're reaching out to snatch someone. Yikes! Better hurry and eat 'em up… before they eat you!
Wilton, the Wilton Logo and Wilton Method Classes are either registered trademarks or trademarks of Wilton Industries, Inc. in the United States and/or other countries.