Tissue Paper Flowers How-To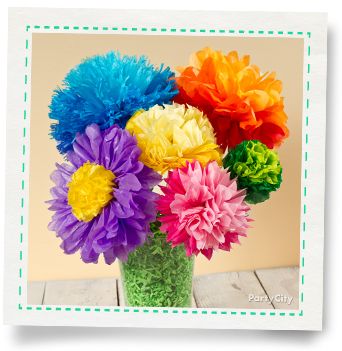 These pretty paper blossoms are super-fun and easy to make! All you need are a few sheets of tissue paper in your favorite colors and a bit of curling ribbon.

You can attach your floral creations to the ends of bamboo skewers and place them in a vase. Or sprinkle them here and there for fantastic vibrant color as in our Mexican Fiesta Party Ideas Gallery. For a fast and easy "garden," try mixing in pre-made mini paper fans among your tissue paper blooms.

Read on for instructions on making these awesome blossoms!

Just follow the 12 steps below.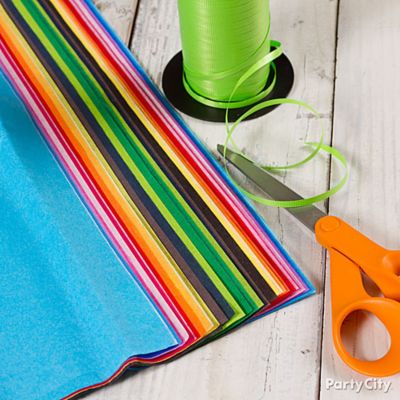 What You'll Need
SHOP THIS IDEA >
Assorted colored tissue paper
Citrus-green curling ribbon
Bamboo skewers
Green shred
Vase
Floral foam*
Scissors
*Item available at craft stores.
Step 1: Choose Your Colors
To create the orange "dahlia", choose three tones of tissue paper. Layer from dark to light, with darkest on the bottom. (You can also use one or two tones, and experiment with thickness... have fun with it!)
Step 2: Time to Fold!
Stack and align the tissue paper evenly. Begin on any side and start folding, accordion-style. Crease your edges as you go.
Step 3: Crease It
When folds are complete, firmly crease the last section.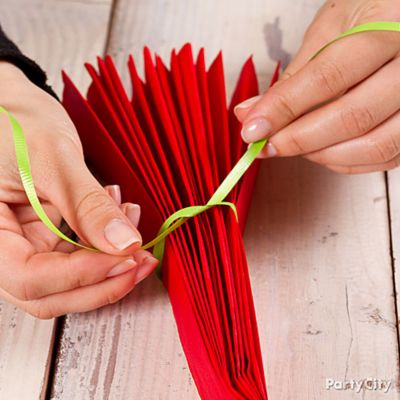 Step 4: Fold and Tie
Fold in half and cut at the fold (so you have double the thickness). Tie the middle section with curling ribbon. It should be secure enough to stay in place and hold your "center" as you unfold the flower (coming up next!).
Step 5: Shape the Ends
To create a round petal effect, trim a rounded edge as shown. Repeat on other end.
Step 6: Make It Bloom!
Hold as shown, with the darkest color on the bottom. Begin to separate the tissue paper gently, unfolding closest to the center of the flower for the best result. Separate all the layers.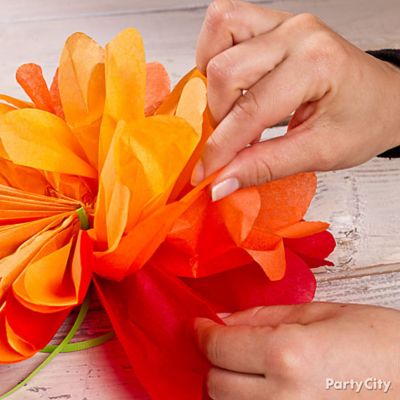 Step 7: Fluff It Up
Arrange the layers to create an even look. Leave a flat base for display on a table or wall.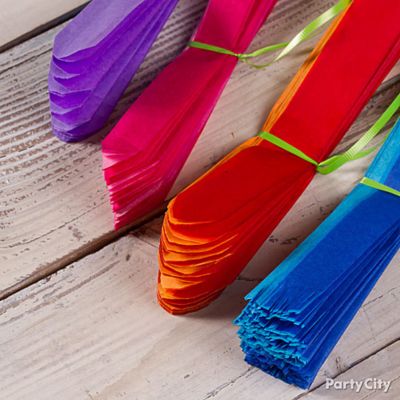 Step 8: Create a Bunch!
Make a garden of different styles by trimming the ends different ways! Try round, pointed, and fringed. (For smaller flowers, trim down first, then shape the ends.)
Step 9: Grow a Daisy
Easy! Just trim the center with scissors. This style works best when you use a contrasting color for the center.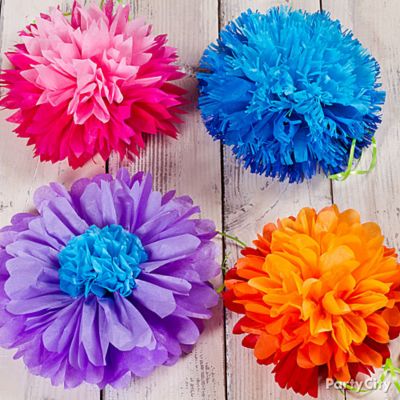 Step 10: Enjoy Your Garden
We love all of these! Leave the bases flat to display your flowers on a table or wall.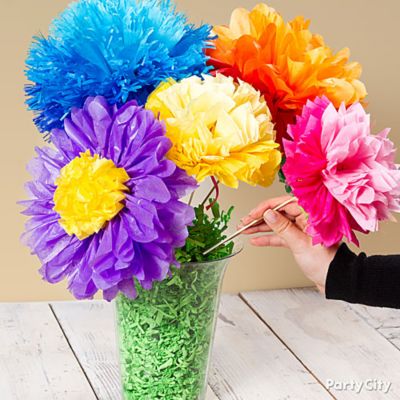 Step 11: A Pretty Bouquet
Tape them onto bamboo skewers and stick into vase filled with floral foam. Finish it off by filling with shredded green paper.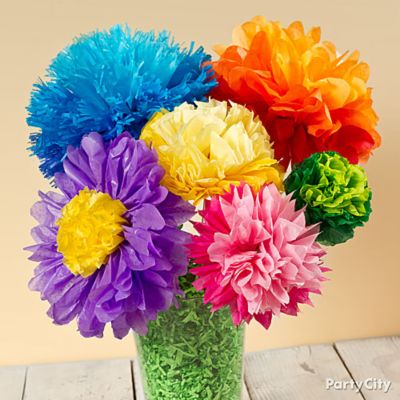 Step 12: Too Gorgeous!
Makes the perfect centerpiece, and after the party you can send them home as favors. Happy gardening!

Cha cha on over to our Mexican Fiesta Party Ideas Gallery for more colorful decorating ideas... ¡Arriba!