Tangled Party Invitation Ideas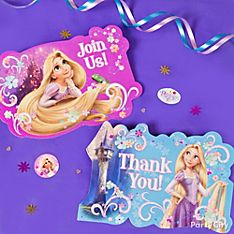 Meet at the tower!
Spread the news far and wide across the kingdom that your little one is having a special day. It doesn't take paper lanterns, but it does take some planning. Try these invite ideas that are sure to make everyone feel like a prince or princess!
Send a save-the-date sticker in your invites!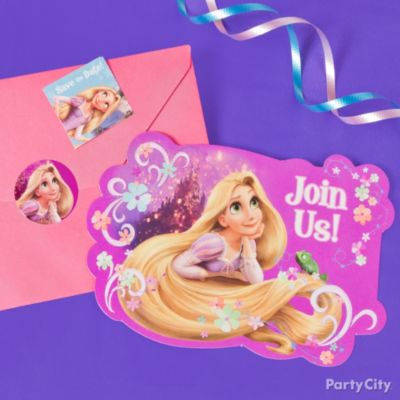 Even princesses need reminders, so include some save-the-date stickers when you send your Tangled Invitations. They make it easy for guests to remember your party – they just stick them directly on their calendars!
Include a party pass in your invites!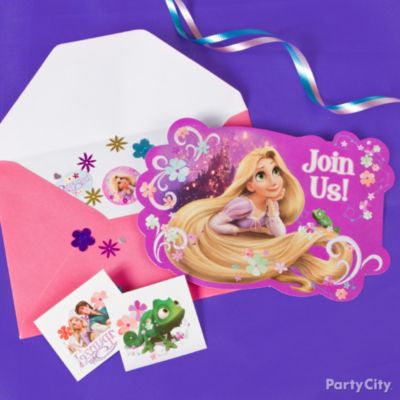 Rapunzel's code is "let down your hair" so you should have your own secret code for guests to enter your party. Send Rapunzel body jewelry with your invites and tell the guests they should wear them to the party in order to be let in!
Hand-deliver invites with a Tangled favor attached!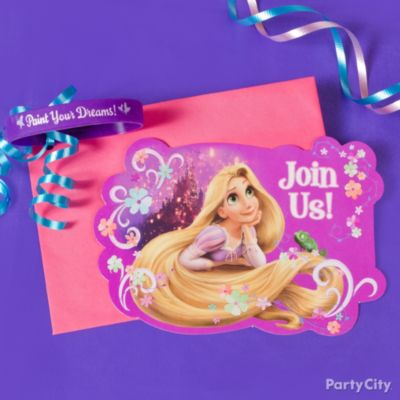 Get your party-goers excited far in advance by hand-delivering your Tangled Invitations with a tie-on favor. Start by punching a hole in the corner of the envelope, then attach a wristband with colorful curling ribbon.
Add a pretty picture to your thank you notes!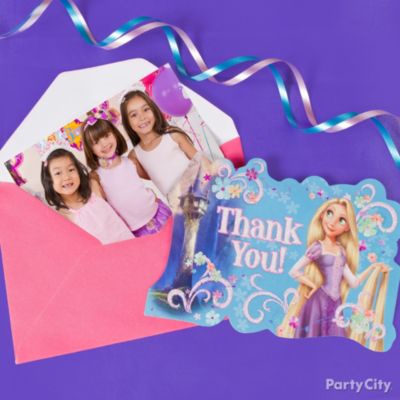 Here's an idea for making thank you notes royally special. At the party, take a picture of each guest, your child and the opened gift that guest brought, or them posing with Tangled balloons or a Rapunzel Scene Setter. Just slip your photo inside a Tangled Thank You Note, and they're ready to go!
Shop Tangled Party Invitations
Tangled Party Games & Activity Ideas
Time to play!
These games and activity ideas will make your guests feel just as giddy as Rapunzel felt when she left her tower. Girls will love adding the Tangled theme to classic party games and will be so thrilled when they get special prizes afterwards.
Gather the princesses for a royal Rapunzel pinata game!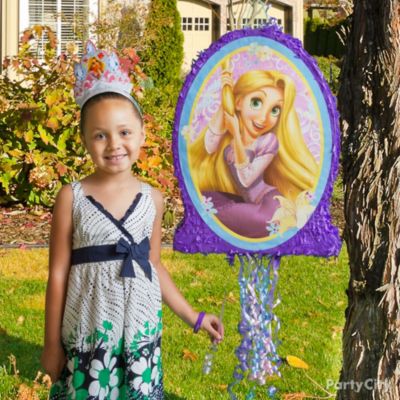 How about a fun, hair-raising game? Fill a Tangled pinata with official Tangled favors and a big bag of candy. Let the princesses break the evil spell by taking turns pulling the ribbons until the "magic" one makes the treasures fall out!
Rapunzel wants to play with you!
This twist on Pin the Tail on the Donkey will have any princess spinning with glee. With the Tangled Party Game your guests can wear a blindfold and play along with Rapunzel by placing a sticker on the poster.
Shop Tangled Party Games & Activities
Tangled Party Favor Ideas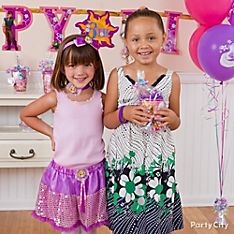 Put together fabulous favors in a flash!
Make it "happily ever after" when your guests leave with your Tangled party favors. Try these princess-worthy ideas for favors that are a snap to assemble and also make regal thank you gifts.
Tangled Party Decoration Ideas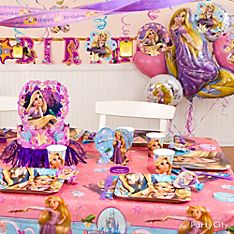 Create a land of enchantment!
It's easy to charm your guests at your Tangled party with these decorating ideas. Design with princess pinks, purples and blues, and get creative with anything that adds to the "mane" theme!
Make a towering statement with your décor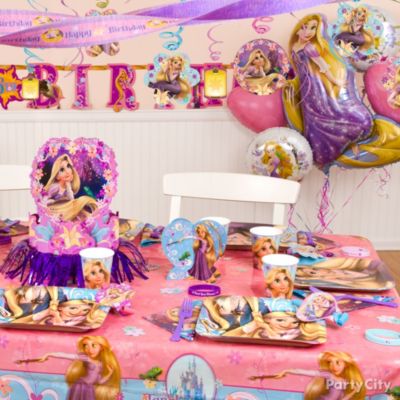 What would a princess' tower look like? Start with pinks and sparkling rhinestones, then add Tangled decorations to give your home the royal treatment. To complete the room, check out our table decorating and scene setter ideas below!
Set a table fit for royalty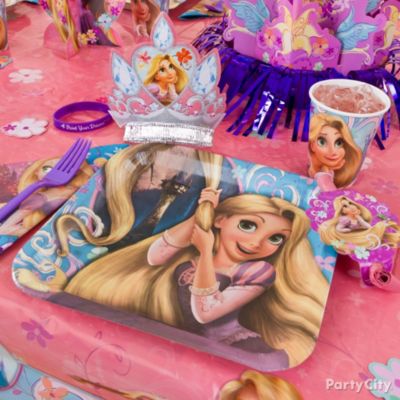 There's always a point at every party when the table is the most popular place to be. Ready the dining room for it with Tangled Tableware and themed favors at every place-setting.
Shop Tangled Party Decorations
Tangled Party Dress-Up Ideas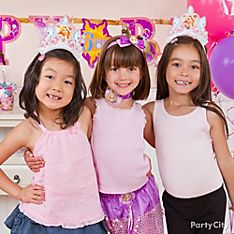 Step into the fairy tale!
Every birthday princess deserves dress-up fun. Start with these fun dress-up ideas, then let your little ones' imaginations take it from there. This birthday will be a dream come true!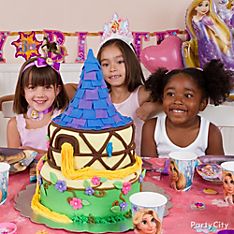 Take snacks to new lengths!
When your guests come back to the castle with hungry stomachs, these tasty treats will have them up and running again like magic!
Create a royally sweet tower cake!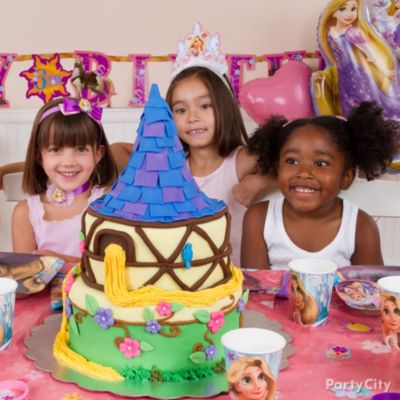 Party dessert steps up a level when you serve a delicious cake in the shape of Rapunzel's tower! Whether you whip it up yourself or order from your go-to bakery, it's going to need Tangled dessert plates and matching napkins and cutlery to look its best.

For decorating details, explore our enchanting Tangled Fondant Cake How-To. Rapunzel won't want to leave this tower!

Bake braided snacks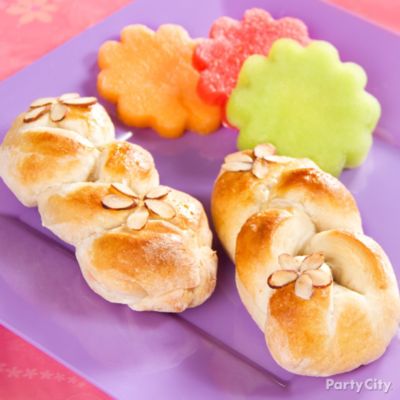 Continue the hair theme at the snack table with a treat that looks like Rapunzel's braid. This snack is extra easy and quick to make: braid together sections of dough from a can of biscuit dough, top with sliced almonds, and pop in the oven. To make them savory, tuck cheese or veggies into the dough before baking. Serve the braids on Tangled plates, and make it princess-worthy by adding fruit slices cut into flower shapes with a cookie cutter.
These adventurous dessert cups are perfect for sailing to see the lanterns!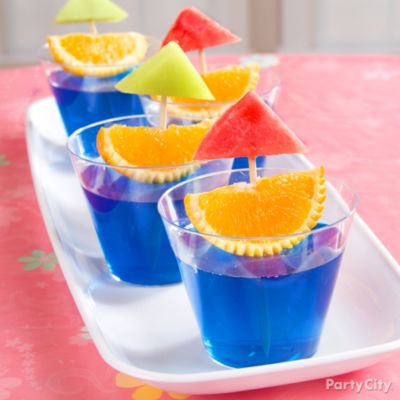 The day of the party, add skewers with orange slice "boats" and melon "sails" and be sure to serve with Tangled beverage napkins!