St. Patricks Day Mini Shamrock Sundaes Recipe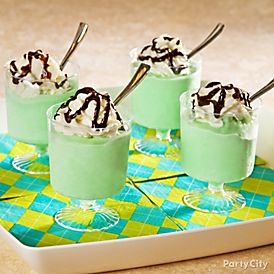 Here's how to make the Mini Shamrock Sundaes featured in our
St. Patricks Day Dessert Ideas Guide
Ingredients:
2 cups vanilla ice cream
1 cup milk
1/4 teaspoon peppermint extract
1/4 teaspoon green food color
Whipped cream
Green sprinkles
Instructions:
1. Blend ice cream, milk, peppermint extract and green food color in a blender on high speed until smooth.
2. Pour into glasses and top with whipped cream and sprinkles.