St. Patricks Day Lucky Clover Cupcakes Recipe
| | | | |
| --- | --- | --- | --- |
| | | | |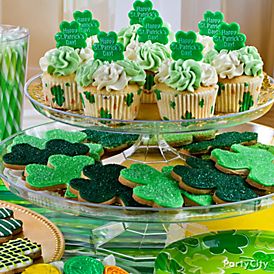 These yummy Lucky Clover Cupcakes are featured in our
St. Patricks Day Dessert Ideas Guide
Supplies:
__Baking cups __Muffin pan __Cupcake decorating set __ Kelly green icing color __St. Patricks Day cupcake picks
Lucky Clover Cupcakes
Ingredients:
For the batter:
3 cups flour
1 1/2 tsp baking powder
3/4 tsp salt
1 1/2 sticks butter, softened
1 1/2 cups sugar
4 large eggs
2 tsp pure vanilla extract
1 tsp mint extract
1 1/4 cups milk
For the frosting:
1 cup butter, softened
6 oz white baking chocolate, finely chopped
1/3 cup whipping cream
2 cups confectioners sugar
Kelly green icing color
Instructions:
1. Line a muffin pan with baking cups. Preheat oven to 350 degrees.
2. For the frosting, heat whipping cream in a saucepan over medium heat until simmering. Pour over white baking chocolate in a heatproof bowl. Let stand for 1 minute, then stir until smooth. Let stand 15 minutes.
3. Beat butter into melted white chocolate mixture with a hand mixer on medium speed until combined.
4. Gradually beat in confectioners sugar until frosting reaches spreading consistency. Separate half the frosting in a separate bowl and add drops of icing color until desired green shade is reached. Set aside until ready to use.
5. In a large bowl, whisk flour, baking powder and salt to combine.
6. In another bowl, beat butter, sugar, eggs and vanilla until light and fluffy. Add dry mixture and milk.
7. Pour into the baking cups and bake for 20 minutes, or until a toothpick inserted in the center comes out clean.
8. After cupcakes have completely cooled, decorate with frosting and cupcake picks.
Makes approximately 24 cupcakes