Spiral Balloon Column How-To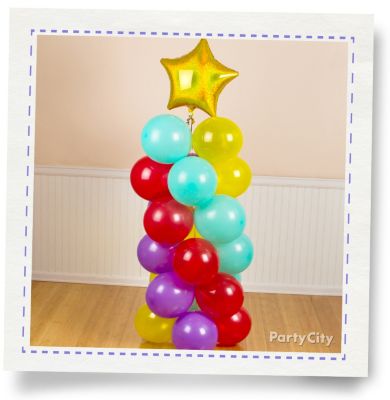 Make any event more special with a spiral balloon column! Birthdays, weddings, baby showers, bridal showers – this versatile balloon column can be color-customized for any event.

Just a handful of balloons, curling ribbon and a balloon pump are all you need to create this awesome balloon decoration. You'll be blown away by how easy it is to create one for your party!

Check out our Transformers Party Ideas Guide to see how we used a couple spiral balloon columns as cool background props for an awesome Autobot showdown!
Just follow the 8 steps below.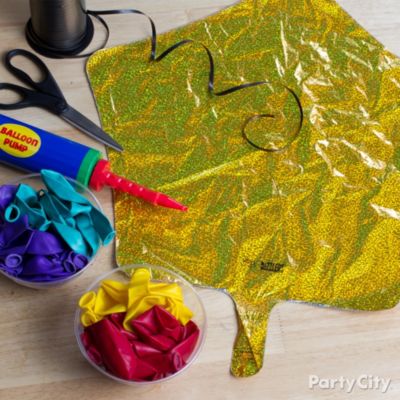 What You'll Need
SHOP THIS IDEA >
6 yellow latex balloons
6 purple latex balloons
6 aqua latex balloons
6 red latex balloons
1 foil gold star balloon
Curling ribbon
Balloon pump
Balloon weights or garden
stakes for outdoors (optional)
Scissors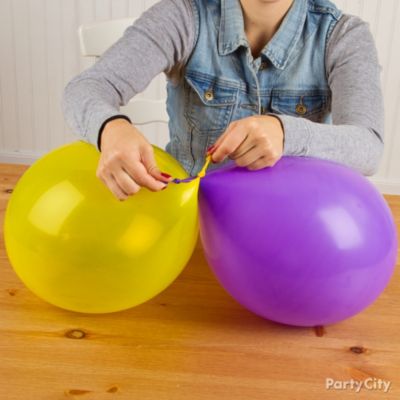 Step 1: Inflate & Tie Together
Inflate a purple and yellow balloon and tie together. We recommend using a hand pump because you'll be inflating lots of balloons. (Helium is not recommended because the tower needs to stay grounded.)
Step 2: Tie Pairs Together
Inflate a red and aqua balloon and tie together to make a second pair of balloons. Take the two pairs and cross them in the middle. Twist them together to make a cluster of four. Make sure the balloons in each layer are uniform in size so the tower will look even.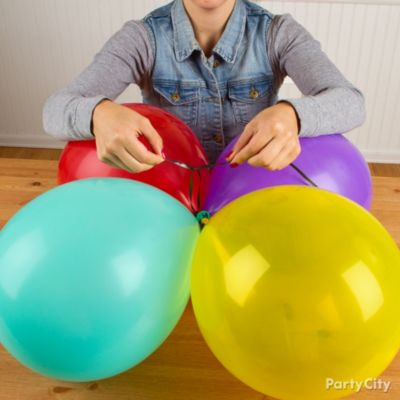 Step 3: Cut a Strand of Ribbon
Cut a long strand of ribbon that will connect the balloons together. (For our 6-layer tower, we needed 80in of ribbon.) Tie one end of the curling ribbon around the center of the first layer of balloons – this is the bottom of the column.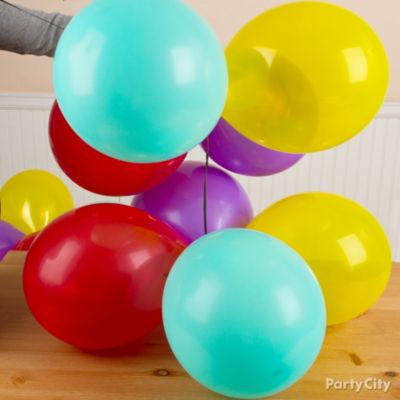 Step 4: Create Another Cluster
Make another cluster of four balloons in the same color sequence as the first cluster. This is crucial to create the spiral effect of the balloons. Run the ribbon through the center of the second balloon cluster.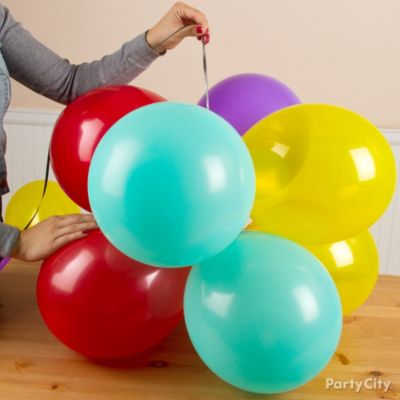 Step 5: Stagger the Balloons
Stack the second cluster of balloons on top of the bottom layer, slightly staggering it by nestling them between the balloons instead of directly on top. You've started the spiral effect!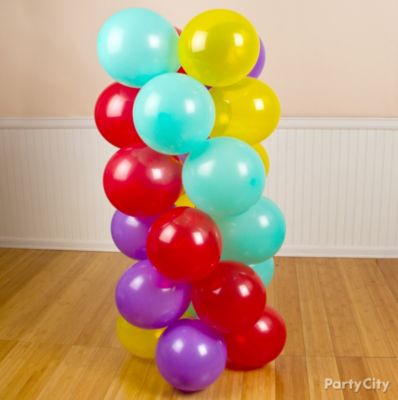 Step 6: Make More Clusters!
Make four more clusters of balloons, running the ribbon through the centers each time you stack one. Stagger each new layer as you did in Step 5 to continue the spiral effect. Almost done!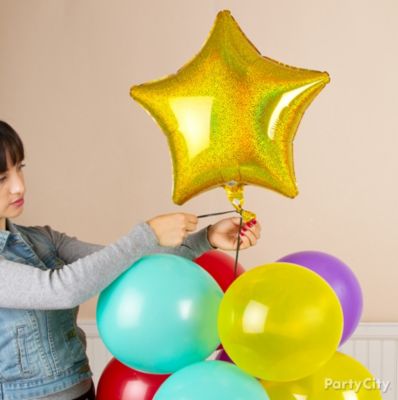 Step 7: Top It Off...
Add a cool finishing touch with a foil balloon! We like the way a star balloon looks, but you can choose any foil balloon that fits your party theme. Tie it to the top of your column with the extra strand of ribbon extending from the column.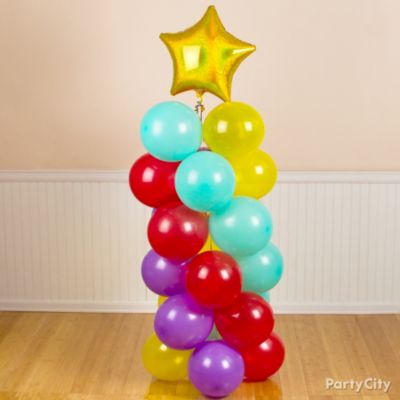 Step 8: ...And You're Done!
Now that you know how easy it is, whip up a couple of these balloon columns for your next party! Set them around tables or next to the front door to greet guests. If you're going to use them outdoors, you can secure them with garden stakes or balloon weights (you'll need a couple weights for each column).


Visit our DIY Party Ideas for even more how-to's & balloon inspiration!