Spooky Spider Cupcakes How-To
| | | | |
| --- | --- | --- | --- |
| | | | |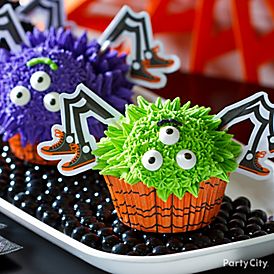 Something creepy this way crawls… spooky-cute spider cupcakes for one and all! Transform regular cupcakes into eight-legged treats with a spider cupcake decorating kit and some icing. Featured in our
Howlin'-good Halloween Treats & Candy Ideas gallery
, these spider cupcakes are sure to get trick-or-treaters' skin crawling – with anticipation! This how-to is provided courtesy of the awesome decorating experts at Wilton.
What You'll Need:
Favorite cupcake recipe or mix
Standard muffin pan
White decorator icing
8 icing colors set (violet, lemon yellow, leaf green used)
Rose icing color
Black icing color
Vanilla wafer cookies
Disposable decorating bags
Decorating tips #3 and #16
Spider cupcake decorating kit
White tray
Black mini gumballs
Instructions:
Bake cupcakes. Prepare batter following recipe directions. Bake and cool cupcakes.


Tint icing. Divide decorator icing into three portions and tint them green, purple and black. Combine violet with rose for purple shown, and lemon yellow with leaf green for lime green shown.


Use a yummy cookie for the face! Use tip #16 and tinted icing to pipe stars on vanilla wafers.


Create spooky-cute spider bodies. Use tip #16 and tinted icing to pipe a mound of icing in the center of a cupcake, and then pipe pull-out stars over top of cupcakes. Use tinted icing to attach vanilla wafers to cupcakes.


Decorate cupcakes. Use the candy eyeballs from the decorating kit and let kids make their own one- or three-eyed mutant spiders! Kids will love dressing up their spidey snacks with the kit's spider leg picks. Finish by fitting a decorating bag with tip #3 and piping scary-silly mouths, eyebrows and even moustaches!


Display these eerie eats! Set cupcakes atop a white tray lined with black gumballs for an awesome arachnid display that kids will be crawling all over in no time.


Wilton, the Wilton Logo and Wilton Method Classes are either registered trademarks or trademarks of Wilton Industries, Inc. in the United States and/or other countries.