Storybook Sofia the First Cake How-To
| | | | |
| --- | --- | --- | --- |
| | | | |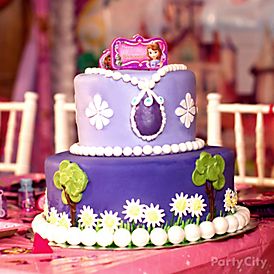 Treat your VIPs (Very Important Princesses) to a delectable treat that's as delish-looking on the outside as it is on the inside! Take a ride over to our
Sofia the First Party Ideas Guide
and
Girl's Birthday Cake Ideas Gallery
for more darling ideas fit for a royal!
Ingredients:
2 two-layer round cakes, 6" and 10" in diameter
Buttercream icing
2 boxes pre-rolled white fondant
Juniper green icing color
Violet icing color
Kelly green icing color
Sky blue icing color
Brown icing color
Lemon yellow icing color
White gumballs (about 50)
White Sixlets® (about 80)
Supplies:
Sofia the First birthday candles
Decorating bag
Coupler
Decorating tips
Fondant roller
Fondant smoother
Toothpicks
Pizza cutter or paring knife
16" cake platter
Instructions:
To prepare your cake rounds to be covered with fondant, ice them with a layer of buttercream icing.


To create a violet-hued fondant for the bottom layer, knead a ball of white fondant until soft. Using a toothpick, dot violet icing color onto the fondant, and knead until color is evenly distributed.


To create the lavender-hued fondant for the top layer, knead a ball of white fondant until soft. Using a toothpick, dot slightly less violet icing color than you used for the bottom layer for a lighter shade of purple.


Roll out the dark violet fondant. Place over the larger cake round and smooth using a fondant smoother. Trim off the excess with a pizza cutter or paring knife. Do the same for the lavender fondant and smaller cake. Place the smaller cake on top of the large cake.


Let's add the Amulet of Avalor! Make a teardrop shape on the front of the cake with dark violet-tinted frosting. To make the frosting, ust add a couple dots of violet icing color to white buttercream frosting until you create the desired hue. Pipe white frosting details around the amulet. "Glue" a string of mini gumballs in a necklace shape across the top of the cake with some buttercream frosting.


To make Sophia's flower design, knead some white fondant until soft then roll out. Use a paring knife to cut out four tear drop shapes and four triangles. Dab the back of each shape with water and apply to the smaller cake round, next to the amulet. We created 6 altogether and spaced them at equal distances around the top cake round.


Create a lovely forest scene Sofia would love! To create the grass, use green-tinted icing in a decorating bag with a decorating tip and a coupler. Use green and brown-tinted icing to create a few trees.


For the flowers, roll out white fondant and freehand the daisy shapes, then attach to the cake with a dab of buttercream icing. To add details like the centers of the flowers, use a small round tip with yellow icing.


Now to bejewel with princess pearls! Use buttercream icing to secure "strands" of white gumballs and Sixlets® around the top and bottom of the upper layer. Use regular-size gumballs for the bottom layer, and Sixlets® for the top.


Finish off your masterpiece with Sofia the First candles! Princess-perfect!