Disney Princess Fondant Cake How-To
| | | | |
| --- | --- | --- | --- |
| | | | |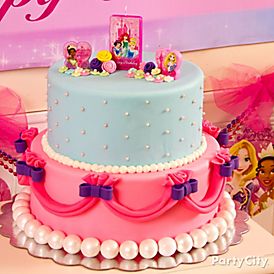 Nothing less than a royally adorable cake for your princess and her court! Featured in our
Disney Princess Party Ideas Guide
, this amazing cake is dressed to impress with yummy fondant "bows" and gumball "pearls." Looking for more enchanting cake ideas? Our
Girls Birthday Cake Ideas Guide
is legendary!
Ingredients:
2 two-layer round cakes, 6" and 10" in diameter
Buttercream icing
2 boxes pre-rolled white fondant
Rose icing color
Sky blue icing color
2 boxes pre-made neon rolled fondant (for roses & ribbons)
White gumballs (about 35)
Pearl sprinkles
Flower sprinkles
Supplies:
Disney Princess birthday candles
Fondant roller
Fondant smoother
Pizza cutter or paring knife
Icing decorating kit
Cupcake decorating set (has round tip 12)
Toothpicks
14" cake platter
Instructions:
To prepare for covering with fondant, stack the 6" rounds and ice with buttercream icing. Repeat with the 10" rounds. (Don't put the two cakes together yet. That comes later!)


To create a pink-hued fondant for the bottom layer, knead a generous amount of white fondant until soft. Using a toothpick, dot rose icing color onto the fondant, and knead until color is evenly distributed.


Roll out the pink fondant. Place over the larger cake and smooth using a fondant smoother. Trim off the excess with a pizza cutter or paring knife.


To create a blue-hued fondant for the top layer, repeat steps 2 and 3, using sky blue icing color.


Time to add some princess pizzazz! To make the fondant "ribbons" and "bows," use pre-made pink and purple fondant from the pre-made neon fondant set. We created 8 pink ribbons and 8 purple bows. Attach to them to the cake with royal icing.


Gumball time! Decorate the base of the cake with large white gumballs. Secure them in place with buttercream icing. They look like a giant string of pearls fit for royalty!


Add more teeny-tiny mini pearls all over the blue cake. What a pretty effect! Secure them by piping a bit of royal icing with a decorating bag and round tip.


Decorate the bottom edge of the top layer by piping white buttercream dots with round tip 12 (in cupcake decorating set).


Decorate the top with enchanting flowers. For the roses, make ½" x 3" strips of fondant in yellow, purple and pink and roll to create roses (use the pre-made neon fondant).


Give colorful flower-shaped sprinkles the royal treatment by adding tiny white pearl sprinkles to the centers. Pipe dots of buttercream icing to attach.


The finishing touch? Make it official with Disney Princess candles on top. The kids can name their favorite movies: Snow White, Little Mermaid, Cinderella, Tangled and Princess and the Frog. Adorbs!