Power Rangers Fondant Cake How-to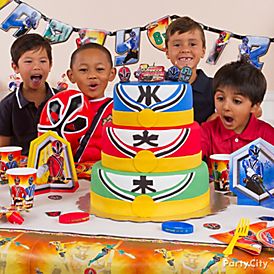 Here's how to create the fondant cake featured in our
Boys Birthday Cake Ideas Gallery
.
Ingredients:
Three frosted cakes in different sizes
White fondant
Black fondant
Yellow fondant
Blue fondant
Red fondant
Green fondant
Supplies:
__Fondant roller __X-Acto knife __Power Rangers candles
Instructions:
1. Roll out and smooth the blue fondant over the smallest cake and trim off excess with an X-Acto knife. Repeat with the green and red fondant and two other cakes.
2. Roll out the yellow, black and white fondant. Use an X-Acto knife to cut out the characters' costume details, including the yellow belt and medallion, black symbols and white jumpsuit areas.
3. Dab the fondant pieces with water and attach to cakes.
4. Top your cake with Power Rangers candles for the finishing touch!