Piña Colada Cake Pop How-To
| | | | |
| --- | --- | --- | --- |
| | | | |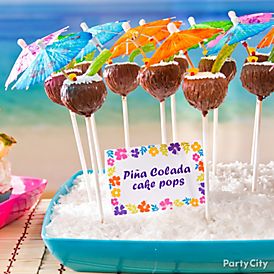 If you like piña coladas, then you'll love our Piña Colada Cake Pops, featured in our
Sweet Ideas for Luau Party Treats
. These gorgeous cocktail-inspired treats are sure to bring a smile to guests' faces at any summer, bachelorette or adult birthday party! For extra big smiles pair with the real thing!
What You'll Need:
50 cookie sticks
Light cocoa candy melt
Yellow candy melt
Sour Punch Twists
Parasol party picks
White sugar sprinkles
Red Jimmies
1 can prepared vanilla frosting
Favorite cake recipe or cake mix (plus ingredients)
Toothpicks
Wax paper
Chocolate melting pot
Shredded coconut or paper shred (for sandy beach display)
Styrofoam block
Instructions:
Prep the cake. Bake cake as directed on package. When completely cool, break the cake into crumbs by hand in a large bowl. Mix in full can of frosting until well blended.


Make cake balls. Roll the cake mixture into 50 1-inch balls and place on waxed paper.


Create flat tops. Cut the top off each of the cake balls to create a flat surface.


Prep the chocolate. Melt the cocoa candy melt as directed.


Add the sticks! Dip a cookie stick about 1/2 inch into warm candy melt and insert the stick into the rounded part of a cake ball. Repeat for remaining cake balls.


Cool the pops. Place the cake pops in the freezer for about 10 minutes, or in the refrigerator for about 20 minutes, to firm.


Prep your drink garnishes. While the pops are chilling, cut the Sour Punch Twists in half to resemble straws, and cut the unmelted yellow candy melts to resemble pineapple wedges.


Add a second layer of chocolate. Once the pops are firm, remove from the fridge/freezer and dip each into the melted chocolate, tapping excess chocolate off.


Create your coconuts. Gently drag the toothpick across the side of each cake pop to create a coconut-shell look.


Garnish your cocktails! As the chocolate hardens, place the "straw" on one side of the pop and the "pineapple wedge" and "cherry" (red jumbo nonpareils) on opposite sides.


Top with "coconut." When the cake pops are completely dry, drizzle some chocolate on top of each and sprinkle with white nonpareils.


Finish with a tiny umbrella! Add a parasol drink pick to each, opposite the straw.


Serve on a sandy beach. To make the sandy beach cake-pop display, place a styrofoam square at the base of a blue square serving bowl. Cover Styrofoam with shredded coconut or white paper shred before inserting cake pops into Styrofoam base.


Wilton, the Wilton Logo and Candy Melts are either registered trademarks or trademarks of Wilton Industries, Inc. in the United States and/or other countries.