Phineas and Ferb Fondant Cake How-to
| | | | |
| --- | --- | --- | --- |
| | | | |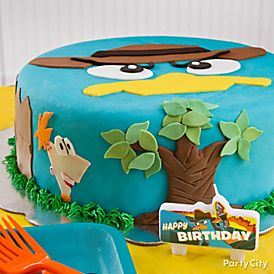 Here's how to create the fondant cake featured in our
Girls Birthday Cake Ideas Gallery
.
Ingredients:
A frosted cake
White fondant
Black fondant
Green fondant
Yellow fondant
Icing colors in blue, green, brown, orange and peach
Green icing tube
Supplies:
__Toothpick __Fondant roller __X-Acto knife
__Tip coupler __Wilton decorating tip 233 __Phineas and Ferb candles
__Cake board
Instructions:
1. Take your ball of white fondant and knead it until it's soft. Remove a chunk and reserve. Take the rest of the ball and use a toothpick to dot blue and green icing color onto it. Knead until the color is evenly distributed and the ball is turquoise. Repeat, adding more green or blue as necessary, to get desired shade and roll out into a sheet.
2. Smooth the turquoise fondant over the cake and trim off excess with an X-Acto knife.
3. Take the chunk of white fondant you had reserved and separate that into three pieces. Using the method in Step 1, dye the white fondant pieces orange, brown and peach, keeping the peach light for Phineas's face. Roll out the fondant.
4. Roll out the green and yellow fondant.
5. Use your X-Acto knife to cut out the fondant decorations from the appropriate colors (brown for Perry's hat, yellow for his bill, green for the leaves, etc.). You can freehand if you feel comfortable or print out images of the characters and cut the fondant to the shapes.
6. Dab the fondant shapes you've cut out with water and attach to cake.
7. Fit the tube of green icing with the tip coupler and tip 233 and pipe grass around the base of the cake.
8. Finish with Phineas and Ferb candles!