Patriotic Cake Pops How-To
| | | | |
| --- | --- | --- | --- |
| | | | |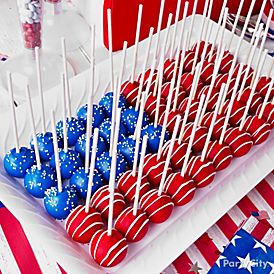 As featured in our
15 Sweet Party Ideas Gallery
, these adorable Patriotic Cake Pops are a fun and easy way to celebrate the stars and stripes this Independence Day! Your guests will have trouble deciding which pop they like better – the thrilling burst of fireworks or another bite of this all-American treat!
Ingredients:
Red candy melts
Royal blue candy melts
White cookie icing
White sugar sprinkles
1 can prepared vanilla frosting
Favorite cake recipe or cake mix (plus ingredients)
Supplies:
50 cookie sticks
Wax paper
Cookie sheet
Chocolate melting pot
Instructions:
Prep the cake. Bake cake as directed on package. When completely cool, break the cake into crumbs by hand in a large bowl. Mix in full can of frosting until well blended.


Make cake balls. Roll the cake mixture into 50 1-inch balls and place on waxed paper.


Melt the candy melts as directed. For the "stars" of your flag, use the royal blue candy melts. For the "stripes" pops, use the red candy melts.


Add the sticks. Dip a cookie stick about 1/2 inch into warm candy melt and insert the stick into the rounded part of a cake ball. Repeat for remaining cake balls.


Prop up pops. Place pops cake end down, on waxed paper while the chocolate is still slightly warm, so the candy hardens into a flat surface at the top (this will help your pops stand up when serving).


Cool the pops. Place the cake pops in the freezer for about 10 minutes, or in the refrigerator for about 20 minutes, to firm.


Add a second layer of chocolate. Once the pops are firm, remove from the fridge/freezer and dip each into the melted chocolate, tapping excess chocolate off.


Sprinkle on the stars. Decorate the blue pops with white sprinkles before chocolate coating hardens.


Drizzle on the stripes. Drizzle white cookie icing over the red pops after chocolate coating hardens.


Make your flag fly! Line up your pops to create the Stars and Stripes on a tray. They'll gobble up your sweets with spirit!


Wilton, the Wilton Logo and Wilton Method Classes are either registered trademarks or trademarks of Wilton Industries, Inc. in the United States and/or other countries.