Bountiful Bundles of Cutlery How-To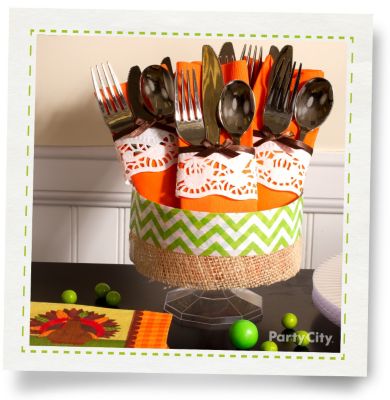 Make bundles of cutlery for your guests to grab while they're juggling their fully loaded plates!

Slip your silver-look cutlery into napkin pockets trimmed with "lace" and tie off with a bow. It's so easy to customize these silverware packets to the colors of your party – just change out the napkin color and ribbon!

Check out our Fresh & Fun Thanksgiving Tablescape Ideas to see these bountiful bundles styled for a modern and chic Thanksgiving feast. Read on for the folding instructions!

Follow the 9 steps below.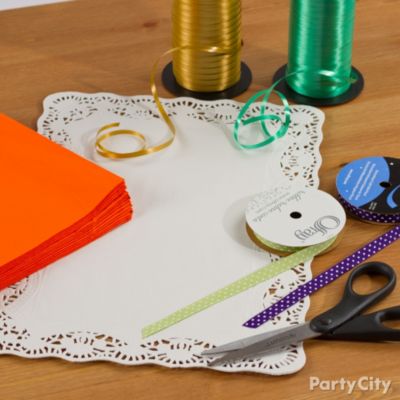 What You'll Need
SHOP THIS IDEA >
Orange dinner napkins
Doily placemats
Ribbon
Scissors
Double-sided tape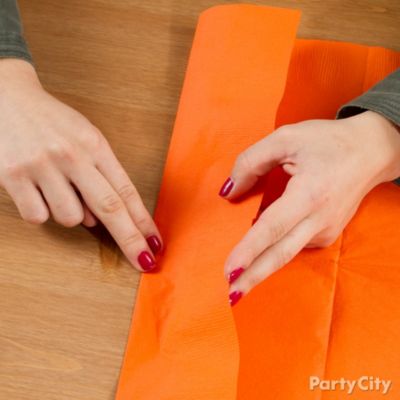 Step 1: Make 6 Sections
First, lay the napkin completely unfolded in front of you. With the napkin's natural center fold vertically in front of you, fold the left side of the napkin halfway towards the center. Then fold again so it is lined up with the napkin's natural center crease. Repeat on the other side. When you completely unfold again there should be six sections.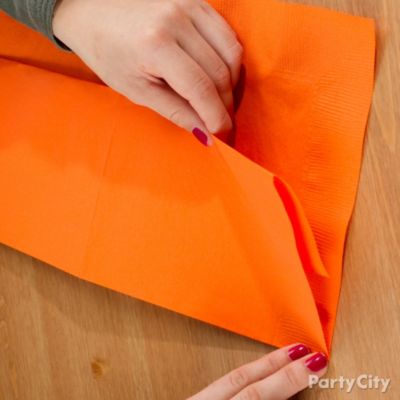 Step 2: Fold the Bottom Twice
Take the bottom edge of the napkin and fold halfway to the center crease. Then, fold again using the natural crease. You have the beginnings of the pocket!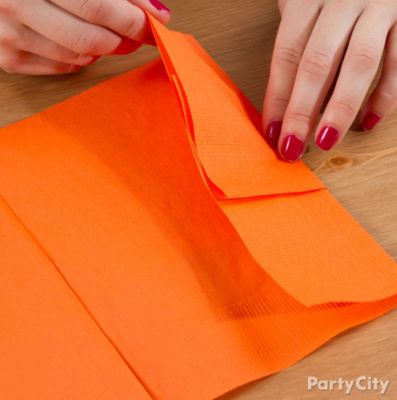 Step 3: Fold In the Sides
Flip the napkin so the "pocket" is face-down. Take the left side and fold over using the natural center crease. The ends of the napkin should be touching. Then, fold the right sides in toward the center.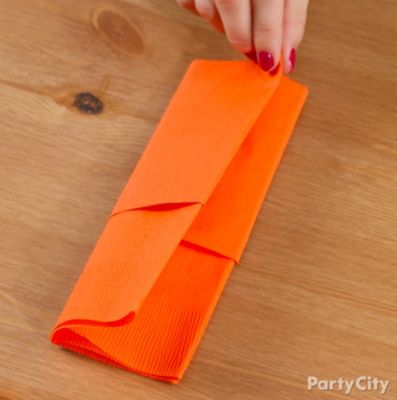 Step 4: Make the Final Fold!
Fold one last time so the edges are now touching.
Step 5: Cut Some "Lace"
Cut a strip of "lace" about 6" long from the edge of a doily paper placemat.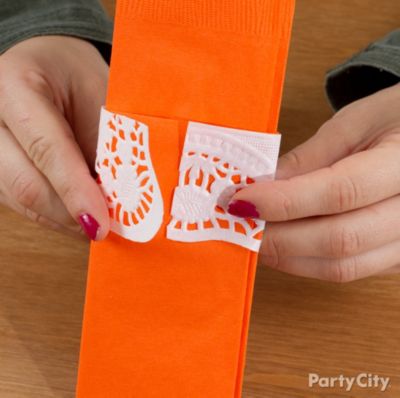 Step 6: Decorate the Pocket
Wrap the doily lace around the napkin, aligning the top of the doily edge with the napkin pocket edge. Use a piece of double-sided tape to secure it in back.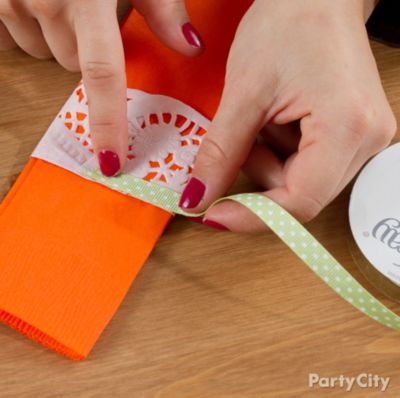 Step 7: Add Ribbon...
Cut a 6" piece of ribbon and wrap along the top of the lace. Secure it in back with a piece of double-sided tape. (We used grosgrain fabric ribbon, but curling ribbon works, too!)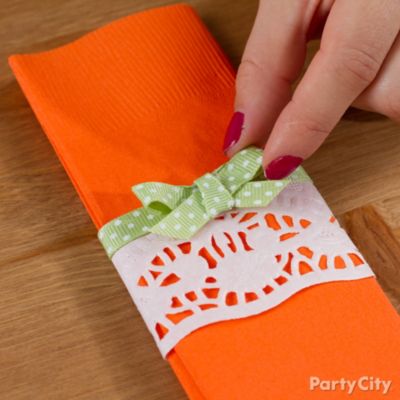 Step 8: ...And a Bow!
Cut a 5-3/4" strip of ribbon that coordinates with your napkin and make a little bow. Attach it to the front with a piece of tape.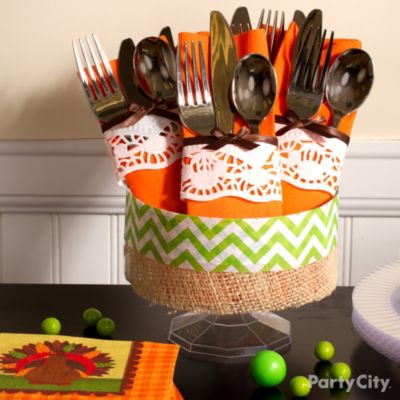 Step 9: Arrange Them in a Bowl!
Line a container with burlap and tissue paper to create a complementary container and arrange your pretty packets inside!


Visit our Winter Holiday Party Ideas for even more how-to's & Thanksgiving inspiration!