Minnie Mouse Fondant Cake How-to
| | | | |
| --- | --- | --- | --- |
| | | | |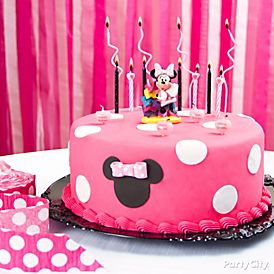 Here's how to create the fondant cake featured in our
Girls Birthday Cake Ideas Gallery
.
Ingredients:
A frosted cake
White fondant
Black fondant
Icing color in rose
Pink icing tube
Supplies:
__Fondant roller
__X-Acto knife __Toothpick
__Mickey Mouse cookie cutter __Tip coupler __Wilton decorating tip 32
__Minnie Mouse and solid-colored candles
Instructions:
1. Take your ball of white fondant and knead it until it's soft. Using a toothpick, dot the rose icing color onto the ball of fondant and knead until the color is evenly distributed. Repeat to get desired shade and roll out into a sheet.
2. Smooth the pink fondant over the cake and trim off excess with an X-Acto knife.
3. Roll out your black fondant and use a Mickey Mouse cookie cutter to cut out a mouse shape. Using the X-Acto knife, cut out white circles and mini pink strips for the polka-dots and bow. Dab the shapes with water and attach to cake.
4. Fit the tube of pink icing with the tip coupler and tip 32 and pipe a decorative border around the base of the cake.
5. For a sweet finish, top the cake with Minnie Mouse and other colorful candles!