Sea-sational Little Mermaid Cake How-To
| | | | |
| --- | --- | --- | --- |
| | | | |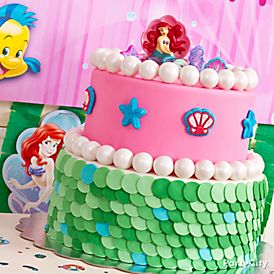 Make your little mermaid's big day extra-sweet with this splashy fondant-n-candy cake from our
Little Mermaid Party Ideas Guide
! Swim over to our
Girls Birthday Cake Ideas Gallery
for more sweet cakes and party themes!
Ingredients:
2 two-layer round cakes, 6" and 10" in diameter
Buttercream icing
2 boxes pre-rolled white fondant
Rose icing color
Sky blue icing color
Kelly green icing color
White gumballs (about 55)
Little Mermaid icing decorations
Supplies:
Little Mermaid birthday candles
Ariel birthday candle
Fondant roller
Fondant smoother
Pizza cutter or paring knife
Round fondant cutter
Toothpicks
14" cake platter
Instructions:
To prepare your cake rounds to be covered with fondant, ice them with a layer of buttercream icing.


Cover the larger bottom layer with white fondant. Trim off the excess with a pizza cutter or paring knife.


To create a pink-hued fondant for the top layer, knead a ball of white fondant until soft. Using a toothpick, dot rose icing color onto the fondant, and knead until color is evenly distributed.


Roll out the pink fondant. Place over the smaller cake and smooth using a fondant smoother. Trim off the excess with a pizza cutter or paring knife.


Time to add some mermaid magic! To make the fondant "scales," knead some white fondant until soft, then divide into four portions. Dot one portion with sky blue icing color and knead until well mixed. To get three different shades of green, dot the three remaining portions with increasing amounts of green icing color and knead until mixed.


Roll out each of the four colors of fondant. Use a small round cookie cutter, or the larger end of an icing tip, to cut out circles of each color. Dab the back of each circle with water and apply in layers, beginning from the bottom and working your way up. We created 7 rows of scales and about 45 scales in each row.


Use buttercream icing to secure "strands" of large white gumballs around the top and bottom of the upper layer. They look like undersea pearls!


Decorate it with sea-sational stars and shells! Use royal icing to attach pre-made icing decorations to the top cake layer.


Complete your masterpiece with Little Mermaid candles on top and it'll be a cake full of who's-its and what's-its galore!