Jellyfish Lantern How-To
Throwing a summer bash or ocean-themed birthday party? Make a splash with floating jellyfish lanterns, featured in our Summer Party Ideas Gallery.

Isn't it amazing how they look like real jellyfish?! We made the terrific tentacles in a flash – from ribbon, streamers and strips of plastic table cover! All you do is pinch and pull the plastic with your fingertips to create the ruffled look.

String them up outside, between trees or on a fence, and they'll drift and sway in the breeze for a magical underwater feel. Read on for the fun and easy how-to!

Just follow the 7 steps below.
What You'll Need
SHOP THIS IDEA >
Paper lanterns
Table cover in 2 shades
Curling ribbon
Hanging swirl decorations
Crepe streamer
Iridescent foil door curtain
Glue gun* (optional)
Scissors
Tape
*Items available at Party City stores.
Step 1: Trim the Bottom
To get the domelike shape of a jellyfish, trim off the bottom with scissors. (Set aside the metal frame included with the lantern; you won't need it for your jellyfish, but you may want it for other crafting projects). Keep the clear fishing line; you can use it to string up the lanterns later!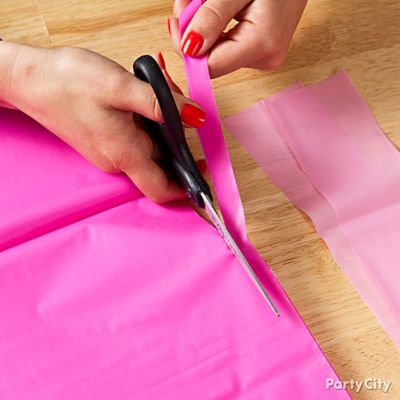 Step 2: Cut Table Cover Strips
The main tentacles are made with strips of plastic table cover in two shades. Cut six 1-inch strips, about 2 feet in length (3 or 4 of each shade). Varying lengths and widths lets you create different looks! You'll also need two wider strips for the skirt (see measurement in step 5).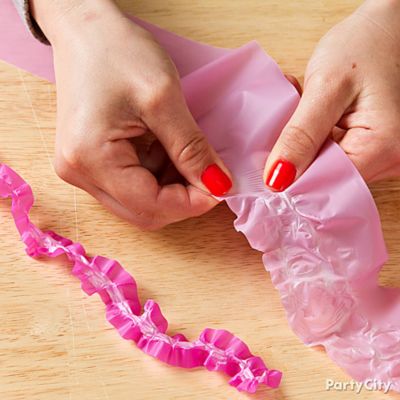 Step 3: Just Pinch!
To get the rippled effect, pinch and pull the plastic with your fingertips, working your way down the strip. Make thin ones in two shades for the tentacles, and wider ones for the "skirt."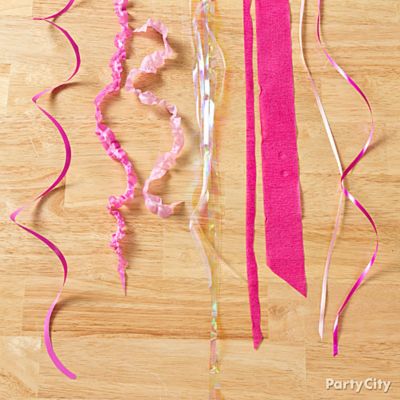 Step 4: Tentacle Ideas
Now add more tentacles made of different materials to make your jellyfish look more lifelike. In addition to your "ruffled" table cover strips, try (left to right) hanging swirl decorations, iridescent ribbon (from a door curtain kit!), streamers, and curling ribbon in light and bright hues. Tip: You can also keep it simple and do this idea with just streamers and ribbon.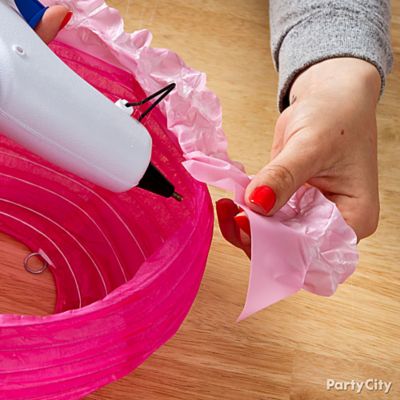 Step 5: Create a "Skirt"
We used two shades of table cover for the skirt. Cut a 5" wide strip of the light shade, and a 2" wide strip of the dark shade (about 2' long). Put the lighter shade on first with a glue gun or tape. These are really starting to look like jellies now!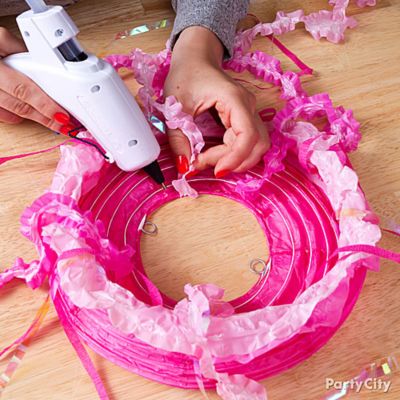 Step 6: Time for Tentacles!
Attach the tentacles using a glue gun for a nice smooth look. You can also use tape. Attach some to the outer edge of the lantern and some to the inner, smaller edge, spacing them out to get the 3-D effect of a real jellyfish. Love these!
Step 7: Finishing Touches!
Here's a close look at our finished jellyfish! Hang your jellyfish up to see how the tentacles are spaced. You can easily add more streamers and ribbon, and trim them to different lengths, to complete your creation!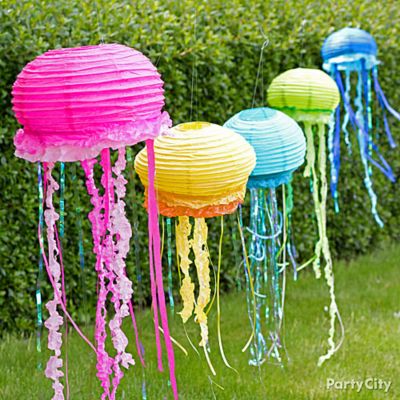 Step 8: Make Them Float
Yay, time to show these off! Hang them up with clear fishing line to create a school of "floating" jellyfish (you may need extra fishing line), or use ribbon or garland to hang them. This is o-fish-ally our fave DIY party ideas project!

Visit our Summer Party Ideas Gallery for more simply splashing creative and colorful party ideas!