Hello Kitty Fondant Gumball Cake How-To
| | | | |
| --- | --- | --- | --- |
| | | | |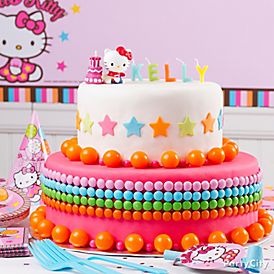 Make your daughter's big day extra-sweet with this fab fondant-n-candy cake! Eat up lots more cute ideas in our
Girls Birthday Cake Ideas Guide
.
Ingredients:
2 two-layer round cakes, 6" and 10" in diameter
Buttercream icing
2 boxes pre-rolled white fondant (total 72 oz.)
Icing color in sky blue, pink, orange, and lemon yellow (comes in set)
White decorating icing
Pink icing color
Chocolate drops in pink, light blue, green and orange (about 60 of each color)
Orange gumballs (about 50)
Bright pink Sixlets® (about 40)
Supplies:
Hello Kitty candle
Letter birthday candles
Fondant roller
Fondant smoother
Pizza cutter or paring knife
Toothpicks
14" round cardboard platter
Instructions:
To prepare your cake rounds to be covered with fondant, ice them with a layer of buttercream icing.


To cover the bottom layer with pink fondant, knead a ball of white fondant until soft. Using a toothpick, dot rose icing color onto the fondant and knead until color is evenly distributed.


Roll out the pink fondant. Place over the larger cake and smooth using a fondant smoother. Trim off the excess with a pizza cutter or paring knife.


Cover the smaller cake with white fondant and place on top of the larger one.


Time to add some WOW! To make the stars, knead some white fondant until soft, then divide into four portions. Dot one portion with sky blue icing color and knead until well mixed. Repeat with the pink, orange and lemon yellow icing color.


Roll out each of the four colors of fondant. Use a small star-shaped cookie cutter to cut out 3 or 4 stars from each color. (You can also print out star outlines on paper and lay it over the fondant to cut them out with a paring knife.) Dab the back of each star with water and apply around the middle of the smaller cake.


Make it candy-tastic! Decorate the bases of the cakes with large orange gumballs and bright pink Sixlets. Secure them in place with buttercream icing. You can also use buttercream icing to adhere rows of chocolate drops in Hello Kitty's favorite colors!


Top your cake with the birthday girl's name in candles (and a Hello Kitty candle, of course) and say hello to fabulousness!