Pink and Zebra Grad Cupcake Treats How-To
| | | | |
| --- | --- | --- | --- |
| | | | |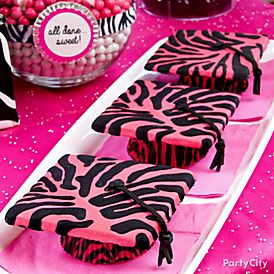 Two treats are better than one! This A+ dessert idea from our
Pink & Zebra Graduation Dessert Ideas Gallery
is a tasty cookie and a yummy cupcake. This how-to is provided courtesy of the awesome decorating experts at Wilton!
What You'll Need:
Pink & Zebra standard baking cups
Icing colors: Black, Rose*, Violet*
White decorator icing (4.5 lb.)
25-pc. cake decorating set (tip 3 and disposable decorating bags used)
Black ready-to-use rolled fondant (1/2 oz. needed for each cupcake)
Standard muffin pan
Cookie pan
Cooling rack
Rolling pin
Angled spatula
Small icing decorating brush
Sharp knife
Favorite cupcake recipe or mix
Favorite rollout cookie dough recipe or mix
*Combine Rose and Violet for pink color shown.
Instructions:
Make cookies. Prepare cookie dough and roll out following recipe directions. Use sharp knife to cut into squares, each 3 3/4 in. x 3 3/4 in. Bake and cool completely.


Make cupcakes. Prepare batter following recipe directions. Fill baking cups 1/2 full. Bake and cool completely. Use knife to trim off top of cupcake so it's level with top of baking cup if necessary.


Decorate cookies. Divide icing and tint a portion pink and a small portion black. Warm pink icing to pouring consistency. Place cookies on a cooling grid over a cookie pan. Use cut disposable decorating bag to cover bottom and sides of cookies. Use spatula to smooth and let set 1 hour. Repeat to coat tops of cookies. Let set 1 hour.


Make zebra stripes. Use tip 3 and black icing to fill in areas for stripes.


Assemble treats. Turn cupcakes upside down. Use tip 3 to pipe a large dot of icing on cupcake bottom and attach cookie.


Make tassels. Roll out fondant by hand to form thin strings. For each treat, use knife to cut one string, about 3 in. long. Use knife to cut approximately six strings, each 1 in. long. Use damp small icing brush to attach five pieces to end of 3 in. string. Wrap remaining 1 in. piece around top of strings and use damp brush to secure. Position tassel on top of cookie and use damp brush to secure. Use tip 3 and black icing to pipe dot button covering string end at center of cap.


Place them on bright pink napkins for a dessert display that celebrates the grad's bright future!


Wilton, the Wilton Logo and Wilton Method Classes are either registered trademarks or trademarks of Wilton Industries, Inc. in the United States and/or other countries.