Go, Diego, Go! Party Invitation Ideas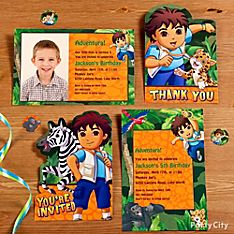 Go, friends, go!
Diego's friend, Click, helps him know where to go for his next animal rescue mission. Your little Diego fan will want to let his fellow animal rescuers know where to go, too, by sending birthday adventure invitations. Our
Go, Diego, Go!
birthday party invitation ideas make it simple to send thrilling invites.
Go, Diego, Go! Party Games & Activity Ideas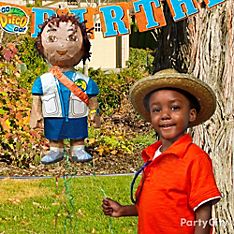 ¡Vamos a jugar! Let's play! Diego loves animal rescue adventures and your Diego fan probably does too! Our Go, Diego, Go! party game and activity ideas will help you plan a day full of exploration, thrilling games and creative activities that will keep everyone happy and busy until it's time for cake!
Go, Diego, Go! Party Favor Ideas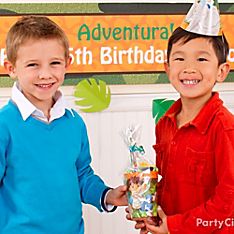 ¡Misión cumplida! Once the party is complete, your little Diego fan will want to send home his fellow Animal Rescuers with favors. Our Go, Diego, Go! party favor ideas will help you put together affordable and creative favors that say thanks for joining your party adventure.
Go, Diego, Go! Party Decorating Ideas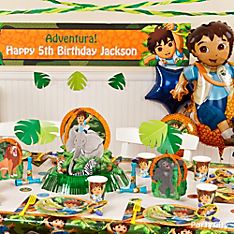 Jungle adventure!
Diego lives in the rainforest with his animal-scientist parents and his big sister, Alicia. He's used to seeing brightly colored macaws, tree frogs and other animals every day. Our
Go, Diego, Go!
party decoration ideas make creating a vibrant party room that's the perfect setting for adventure as easy as saying...
¡Actívate!
Go, Diego, Go! Party Dress-Up Ideas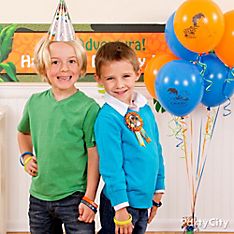 Dressed for success!
Whether exploring the rainforest or the icy tundra, Diego is always dressed for adventure! Our
Go, Diego, Go!
costume and dress-up ideas make it easy to outfit your birthday boy and his pals for their party adventure.
Dress like Diego with a full costume!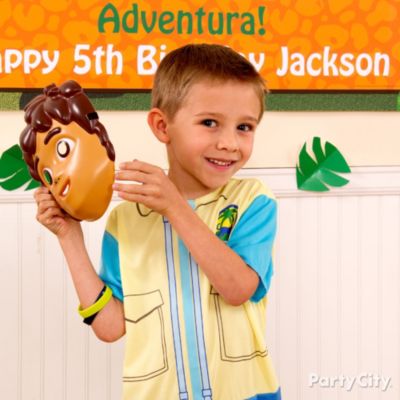 Your little boy loves joining Diego on his animal rescue missions, so he'll love dressing like the star animal rescuer himself in a full Diego Costume with character jumpsuit featuring a blue shirt with attached tan vest and blue shorts. A Diego character mask completes the transformation from birthday boy to boy action hero!
Outfit him for adventure with Diego accessories!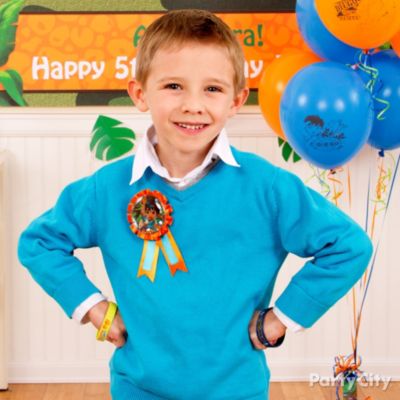 If your birthday boy wants to wear his own duds to his party, he can still feel like Diego for the day. Pick up a Go, Diego, Go! Award Ribbon and other Diego funwear that will get him all set for his birthday party adventure.
Go, Diego, Go! Party Cake & Food Ideas
¡Qué delicioso! The rainforest is home to all sorts of delicious edibles like bananas, mangoes and pineapples. Our Go, Diego, Go! fiesta food ideas make it simple to prepare a creative menu of cake, chocolate fondue and assorted fresh fruits with a rainforest flair.
Bake up a sweet rainforest cake!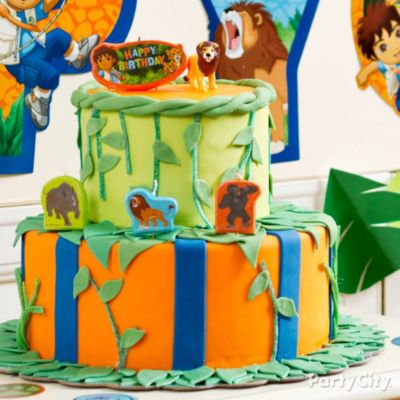 Take them on a sweet trip to Diego's rainforest home! Simply cover two layers of cake with colorful fondant. Find details on how to decorate this tropical treat on our Diego Fondant Cake How-To page. Top with Go, Diego, Go! birthday candles and jungle animal cake toppers. Finish by serving on Go, Diego, Go! tableware to a table full of very happy adventurers!
Sweeten the party with a tropical chocolate fondue!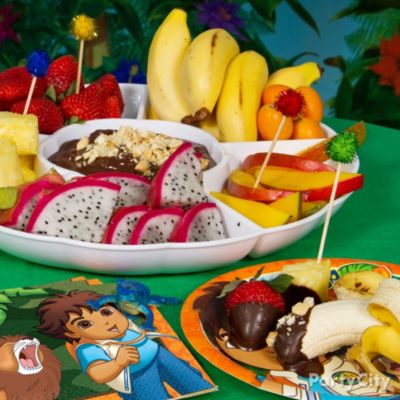 Kids go wild for chocolate – which comes from cacao trees in Diego's rainforest home. Fill a White Sectional Tray with small pieces of apple, banana, pineapple, strawberry, mango and maybe slices of exotic dragonfruit along with melted chocolate topped with some cashew nuts. Stick colorful party picks in some of the fruit to make it easier to pick up and let them enjoy dipping and eating!