Football Cake Pops Recipe & How-To
| | | | |
| --- | --- | --- | --- |
| | | | |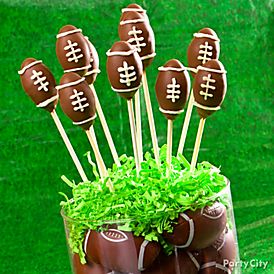 Here's how to create these cake pops featured in our
Football Party Dessert Ideas Guide
.
Ingredients:
1 box of a store-bought cake mix (and all ingredients needed for mix)
1 can or 2 cups prepared frosting
Light cocoa Wilton candy melts
White Wilton candy melts
Supplies:
__40 cake pop sticks __Wax paper and cookie sheet
__Wilton's Basic Cake Decorating Kit __Styrofoam block or colander
Instructions:
1. Bake cake as directed on package. After cake is completely cool, break up the cake into crumbs by hand into a large bowl. Mix in entire can of frosting until well blended.
2. Roll your cake mixture into 1" balls and place on cookie sheet covered with waxed paper. Refrigerate for about 20 minutes to firm up before shaping into football shapes.
3. Meanwhile, melt light cocoa candy melts as directed on package.
4. Once the pops are firm, remove from fridge and work each cake ball with your hands into the desired "football" shape.
5. Dip the end of each cake pop stick into the melted chocolate, then insert each stick into one of your football-shaped cake balls, a little more than half way through the football.
6. Place cake pops back on the waxed paper and refrigerate again, for about 20 minutes.
7. Remove pops from fridge, dip the entire cake pop into the melted chocolate and place pops upright on Styrofoam, or insert into holes in upside-down colander, until chocolate is completely dry.
8. While pops are cooling, melt white chocolate candy melts as directed, then scoop into decorating bag.
9. Once the pops are completely cooled, use decorating bag to pipe laces onto the football pops. Set back into Styrofoam or colander to cool.
10. Arrange in a Cake Pop Display Stand – or in a cool team-logo container filled with a sturdy base such as Styrofoam covered with crinkle paper shreds or candy in your favorite football team's colors.
Makes approximately 40 cake pops