Elmo Polka-Dot Fondant Cake How-To
| | | | |
| --- | --- | --- | --- |
| | | | |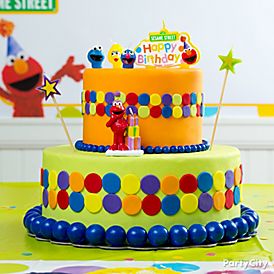 Yay, Elmo loves decorating cakes! Here's how to create the colorful fondant-n-candy cake featured in our
Elmo Party Ideas Guide
. Nibble on our
Girls Birthday Cake Ideas Gallery
and
Boys Birthday Cake Ideas Gallery
for more yummy cakes and theme ideas!
Ingredients:
2 two-layer round cakes, 6" and 10" in diameter
Buttercream icing
3 boxes pre-rolled white fondant
Pre-rolled multi-color fondant set
Pre-rolled neon fondant set
Icing color in orange, leaf green and lemon yellow (in 8-color set)
Blue icing tube
Royal blue gumballs (about 40)
Royal blue Sixlets®* (about 40)
Supplies:
Sesame Street birthday candles
Elmo birthday cake candle
Happy birthday star candles
Fondant roller
Fondant smoother
Pizza cutter or paring knife
Bamboo skewers
Decorating tips (for blue icing tube)
Tip 3 (in 25 pc. set)
Tip coupler (in 25 pc. set)
16" round cardboard platter
Instructions:
Hee, hee, hee. Decorating time! To prepare your cake rounds to be covered with fondant, ice them with a layer of buttercream icing.


You'll be creating a lime green fondant by adding icing color to the white fondant. Knead a ball of white fondant until it's soft. Then, using a toothpick, dot leaf green and lemon yellow icing color onto the fondant and knead until color is evenly distributed. Add more yellow or green one drop at a time to create a lime green. Roll out and smooth the fondant over the larger cake and trim off the excess with a pizza cutter or paring knife.


For the smaller top layer, knead a second ball of white fondant until soft. Using the same technique, mix in orange icing color, then roll out the fondant and smooth it over the smaller cake. Center the smaller cake on top of the larger cake.


Time for the polka-dots! Roll out the ready-made multi color and neon fondant. Use the larger end of a decorating tip as a "cookie cutter," and cut out about 12 circles of each color. Dab the backs of each fondant circle with water and apply in two lines around the middle of the larger cake. Repeat for the smaller cake, creating smaller fondant circles.


Next, decorate with gumballs. Yum! Gently press large royal blue gumballs around the base of the larger cake and royal blue Sixlets around the base of the smaller cake, adhering them with a bit of icing. You can use a round decorating tip fitted onto a blue icing tube to easily make the icing dots.


Add candles. The kids will have fun naming Elmo, Grover, Big Bird and Cookie Monster! To DIY the tall star candles, simply insert bamboo skewers into mini star candles. The birthday star will have a blast blowing them out!