Elmo Party Invitation Ideas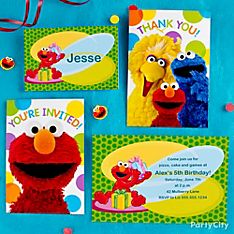 Come and play!
The party starts as soon as friends are invited! Your little Elmo fan will want all of their pals there for the special day. Our Elmo party invitation ideas make it simple to send out invites with personal touches that will get everyone excited about your party.
Send custom invites with a message from Elmo!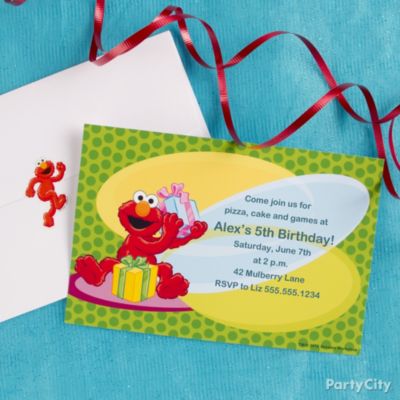 The kids will go wide-eyed with wonder when they get a custom invitation to your Elmo birthday party! Send them an Elmo Birthday Custom Invitation with a message like, "Well, tickle me silly. Alex is turning 5! Come help him celebrate at his birthday party!" We'll print your message on your invites and they'll be ready to ship within five days.
Give out a fun party pass in your invites
Get your guests into a great birthday party mood with these ready-made Elmo Invitations – just write in all the information about the party. For a fun touch, add these Elmo Tattoos and tell guests to wear them on the back of their hand as a secret pass to get into the party.
Tie an Elmo favor onto hand-delivered invitations!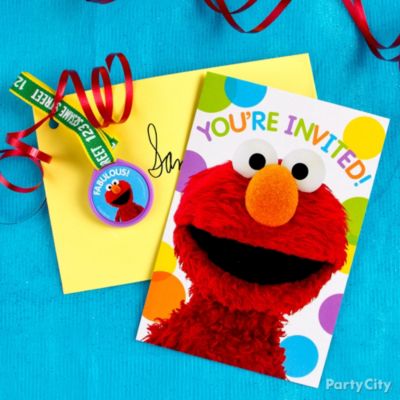 If you're hand-delivering your Elmo Invitations at school, give them some extra Elmo pizzazz. Punch a hole in the corner of the envelope and use curling ribbon to tie on a special favor.
Elmo Thank You Note Ideas for a Memorable Ending
Say thanks for coming with custom notes!
Elmo is a lovable little guy with good manners. Guests will think the same of your child when they receive your Elmo Custom Thank You Notes with a personal message inside like, "Thanks for coming to my Elmo party. It was so much fun!" We'll print your message on your notes and they'll be ready to ship within five days.
Add an awesome picture to turn thank you notes into keepsakes!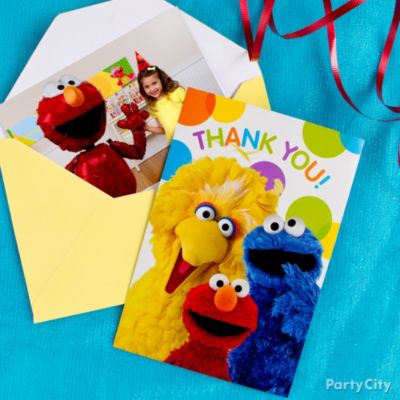 Kids love seeing pictures of themselves – especially with a favorite Sesame Street character like Elmo! During the party, snap a picture of guests with the birthday child in costume or the Giant Elmo Gliding Balloon. Just slip your photo inside an Elmo Thank You Note, and they're ready to go!
Shop Elmo Party Invitations
Elmo Party Games & Activity Ideas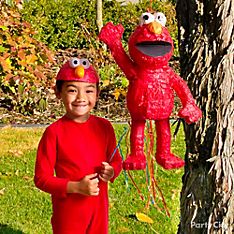 Have some fun with Elmo!
Games are Elmo's specialty, since he's got enough imagination for an entire neighborhood! Our Elmo party games and activity ideas will help you come up with some new ways for your party guests to burn off energy while having fun.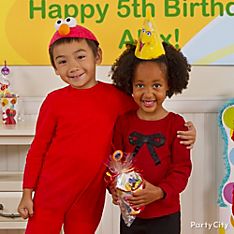 Give everyone Elmo treasures!
Elmo is a sweet and generous little monster who loves cheering his friends on and doing nice things for them. Let your child follow their hero's example by using our party favor ideas to put together great gifts for all the party guests.
Send them home with a gift from Elmo!
Sending friends home with their very own Elmo Favor Bucket brimming with treasures and keepsakes makes the fun on Sesame Street last even after the party's over. Start with a themed container and fill it with special Elmo treats.
Give them a cup full of Elmo favors!
Here's a great idea for making a cool favor container from the reusable Elmo Party Cup with a picture of your favorite Sesame Street character, Elmo! Fill your cups with paper shreds and tuck in favors. Slip the cup inside a clear bag and tie shut with curling ribbon.
A favor value pack leaves more time for fun at your party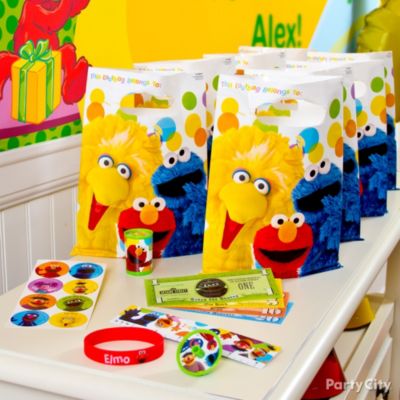 If you're running out of time before the big birthday bash, save time with the Sesame Street Favor Value Pack with stickers, bracelets, spin tops and more that make creating up to eight favor bags a cinch.
Shop Elmo Party Favors
Elmo Party Decoration Ideas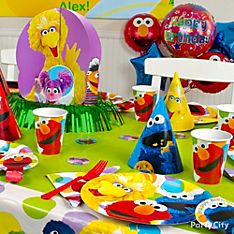 Celebrate with Elmo!
It's always a sunny day on Sesame Street where Elmo lives and plays with his friends Cookie Monster, Big Bird and Abby Cadabby. Our Elmo party decoration ideas will make it easy as A-B-C to create a colorful red, blue and yellow room filled with your child's favorite characters.
Choose decorations that spread sunshine and smiles!
The party starts the moment the guests arrive. Elmo can't wait! To really wow them, use Elmo decorations that transform the room into a colorful, sunny Sesame Street filled with the smiling faces of Elmo and friends. To complete the room, check out our table decorating and scene setter ideas below!
Set a table filled with Elmo's lovable face!
Your little one and their friends will be tickled to sit down to a party table filled with all kinds of cheerful Elmo decorations. Bring on the Sesame Street fun, starting with Elmo Tableware. Add whistles and blowouts that kids can play with while they're at the table and take home as favors.
Set the scene for a day of fun and tons of fantastic pictures!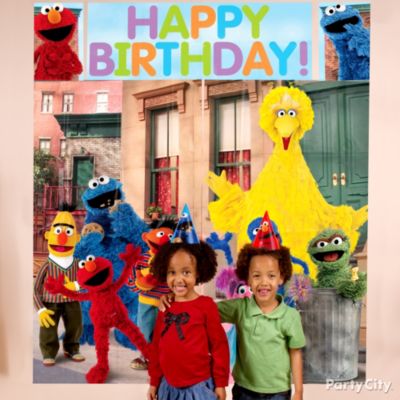 Create your own life-size Sesame Street at your party with the Sesame Street Scene Setter. The five-piece design is easy to apply to any wall, so you get a big, colorful transformation with minimum effort. For a fun photo op, your guests can pose next to Elmo, Cookie Monster, Big Bird, Abby Cadabby, Oscar the Grouch, and Bert and Ernie!
Elmo Party Dress-Up Ideas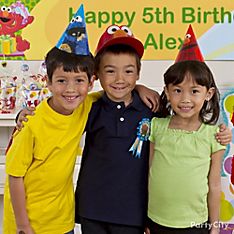 Deck out in Sesame Street style!
Have the birthday star dress up as his or her favorite Sesame Street character, Elmo! The birthday child and guests can look just like Elmo for the party with our selection of fun costumes and wearable accessories.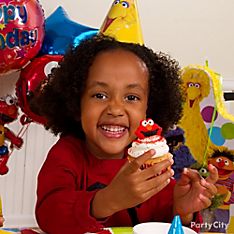 Fuel the fun!
The word on the street is that Elmo's favorite food is pizza! But he also loves other yummy things, like these Elmo party food ideas that are kid-friendly and easy to make.