Dora the Explorer Fondant Cake How-To
| | | | |
| --- | --- | --- | --- |
| | | | |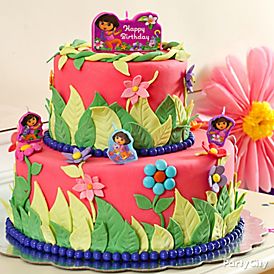 Go on a cake decorating adventure! Here's how to make the super-fun (and beautiful!) Dora the Explorer fondant cake featured in our
Dora the Explorer Party Ideas Guide
and
Girls Birthday Cake Ideas Guide
.
Ingredients:
2 frosted two-layer cakes, 10" and 6" in diameter
Buttercream icing
3 boxes pre-rolled White fondant (total 72 oz.)
Icing color in Rose, Leaf Green, Lemon Yellow, Violet, Pink and Orange (from icing color kit)
Yellow, orange and blue Chocolate Drops
Pink icing tube
Blue Sixlets®
Royal icing to "glue" candy and leaves
Supplies:
Dora the Explorer birthday candles
Fondant roller
Pizza cutter or paring knife
Toothpicks
Decorating tip 3 (in 25 pc. decorating set)
Decorating tip 352 (in 3 pc. flower & leaf decorating tips set)
Tip coupler (in 25 pc. decorating set)
14" round cardboard platter
Instructions:
You'll be covering your buttercream-frosted cakes with pink fondant. To tint, make a small ball of white fondant and knead it until soft. Use a toothpick to dot Rose icing color onto the fondant. Knead until the color is evenly distributed.


Divide the rose-colored fondant into two balls, one for each cake. Roll out and smooth the fondant over both cakes and trim off excess with a pizza cutter or paring knife. Place the smaller cake on top of the larger cake.


This pretty design has leaves in two shades of green. To get the two colors, first knead a small portion of white fondant until soft. Use a toothpick to dot Leaf Green icing color onto the ball, and knead it again until the color is evenly distributed. Set aside half of this ball to create a lime green shade, by adding Lemon Yellow icing color a drop at a time. Divide each portion into two balls (you'll use the reserved portion for the flower stems and vines later). You can also use tip 352 to make leaves with buttercream icing.


Time to make leaves! Roll out one ball each of the lime green and the leaf green fondant. Use a paring knife to free-hand cut 40 leaves in two sizes. Set a few leaves aside for use later. Use a toothpick or edge of a spoon to press veins into the leaves. Dab the backs of the leaves with water, and attach them, points up, to the base of both cake layers.


To create the flower stems and vines, knead the remaining two balls of lime green and leaf green fondant until they're soft. Pinch off a bit of each color to make stems for flowers – about seven stems in each color. Apply these stems around both layers of the cakes a few inches apart. Roll the remaining green colors out into long, thin ropes. Twist these ropes of fondant around each other, and apply with water to the top rim of the smaller cake. Add the fondant leaves you had set aside for the vines and flower stems. Note: To give the fondant leaves and flowers a 3-D effect, as shown here, shape them as desired and allow to dry for 48 hours before applying to the cake.


Now for the flowers. Take a small ball of white fondant and knead well. Divide into three portions, and color each portion with Violet, Pink and Orange icing color. Roll each color out and cut flower petals in different shapes. Use royal icing to apply flowers to the cake, and add small dots of fondant or candies to the center of each flower. Use Chocolate Drops* or M&Ms* in yellow, blue and orange. Yum!


Ring both cake layers in blue Sixlets*, adhered with royal icing.


Top the cake with Dora birthday candles, and get ready for a party that's one sweet adventure after another!