Batman Fondant Cake How-to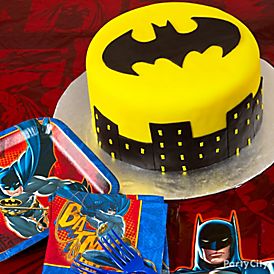 Supplies:
__Fondant roller __X-Acto knife
Instructions:
1. Roll out and smooth the yellow fondant over the cake and trim off excess with an X-Acto knife.
2. Roll out the black fondant and cut out the Batman symbol and buildings. You can freehand if you feel comfortable, or print out a bat image and cut the fondant with an X-Acto knife to its shape. Dab the fondant pieces with water and attach to cakes.