Fang-tastic Lantern Bat How-To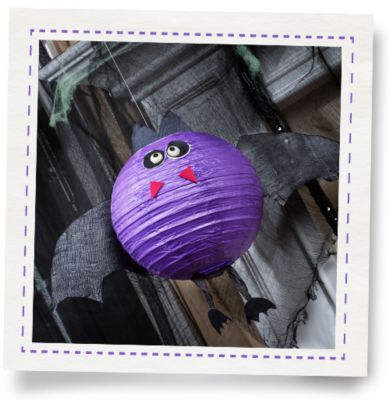 These high-flying lantern bats are fang-tastic! We love this simple and fun DIY project the whole family can sink their teeth into. You can brew up a colony of boo-tiful bats with just a handful of supplies!

With a snip here and a dab of glue there, we created these cuties with paper plates, a paper lantern, a bit of spooky gauze and some crepe streamer. These bat buddies will last all season and they're the perfect not-so-scary decoration for kid-friendly boo bashes. Get crafty with our frightfully easy how-to! Featured in our Enchanting Ideas for Friendly Halloween Decorating Gallery.

Just follow the 10 steps below.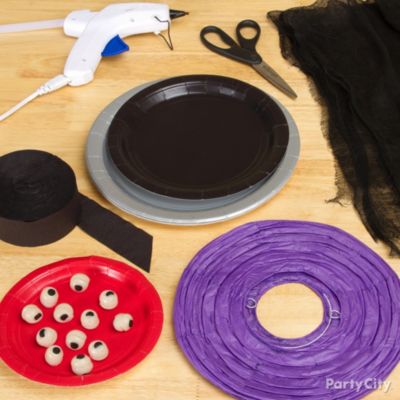 What You'll Need
SHOP THIS IDEA >
Purple paper lantern
Black, silver, white & red paper plates
Squishy eyes
Black crepe streamer
Black draping gauze
Glue gun*
Scissors
*Items available at Party City stores.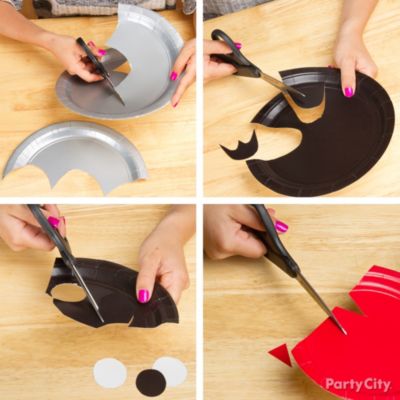 Step 1: Snip, Snip, Snip!
We used black, white, silver and red paper plates to create the bat's features. To make a pair of wings, cut a scalloped edge through the center of two silver paper plates. Leave a flat edge on one end of each wing so that you can glue them on easily later. Shape two clawed feet and two ears out of black paper plates. Also cut white circles and smaller black circles—you'll use them to make the bat's eyes. Don't forget little red paper triangles for its fangs!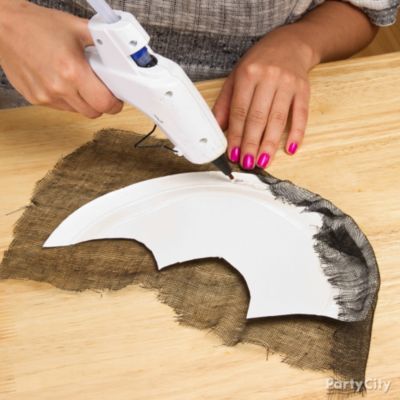 Step 2: Create the Wings
Draping black gauze over silver wings gives them a haunting look. Cut out a square of gauze that is 3 inches bigger than your wing cutout. Turn the wing face-down and line the round edge with glue. Fold the gauze over and press to stick. Spooky!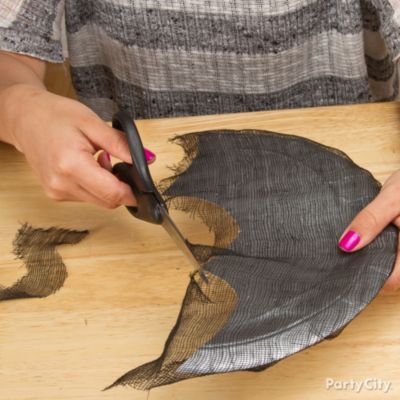 Step 3: Trim the Edges
Next, trim the loose-hanging gauze to match the shape of the wing. This gives the wing a floaty appearance. Do this for both wings and set them aside.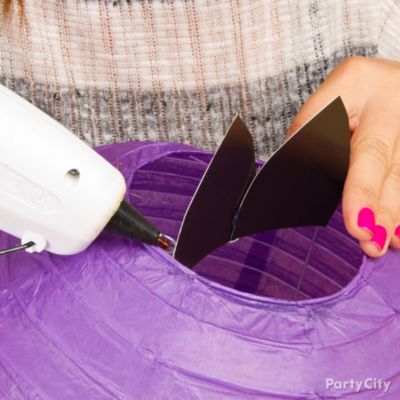 Step 4: Attach the Ears
It's time to start assembling your bat! First, pop up your paper lantern and insert the wire frame. Then, line the top wire with glue and attach the two black ears. It's OK if they overlap!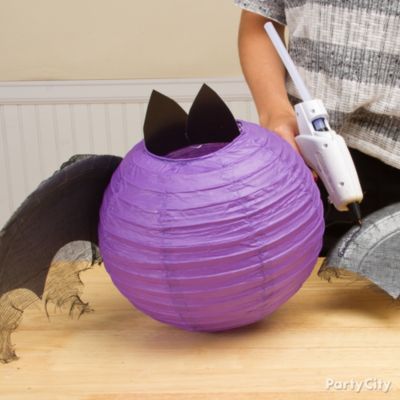 Step 5: Wing It
Your bat can't fly without wings! Use a glue gun to glue the flat edge of each of your wings onto the back of the lantern. Your bat's wings will really flap in the breeze!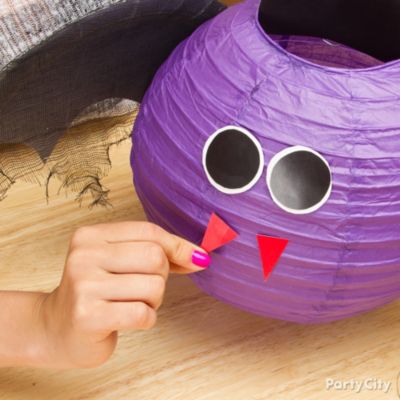 Step 6: Make a Face!
Glue the white and black circles together to create the eyes and then attach them to your bat. Stick the red paper fangs below them to complete your bat's face.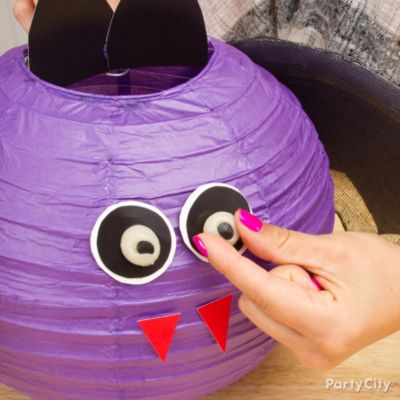 Step 7: Bring It to Life!
This part is a cinch: Just cut two Squishy Eyeballs in half with a pair of scissors and press the flat side onto the eyes. These eyeballs are so sticky, you won't need any glue!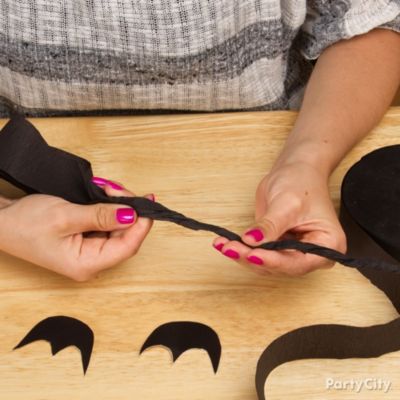 Step 8: Legs But Not Least!
Time for the little legs! Take a 3-yard piece of black crepe streamer and fold it into thirds. Twist the folded streamer from end to end, and then glue a paper foot to each end.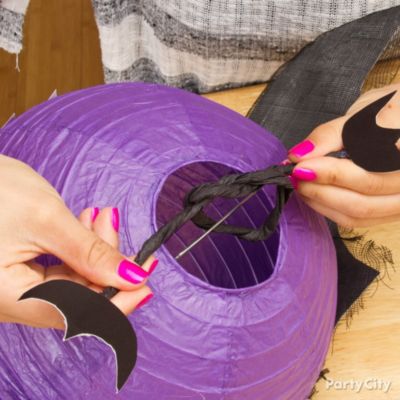 Step 9: Finish with Feet
Pull the leg through the bottom wire of your lantern and knot the legs around it. Make sure your bat's legs are about the same length. Just look at them dangle!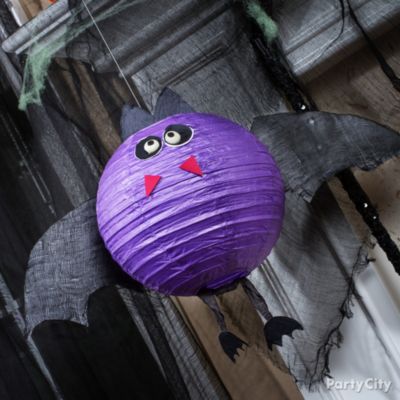 Step 10: Make It Fly!
See how frightfully easy it is to make a lantern bat? Use the clear fishing line that came with your paper lantern, and tie it to the hook behind the bat's ears. Now you can hang it up to create a scary-cute "flying" bat. Make a whole colony for a bat-tacular display!


Fly on over to our Boo-tiful & Bewitching Halloween DIY Decorating Ideas Gallery for more scary-cool decorating ideas!