Baseball Cake Pops Recipe & How-To
| | | | |
| --- | --- | --- | --- |
| | | | |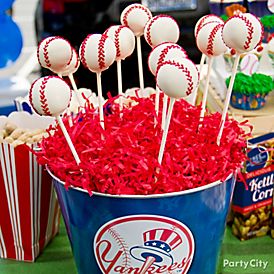 Here's how to create these cake pops featured in our
Grand-Slam MLB Party Tailgating Ideas Gallery
.
Ingredients:
1 box of your favorite cake mix (and all ingredients needed for mix)
1 can of frosting
White candy melts
Red icing tube
Supplies:
Icing tips
Cookie sticks
Chocolate melting pot
Wax paper/ cookie sheet
Styrofoam block (for drying)
Instructions:
Prep the cake. Bake cake as directed on package. When completely cool, break the cake into crumbs by hand in a large bowl. Mix in full can of frosting until well blended.


Make cake balls. Roll the cake mixture into about 50 1-inch balls and place on wax paper on a cookie sheet.


Melt the white candy melts as directed. Use white candy melts and melt as directed or in a melting pot.


Add the sticks. To secure the sticks in the cake balls, dip a cookie stick into the chocolate about half an inch and insert the stick into the ball.


Cool the pops. To firm, place pops in the freezer for about 10 minutes or in the fridge for about 20. Use the Styrofoam block as a base.


Add a second layer of chocolate. Once the pops are firm, remove from fridge or freezer and dip the pops into the melted white chocolate and tap excess chocolate off.


Prop up pops. Place pops upright on Styrofoam block until chocolate is completely dry.


Add the stitching with red icing. Use an icing tube with a decorating tip to add stitch pattern. Set back on Styrofoam and allow pops to fully dry before serving.


Batter up! Display in a baseball-themed bucket or on a cakepop stand for a home-run tailgating treat!