Balloon Flower How-To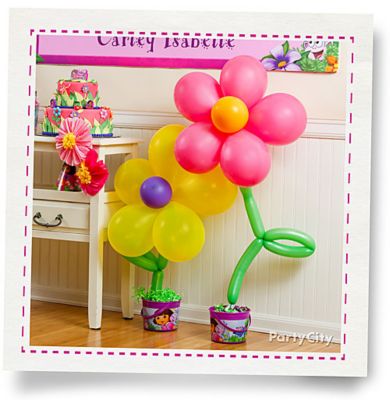 Guests will feel as if they've stepped into a rainforest blooming with color when you decorate the party room with these super-cute, easy to make balloon flowers! Balloon flowers make incredibly versatile decorations. Create them in as many color combinations as you want and use them to pretty-up table tops, porches, entryways, hallways or any nook or cranny in need of an extra burst of fun! A sweet idea for summer parties, baby showers or birthday parties, as shown in our Dora the Explorer Party Ideas Guide. Now that's flower power!

Read on for instructions on making these cute and crazy daisies!

Just follow the 11 steps below.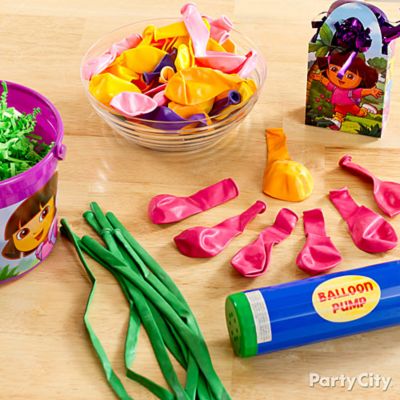 What You'll Need
SHOP THIS IDEA >
Magenta, yellow & purple 12" in latex balloons
Green twist & shape latex balloons
Balloon pump
Balloon weight for each flower
Favor buckets for flower "pots"
Green paper shred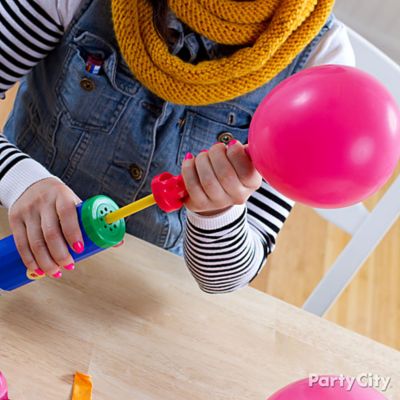 Step 1: Pump 'em up!
Inflate your "petal" balloons and knot their tails. Be sure not to over-inflate the balloons or it will be difficult to tie them together.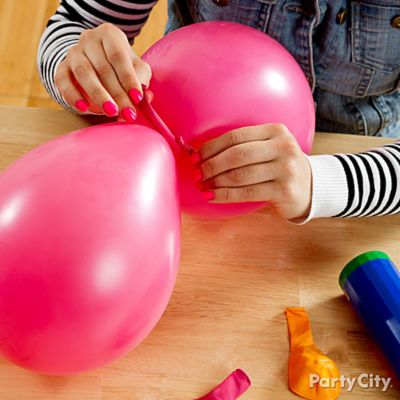 Step 2: Pair 'em up!
Take two matching balloons and tie their tails together. Repeat to create two pairs.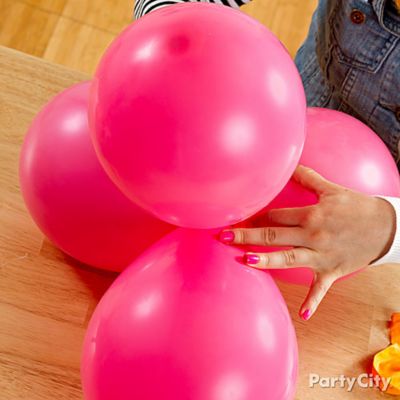 Step 3: Pair up the pairs!
Attach the two matching pairs of petal balloons together. To do this, cross the balloon tails to make an "X." Next cross a balloon from one pair over an adjacent balloon from another pair. Repeat until the two pairs are securely tied together.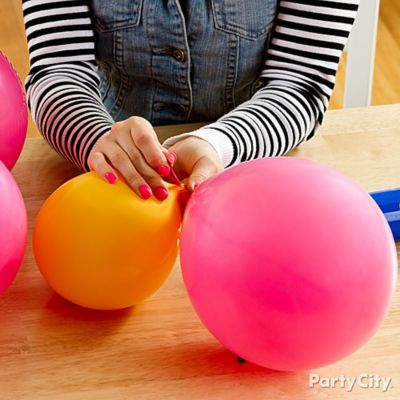 Step 4: Prepare flower center
Tie the smaller center balloon in a contrasting color to a petal balloon so that the two form a pair.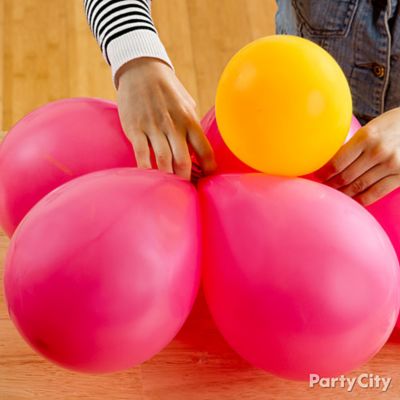 Step 5: Attach flower center
Add the tied flower-center and petal balloon pair to the balloon flower mass. Squeeze the pair between two of the petal balloons. Twist the new fifth petal balloon around one of the four previously attached petal balloons to secure.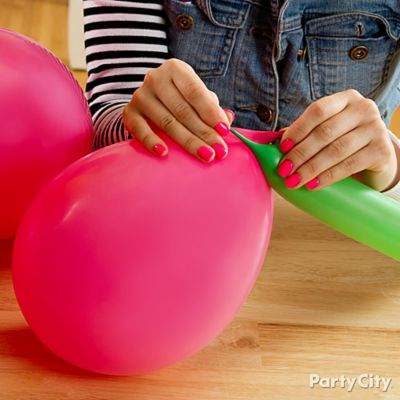 Step 6: Make the stem!
Inflate the green twist & shape balloon to use as the balloon flower's "stem." When inflating the "stem," pinch an inch or two off the top with your fingers as you fill up the balloon so that it remains partially uninflated. Attach the green shape & twist balloon to the final unattached petal balloon to make one final pair.
Step 7: Attach the stem
Cross the tails of the stem-and-petal pair you just made over the balloon flower, positioning it so that the new pairing is behind the yellow flower-center balloon. Twist the stem balloon and the sixth petal balloon around each other to secure them to the flower.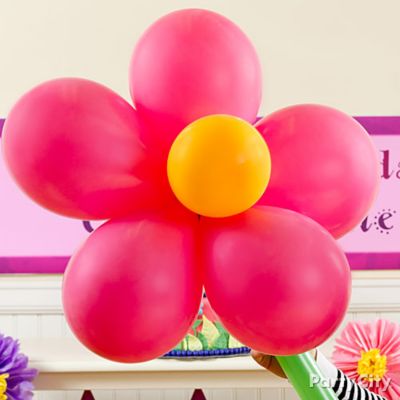 Step 8: Pretty up the petals!
Now that your balloon flower is assembled, gently tug petals into place so that your flower takes on a daisy shape. Position the sixth petal directly behind the center balloon to act as a kind of stabilizing point for the flower petals.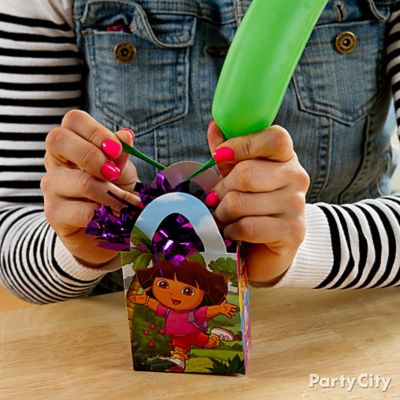 Step 9: Anchor your flower
Keep your flower upright with a balloon weight that coordinates with your party theme. Tie the uninflated part of the stem balloon to the weight to create a moveable garden you can position at any party focal point for instant oohs and ahhs!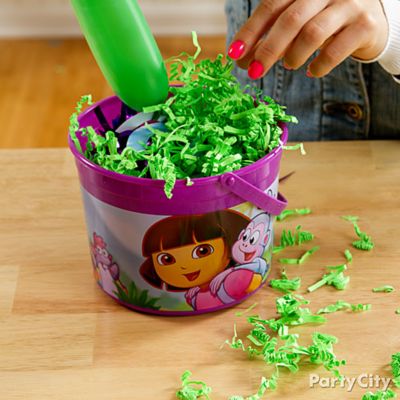 Step 10: Pot your flower!
To make your balloon flower look even more flower-like, try displaying it in a charming, character-themed "pot." Simply place your balloon weight in a favor bucket and then fill the bucket with green paper shred until the balloon weight is entirely concealed. Use "potted" balloon flowers to line the party room with awesome blossoms!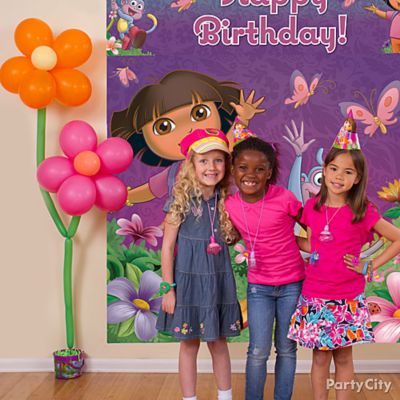 Step 11: Grow your flower!
Create longer stemmed balloon flowers to serve as vibrant frames for scene setters and entryways. To lengthen or branch the stem of your balloon flower simply tie an additional shape & twist balloon to your balloon flower stem. Instant blooming rainforest vine!



Visit our Dora the Explorer Party Ideas Gallery for more creative tropical rainforest decorating ideas!