Cherry Pie in a Jar Idea
How-To
| | | | | | | | | | | | |
| --- | --- | --- | --- | --- | --- | --- | --- | --- | --- | --- | --- |
| Total Time | 45 min | Prep Time | 20 min | Wait Time | 0 min | Cook Time | 25 min | Yield | 6 Servings | Level | Medium |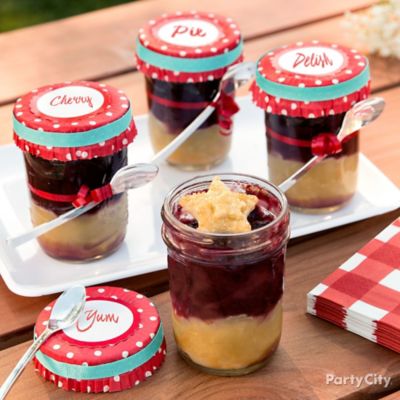 Ingredients:
Premade pie dough
1/2 can candied dark cherries
1 pinch white sugar
1 pinch cornstarch
1 pinch cinnamon
1 pinch lemon zest
1 egg, beaten
1 pinch brown sugar
Supplies:
Oven-safe glass mason jars
Star Fondant Cutters
Food-safe brush
Aluminum Cookie Sheet
Follow Instructions
1) Place dough in jars
Cut out 6 in. circles from the premade pie dough, and place one in the bottom of each jar, pressing into the sides.
2) Add cherries
Mix dark cherries from a can, white sugar, cornstarch, cinnamon and lemon zest. Spoon mixture into mason jars until half full.
3) Create star crusts
Cut out stars from pie crust using star fondant cutters and place on top of cherries. Brush with egg and sprinkle with brown sugar.
4) Bake pies
Preheat oven to 400°F. Place jars on cookie tray in oven. Bake for 25 minutes or until pies are bubbling. Let stand until jars have cooled. Serve and get ready for oohs and aahs!
More Gingham Picnic Ideas View All