Pumpkin Cupcake Tower Idea How To
How-To
| | | | |
| --- | --- | --- | --- |
| Yield | 12 Cupcakes | Level | Easy |
Ingredients:
1 box pumpkin spice cupcake mix
8 ounce cream cheese, softened at room temperature
½ cup butter
2 teaspoons vanilla
3 ½ cups of powdered sugar, sifted
Supplies:
Muffin pan
Fall Cupcake Decorating Kit
Red cupcake stand
Follow Instructions
1) Pipe cupcakes
Put icing in a pastry bag with an icing tip. Create spiral of cream cheese icing on cooled down cupcakes. Top off the cream cheese frosting with miniature pumpkins on baking picks.
2) Create icing
To make cream cheese icing, use a mixer to combine cream cheese, butter and vanilla. When mixture is smooth, add powdered sugar.
3) Bake cupcakes
Make pumpkin spice cupcake mix according to box instructions. Place mix into baking cups inside muffin tin, and bake according to instructions.
More Fabulous Fall Treats Ideas
More Fall and Thanksgiving Party Ideas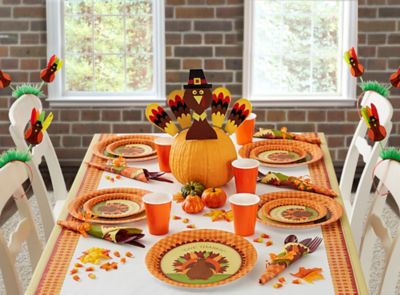 Kids' Table Ideas
Make the kids' table memorable with these playful Thanksgiving decorating ideas!