Chalkboard Graduation Cake Idea
How-To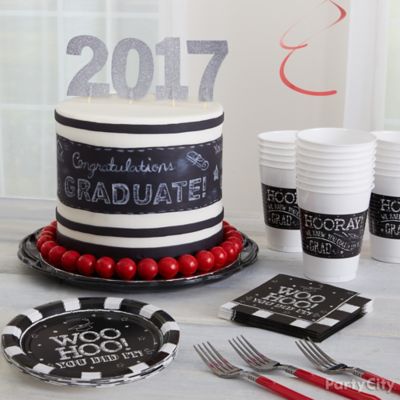 Ingredients:
Fondant, white and black
Buttercream icing
Bright White Candy Melts®
Red gum balls
Supplies:
Round cake pan
Spatula
Wide brush
Follow Instructions
1) Add candy and party picks
Finish up this chalkboard beauty by affixing red gum balls around the base, and gently pressing 2-0-1-7 silver party picks into the top.
2) Bake cakes
Use a round cake pan and bake your favorite cake. Use multiple layers for extra height.
3) Frost and add fondant
Use a spatula to lightly ice your cake with buttercream icing. Cover your cake with white fondant.
4) Prepare fondant strips
Cut strips of black fondant: two small, one medium, and one large.
5) Add text
Cut Candy Melts® in half to create a pointed edge. Use these just like chalk to write your message on the large black fondant strip. Get creative!
6) Affix fondant strips
Use a damp brush to wet the back of a fondant strip, then carefully smooth around the cake.
more chalkboard graduation party ideas View All
more graduation party ideas