DIY Gumball Necklaces How To
How-To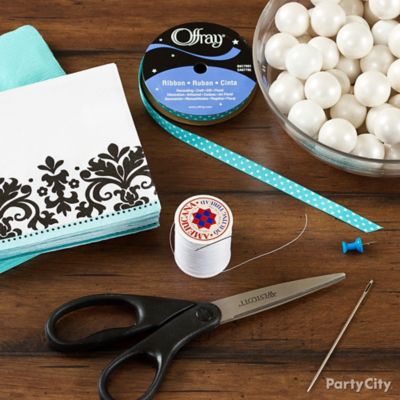 Supplies:
Pearl white gumballs
Damask-print napkins
Robin's egg blue napkins
Robin's egg blue ribbon
Silver glitter twigs
Thumbtack
Doll needle (available at craft stores)
Thread
Scissors
Follow Instructions
1) Pierce gumballs
Turn pearly white gumballs into gorgeous beads! To make a hole that goes straight through, first gently pierce each side of a gumball with a thumbtack. Once you have the small starter holes, use a doll needle to gently push straight through the gumball, creating holes large enough to feed the ribbon through.
2) Add the pearls!
Cut a 24-inch piece of polka dot ribbon. Use the doll needle to thread the ribbon and string on five of the gumballs. Next, trim the damask-print section off of an Always and Forever pattern beverage napkin.
3) Fold & cut circles
Fold the napkin section over twice. Cut along the folded edge so that you have six layers of napkin. Trim around the edge to make six 2-inch damask-print circles. Here comes the fun part! Fold each circle twice to create the look of flower petals.
4) Make blue petals
Trim the ridged edges off of a robin's egg blue dinner napkin. Fold over twice. Trim around the edge to make six 4-inch circles.
5) Sew the petals
Using a needle and thread, sew together your damask flowers into a tight bunch. Make a stack of three Robin's Egg blue circles and sew the damask flower bunch to it. So pretty!
6) Add the flower!
Sew on the paper flower, leaving about an inch of space to show it off. Finish your creation by stringing on two more pearly gumballs. Knot together the ribbon ends. Ta-da! Candy necklaces look amazing on glittery branches perched in a container of colored wedding sand. You can dangle them on the chair backs, or nestle one at each person's place setting.
More Robins Egg Blue Candy Buffet Ideas View All