NYE Glitterbomb Glasses DIY
How-To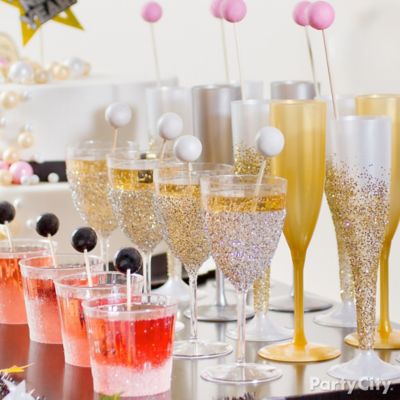 Supplies:
Drinkware of choice
Spray adhesive or instant decoupage
Glitter
Bamboo skewers
Gumballs
Follow Instructions
1) Apply adhesive
Use a spray adhesive or brush instant decoupage onto the bottom of your drinkware, being sure to leave space for sipping.
2) Add glitter
Cover all glue-coated areas with glitter, shaking off the excess as you go. Make sure there aren't any gaps. To create an ombre effect, overlap glitter colors.
3) Let dry and reapply
Once the glue has dried, apply a second coat to seal it and avoid glittery fingers!
4) Make swizzle sticks
Gently press a gumball about halfway down onto a bamboo skewer and cut to fit the size of your drinkware if needed. Cheers!
More Elegant NYE Party Ideas View All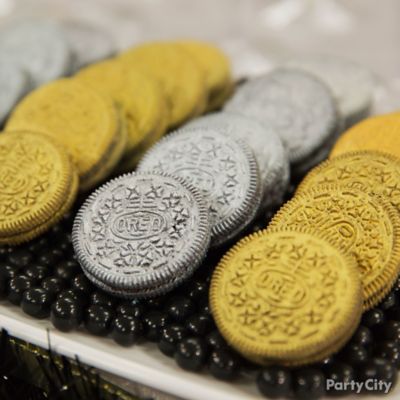 Mist cookies with metallic magic!
We heart this snazzy NYE treat idea: Use our food-safe color mist to give chocolate sandwich cookies a metallic sheen that matches the party colors.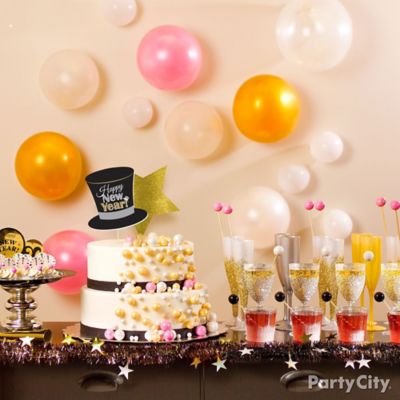 Make a bubbly party backdrop!
Create an effervescent atmosphere at your NYE party with a celebratory wall of balloons that look like giant champagne bubbles!