Modern Halloween Sweets Table Idea
More Modern Sweets & Treats Ideas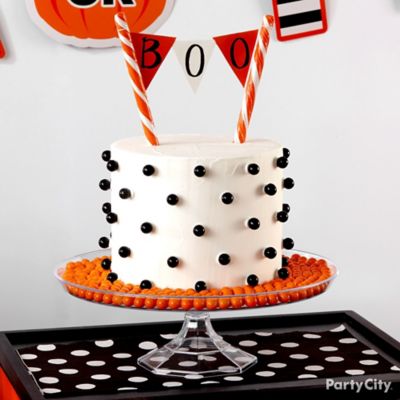 Design a cake that screams style!
This gore-geous Halloween cake is polka-dotted to perfection with yummy chocolate Sixlets®! Nibble on our Boo Polka-Dot Cake How-To for step-by-step decorating instructions. We DIY'd the sweet mini pennant flag with construction paper and candy sticks! So Pinterest-ing!
Cast a delish spell with lettered cupcakes!
Match your cupcakes to the decor with bold block letters and candy polka-dots. Whip up these creepy-chic treats with our Halloween Cupcakes How-To, then show them off in mini trays arranged around your BOO cake. Shriek-tastic!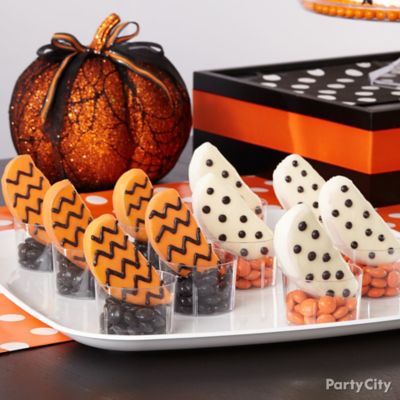 An apple a day keeps the witches away!
Add these yummy bites to the Halloween treats table for a dessert that's more fruitful than frightful. Sink your fangs into our Dipped & Decorated Apple Slices How-To for tips on dipping and dotting your apples to achieve that modern look all the monsters are raving about. Place your contemporary treats in plastic cups filled with coordinating candies and display on a white tray — spooktacular!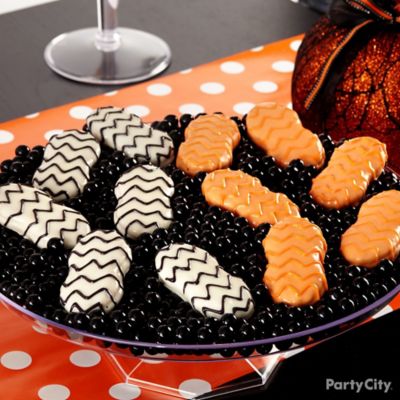 Chevron-striped cookies are tres cheeek!
Candy-coated cookies will tempt any sweet tooth (or fang!). Just dip peanut cookies into melted candy and pipe on a few adora-boo chevrons. Creep over to our Dipped & Decorated Cookies How-To for details and display on a tray of black Sixlets® for a spooky and stylish take on Halloween treats!
Munch on marshmallow-een treats!
These yummy pops are trick-or-treat trendy! To get this spooky-cute look, just spray the 'mallows with orange Color Mist® and drizzle with melted candy. For all the details and decorating tips, nibble on our Candy-Drizzled Halloween Marshmallows How-To.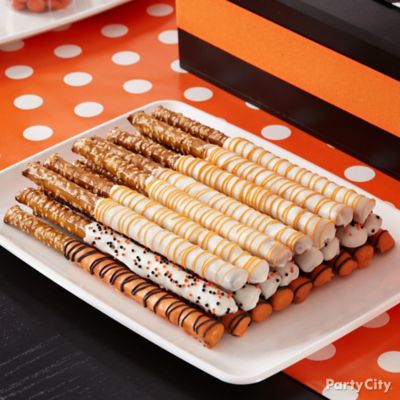 Salty and sweet is fun to eat!
This treat's a triple threat! Start with a salty pretzel stick, then dip it in melted candy and drizzle with sprinkles or more Candy Melts® in contrasting Halloween hues. Check out our Dipped and Drizzled Pretzel Rods How-To for the easy tricks to make these bewitching treats. Stack the pretzels on a plate for easy grabbing by the ghouls and gals.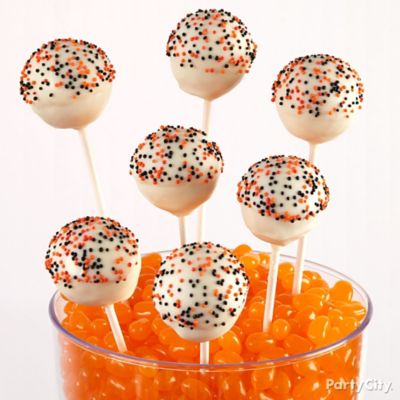 A booful bouquet of candy-coated pops!
These quick-and-easy treats require just a couple tricks to make! Make your way over to our Quick Dipped Doughnut Holes How-To for tips on decorating with melted candy. Stand your shriek-worthy sweets in a container of orange jelly beans for a mouthwatering display everyone will want to sink their fangs into.
More Halloween Party Ideas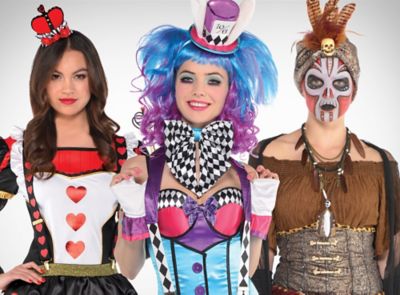 Top Women's Costumes
Red Queen, Mad Hatter and Witch Doctor lead the must-have looks this Halloween!