Sexy Vampire Makeup How To
How-To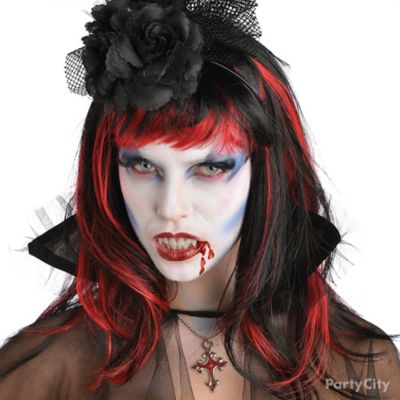 Supplies:
White grease makeup
Makeup sticks in blue, black, and pink
Red lipstick
Fake blood
Setting powder
Makeup sponges
Fangs with adhesive
Follow Instructions
1) Apply white makeup

No one does pale and sultry like a vampire! Create this look on yourself by applying white grease makeup with a sponge, tapping to blend. Leave the area around the eyes clear of makeup for later steps.
2) Add contour

Take blue makeup crayon and add contours around the hollows of the cheeks, jawline and eyes. Blend so the edges look hazy. Take the white and blue colors down to the neck and collarbone for a contour. Use white first as a highlight and then add blue as the darker contour color for a little undead-chic!
3) Detail the eyes

Using a sharp makeup crayon, edge the blue with black lines to add definition. Layer on white lines outside the black to create dimension. Add pink above the eyebrow and under the eyes to get that "up all night" glassy vampire gaze.
4) Add fake lashes for drama!

To accentuate this dressed-to-kill look, add black false lashes, eyeliner and red lipstick. Use fake blood as lipgloss and add a few drops off the corner of your lips — you'll look like a vampire that's recently indulged!
5) Seal the makeup

Dust your face all over with setting powder so the grease makeup lasts throughout the vampire masquerade!
6) Add fangs!

Polish the fang-tastic look! Add the wig, the costume and, last but not least, bloody fangs. You'll be the most sultry vampire around!
More Bewitching Makeup How Tos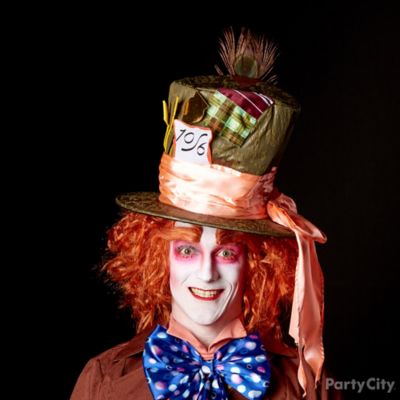 Get Mad! Learn how
Transform into the lovable Hatter and start your adventures in Wonderland!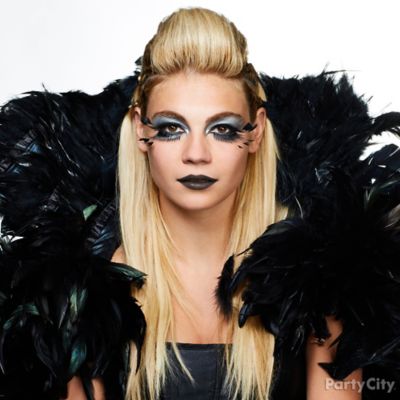 Become a raven
Watch your custom costume take flight with our step-by-step makeup tutorial.
More Halloween Party Ideas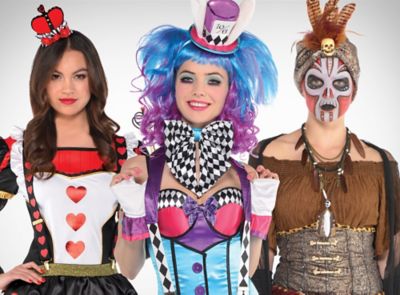 Top Women's Costumes
Red Queen, Mad Hatter and Witch Doctor lead the must-have looks this Halloween!