Gory Zombie Makeup How To
How-To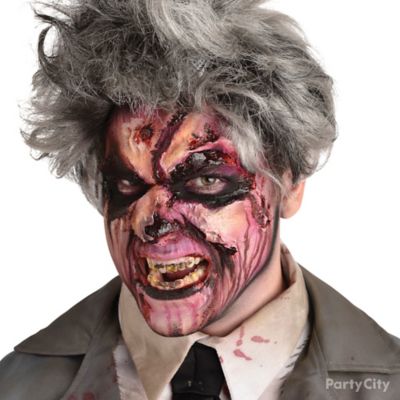 Supplies:
Special effects prosthetic scars
Liquid latex
Single-ply tissue paper
Zombie Makeup Kit
Setting powder
Black lipstick
Teeth paint
Zombie blood
Makeup sponges
Follow Instructions
1) Break out the scars!

A blank face is a blank canvas, so pick your theatrical scars and bullet holes to go from living human to gruesome zombie! Apply the scar and bullet holes according to package instructions. Once the wounds are done, dab a thin layer of liquid latex with a sponge over the areas of the face that you want texturized.
2) Apply the "rotted" skin

While the latex is still wet, rip up single ply tissue paper and press onto latex. Cover up the tissue with more liquid latex, and continue to layer until desired "rot" is achieved. The more layers, the more you look like you want brains for candy!
3) Bruise the skin

The undead bruise in striking colors! Use burgundy makeup from the gothic kit to create a deep bruise look around the eyes, mouth and forehead (be sure to check package instructions for use around the eyes). For the texturized skin, cover it with flesh-toned or yellow makeup, and blend the burgundy and yellow colors together. It will look irregular like a massive bruise!
4) Add zombie dirt

Zombies have no use for cleaning up after they shamble out of the grave, so why not add "dirt" to this look? Smear the zombie dirt around the cut, below the eye and running down the cheek. The darker spots of dirt will also mark where to put sickly black zombie blood later on.
5) Step 5: Set the makeup

Look at your face and add any more dirt or bruising to look sufficiently undead. Once all the final touches are made, set the makeup with powder to keep everything in place while you're hunting for brains!
6) Finish the costume!

Add details like black lips, tooth paint and, last but not least, dribble black zombie blood around the wounds and below the eyes. You'll look fantastically gore-smattered while you're marauding for braaaiins!
More Bewitching Makeup How Tos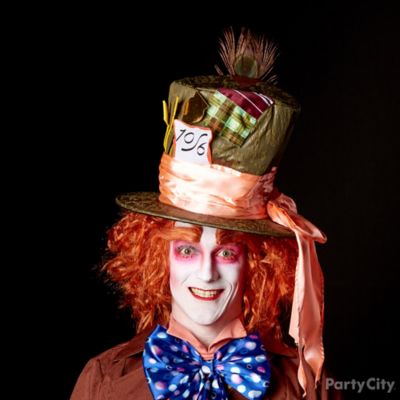 Get Mad! Learn how
Transform into the lovable Hatter and start your adventures in Wonderland!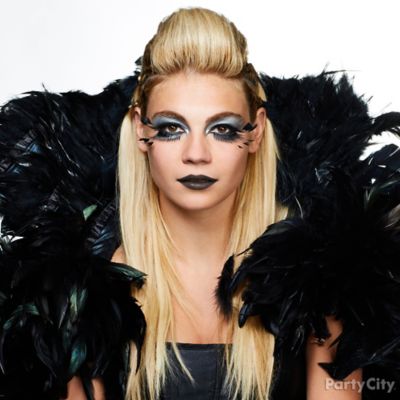 Become a raven
Watch your custom costume take flight with our step-by-step makeup tutorial.
More Halloween Party Ideas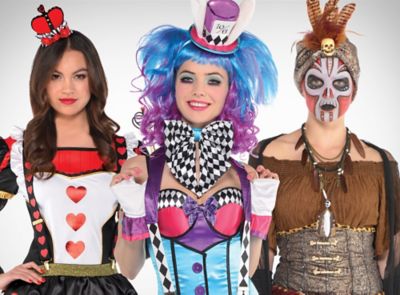 Top Women's Costumes
Red Queen, Mad Hatter and Witch Doctor lead the must-have looks this Halloween!