Friendly Ghost and Frankenstein Pretzel Pops How To
How-To
| | | | |
| --- | --- | --- | --- |
| Yield | 18 Treats | Level | Easy |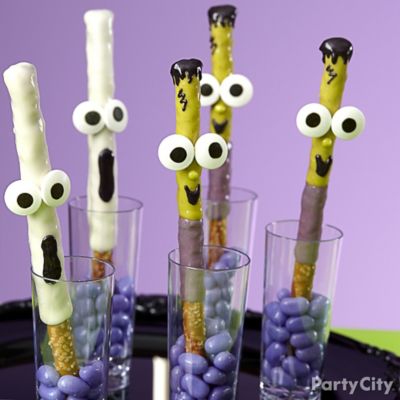 Ingredients:
White Candy Melts® Candy (12 oz. makes 16 to 18 treats)
Vibrant Green Candy Melts Candy (10 oz. makes 16 to 18 treats)
Pretzel rods
Lavender Candy Melts Candy (8 oz. makes 16 to 18 treats)
Black Candy Melts Candy (2 oz. makes 16 to 18 treats)
Candy Eyeballs
Supplies:
Microwave-safe containers
Waxed or parchment paper
Cookie sheet
12 in. Disposable Decorating Bags
Food-safe scissors
Follow Instructions
1) Dip pretzels
Melt white and vibrant green Candy Melts candy in containers, separately, according to package directions. For ghosts, dip pretzels 5 in. deep in melted white candy. For monsters, dip pretzels 3 in. deep in melted vibrant green candy. Tap to smooth and remove excess candy. Place on waxed paper-covered cookie sheet. Chill until firm, about 10 to 15 minutes. Transfer remaining white and vibrant green candy into disposable decorating bags. Use scissors to cut small points off of disposable decorating bags when ready to decorate.
2) Make monster shirt
Melt lavender Candy Melts candy in disposable decorating bag according to package directions. Cut the tip off of bag. Use melted lavender candy to pipe shirt below green face, 2 in. deep. Chill until firm, about 3 to 5 minutes.
3) Decorate pretzels
Melt black Candy Melts candy in disposable decorating bag according to package directions. Cut the tip off of bag. Use to decorate mouths, monster hair and scar. Use reserved melted vibrant green candy to pipe dot nose on monster. Chill until firm, about 3 to 5 minutes.
4) Attach eyeballs
Use reserved melted white or vibrant green candy to attach candy eyeballs to pretzels. Chill until firm, about 3 to 5 minutes.
More Friendly Sweets & Treats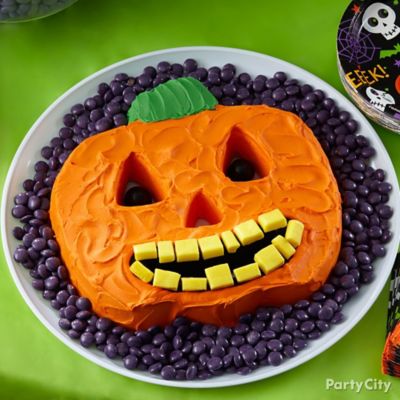 This pumpkin pal takes the cake!
Carve out a place on the table for a friendly pumpkin! He's almost too cute to eat, but we're sure your little monsters will find a way!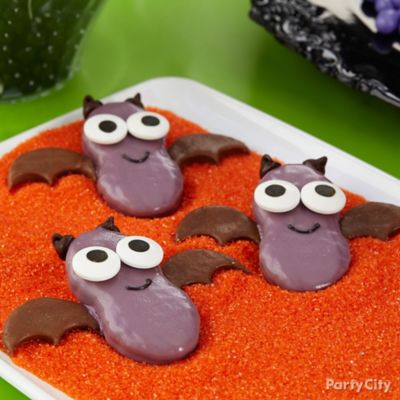 Put some bats in their belfry!
Drive them batty with these fang-tastic bites! Dress up everyone's favorite peanut butter sandwich cookies as cute Halloween vampire bats with candy eyes and Tootsie Roll® wings.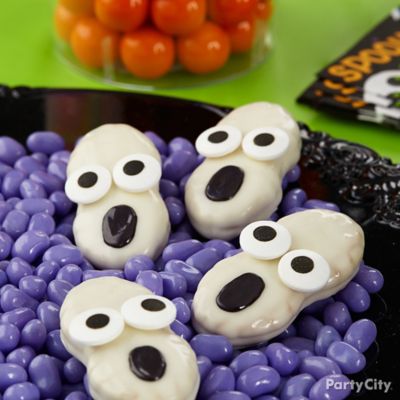 Thrill the kiddies with these ghostly goodies!
Be the ghostess with the mostess by whipping up ghoulishly good ghost cookies! Serve these scrumptious cookies on a plate of purple jelly beans and watch them disappear off the boo-fet table!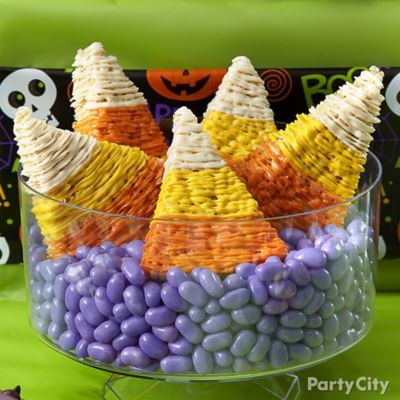 These corny treats are a Halloween fave!
When the little monsters come clamoring for something sweet, meet them with a serving of Candy Corn Crispy Rice Treats! A cute container of purple jelly beans sets these Halloween treats apart on a table of goodies!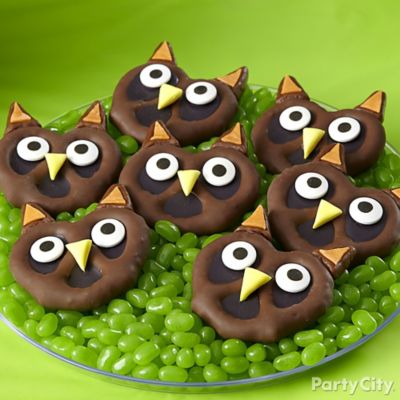 Whoo-whoo wants a bite?
These too-cute-to-spook treats are a hoot! Have some frightful fun making these pretzel bites featuring everyone's favorite spooky creature.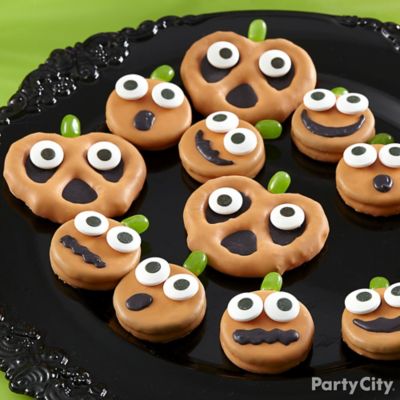 Make a platter o' pumpkins!
A mix of candy-dipped pretzels and cookies offers endless choices of jack-o'-lantern faces you can make with the help of the boos and girls.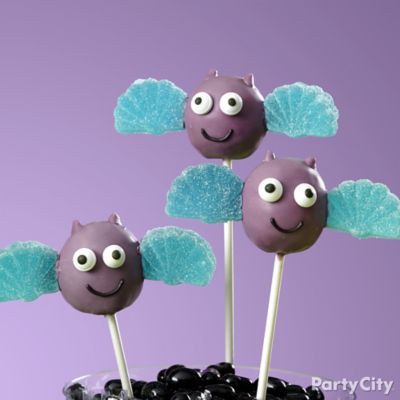 Sink your fangs into bat pops!
Let these batty Halloween goodies land on your treats table! These not-so-spooky doughnut hole pops are decorated with Candy Melts®, candy eyeballs and jelly fruit slices for a bat-tastic transformation.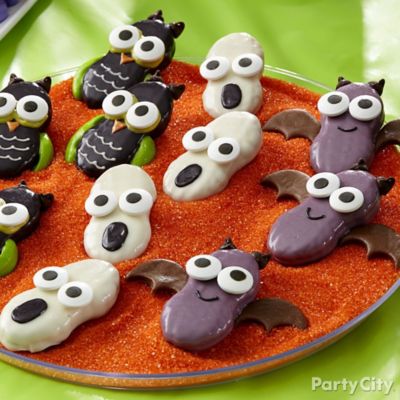 Watch these Halloween snacks disappear!
Make your little monsters squeal with delight over a tray of happy Halloween treats! These creepy creatures are scare-free with cartoonish candy eyeballs and silly icing mouths (and beaks!). Serve up the tempting trio on a platter of orange sugar sprinkles for a scary-cute display!
Easy & adorable spider cupcakes
Turn spooky spiders into tasty treats! Spray your frosted cupcakes with purple and green food color mist, then use gumballs and Sixlets® to make spider bodies on top. Creating these sweet spiders makes a fun party activity for the boys and ghouls!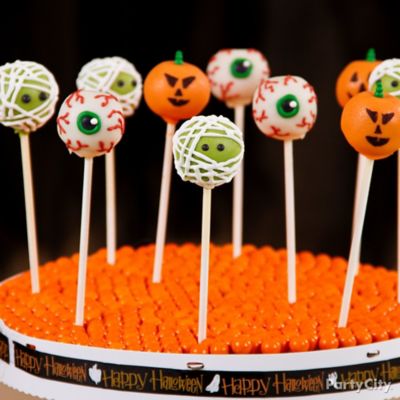 Whip up some wicked-cute Halloween cake pops
Mummies and eyeballs and jack-o'-lanterns, oh my! To make this spookily scrumptious sampler of cake pops, dip your cooled batch of pops in Halloween-hued white, orange, and lime green Candy Melts. Use red, black and green sparkle gels to make bloodshot eyeballs. Display in a container of orange Sixlets®.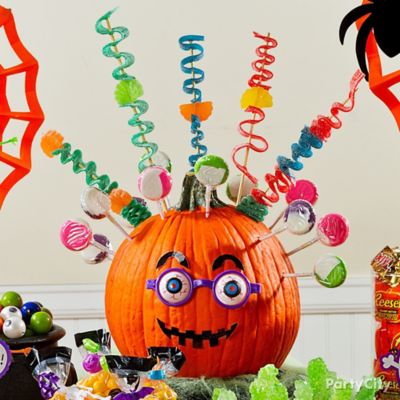 A wacky pumpkin makes a fun candy display!
Forget a boring plate – let your pumpkin lend a hand (or a head!) to display candy kabobs. Kids can grab the ka-boos from the pumpkin head as they explore the treats table.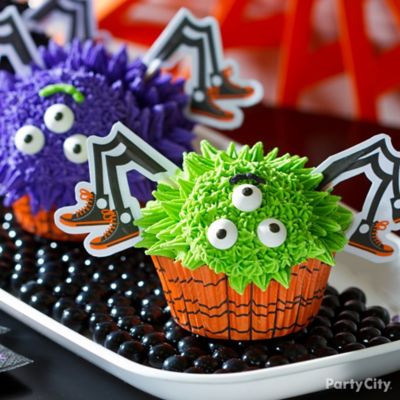 Spooky-cute spider cupcakes with silly faces!
These creepy-crawly cupcakes are more silly than spooky! A spider cupcake decorating kit makes it easy to create these not-so-scary sweets. Display your cheery treats on a platter filled with black mini gumballs – "boo" appetit!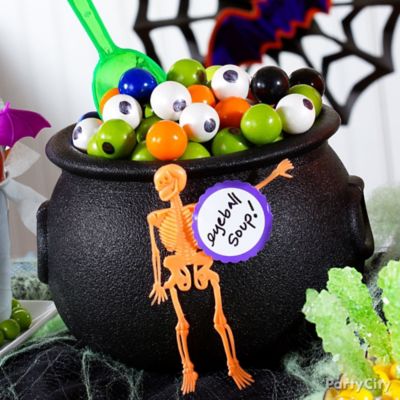 Serve up this witchy brew of eyeball stew!
Wow the li'l monsters at your Halloween get-together with ghoulishly great treats and candy! Cooking up a spooky serving of "eyeball soup" is easy with a plastic cauldron full of gumballs in happy Halloween hues, with pupils drawn on using food-safe markers!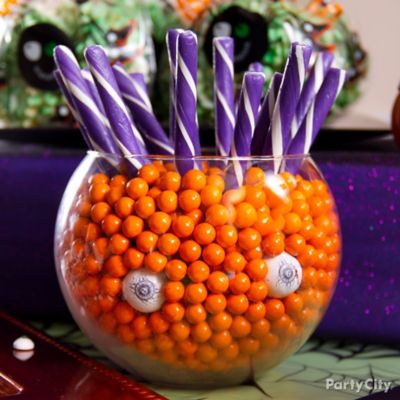 Craft a kooky candy monster face
Why be normal? Mini candy bars in a bowl are perfectly fine for answering the trick-or-treat doorbell … but on your Halloween party treats table, a little imagination and a couple of ping pong eyeballs go a long way!
A pumpkin treat they can't wait to carve into!
When your little monsters say "Trick-or-treat!"…give them something good to eat! Make their jaws drop with this edible jack-o'-lantern. Check out our how-to for this ooey-gooey crispy rice + candy treat (it's so easy, it's freaky!). Use orange and black Sixlets® or jelly beans!
More Halloween Party Ideas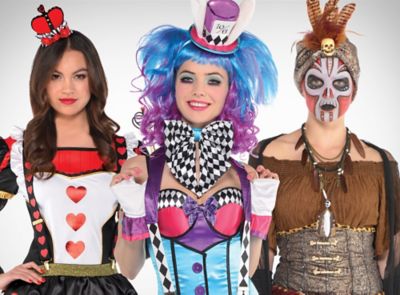 Top Women's Costumes
Red Queen, Mad Hatter and Witch Doctor lead the must-have looks this Halloween!