Easter Bunny Ear Napkin and Egg How To
How-To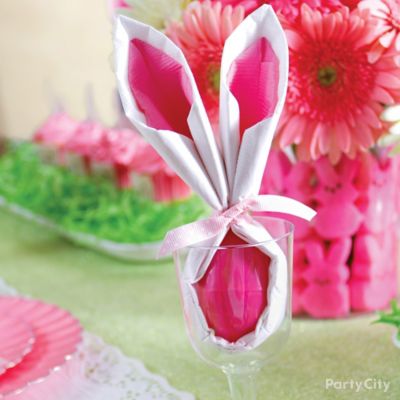 Supplies:
Pink dinner napkin
White dinner napkin
Plastic Easter egg
Candy to fill egg
Favors to fill egg
Small 5.5 oz. wine glass
Fabric ribbon
Scissors
Follow Instructions
1) Fill the Egg
Fill a plastic Easter egg with candy and favors. We used medium-sized chenille chicks and jelly beans.
2) Prep the Napkin
Unfold both napkins so that they form a rectangle instead of a square. Lay them out on a flat surface.
3) Fold the Napkin
a) Fold each napkin in half lengthwise. Press down firmly to crease. b) Fold the four corners of each napkin down at a 45-degree angle and crease firmly. c) Place the napkins together, folds facing each other, with the white napkin on the bottom. Pinch the edges of the center of the pink napkin and fold the napkin over itself to create a 1/2 in. overlap; 1/4 in. of the white napkin should now be visible at each end. d) Holding down the center fold you just made and keeping the two napkins together, fold in half lengthwise, with white on the outside. Crease firmly.
4) Unfold, then Fold Again
Being careful to preserve all the creases you created during step 3, undo the fold you made in sub-step d. Next, fold each side of the napkins lengthwise toward the crease in the center of the napkins. The pink napkin should now be the interior portion of the napkin pairing, and visible only as two triangles on either end of the bundle of napkins. This will create the appearance of bunny ears with pink on the inner part of the ear and white on the outer part.
5) Last Fold!
Fold in half lengthwise and crease.
6) Make the Ears
Place filled egg in center vertically as shown, and fold the "ears" up around the sides of the egg.
7) Add the Ribbon
Tie the "ears" together with fabric ribbon cut to about 9 in. long.
8) The Final Touch
Place finished bunny in glass.
More Pink & Green Tablescapes View All